By Sheena Lee
Analysts are mostly optimistic on AT&T's (NYSE:T) possible $39 billion merger with T-Mobile, since if approved, AT&T would become the largest carrier in the U.S. The company could also see a significant spike in customer base and increase its long-term profitability. However, few have raised their price targets since the announcement, perhaps awaiting more clarity on whether the deal will be approved.
The median price based on nine analyst who have updated their 12-month targets since the announcement is $32, up from $31 in our November prognosis and 12% higher than Wednesday's closing price of $28.14. Of these analysts five have a Buy or equivalent rating, while two are neutral on the stock.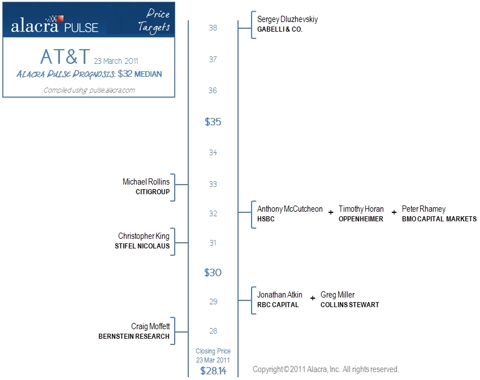 Click to enlarge
(Click to enlarge)
Citi analyst Michael Rollins, who has a $33 price target, reiterated a Buy rating on AT&T and believes it can outperform Verizon (NYSE:VZ) over the next 3-months given the probability-weighted value of synergies that we estimate at $2 per share (using 50% for approval at accretion of $6 per share and a 50% probability for rejection with a loss of value of $1 per share).
"We believe the potential to meaningfully improve its wireless fundamentals coupled with opportunities to improve its wireline enterprise fundamentals over time should provide better support for AT&T's share price, following its recent underperformance versus Verizon over the last six months," said Rollins.
Chris King, analyst at Stifel Nicolaus, who has a $31 price target on the firm, said the company is guiding toward a net present value of synergies of approximately $40 billion, with a $3 billion annual run-rate in synergies achieved in year three, excluding integration expenses. "Based on respective financial metrics, we believe the synergy assumptions to be quite reasonable," said King who has a Buy rating on the operator.
HSBC's Anthony McCutcheon upgraded the stock to Overweight from Neutral and increased his target to $32 from $30.
Sergey Dluzhevskiy of Gabelli & Co. wrote that the transaction makes a lot of strategic and financial sense to AT&T and should enhance the company's long-term revenue growth rate and EBITDA margin trends. "Our 2011 estimated sum-of-parts valuation is $38 per share, growing to $40 in 2012. Dividend ($1.72/share) appears sustainable and translates into current return of 6.1%."
BMO Capital Markets analyst Peter Rhamey, who has a $32 target on AT&T, maintained an Outperform rating, but said short term regulatory risks could be negatives for AT&T. However, he added his rating reflects the stock's attractive valuation, free cash flow generation and dividend yield. "The transaction resolves AT&T's spectrum issues and improves the company's revenue mix (80% IP data and wireless)."
Trefis analysts agree and said its all about spectrum and the race for a better 4G network. "AT&T and T-Mobile have similar GSM network with HSPA+ deployed making it easier to be integrated, but the treasure lies in the additional spectrum that AT&T gets which will enable to company to extend LTE (Long Term Evolution) to more customers than it had originally planned."
But some analysts are concerned that taking on T-Mobile customers will further slowdown AT&T's network, used by millions of iPhone susbscribers. "That network is already struggling and has been ever since they landed the iPhone, so that network isn't ready to dump a bunch of T-Mobile customers onto it," said Sanford C. Bernstein analyst Craig Moffett, who rates AT&T at Market Perform with a $28 price target.
"The question is: how long will it be until this inefficiency is addressed?" Moffett wrote in a recent report. "Just because there is demand doesn't mean that consumers are willing to pay so much for a service that costs so little to the operator.
Source: Alacra Pulse, Minyanville, Bloomberg, Barrons, Washington Post, Trefis.