It has been a few weeks since I've written about Motorola Mobility (NYSE:MMI), the maker of the XOOM tablet, Android-powered (NASDAQ:GOOG) smart phones and other communications products. Since publication of my last article, shares fell from above $29 to below $24. While shares have rebounded a bit in the past week, it seems like a proper time to reevaluate my long MMI position in light of the price decline and recent news developments.
Shares began their slide as iPad2 (NASDAQ:AAPL) buzz grew in early March, as many technology blogs and Wall Street analysts gushed over the best tablet unveiling since Moses' keynote at Mount Sinai. Motorola Mobility shares bottomed on March 15. On March 16, the company announced that it would offer a $600 WiFi-only version of its XOOM Tablet and the tablet would go on sale on March 27. On March 17, an analyst upgraded his rating on MMI to hold – which, while not exactly positive, was better news for Motorola than what had been circulating over the previous two weeks. The next day, UBS upped its rating to Buy and set a $34 target for MMI shares. Shares have now settled around $25-26 as investors continue to digest nearly-daily news on developments at MMI and at competitors.
Upcoming events have the potential to move shares higher or lower, depending on the market's perception. A primary catalyst will be the WiFi-only XOOM tablet's official launch on Sunday, March 27. Unlike the cellular XOOM that went on sale in February, the WiFi Xoom will launch at many retailers: Amazon.com (NASDAQ:AMZN), Best Buy (NYSE:BBY), Costco (NASDAQ:COST) and Wal-Mart (NYSE:WMT) are some the larger retailers participating in the launch. Amazon.com has been accepting preorders for the past week and sales appear to be relatively robust; the tablet has been the #1 seller in both the Tablet category and the much broader Computers & Accessories category since the pre-order page went live.
I don't know if 50 or 5,000 tablets sold per day is enough to earn that rank, but outselling laptops, the old iPad, and even the iPad2 is at least a mildly positive indicator. Also, Amazon's item page shows the percentage of people visiting the page who eventually buy the item: The XOOM's 84% seems to indicate relatively decisive behavior by potential XOOM buyers, and perhaps more importantly, the iPad or iPad2 doesn't show up in the short list of commonly-substituted items.
But this anecdotal evidence still does not really elucidate the number of XOOMs Motorola is selling; once the tablet actually goes on sale on the 27th, Motorola itself may provide some clarity into sales figures.
[Click to enlarge]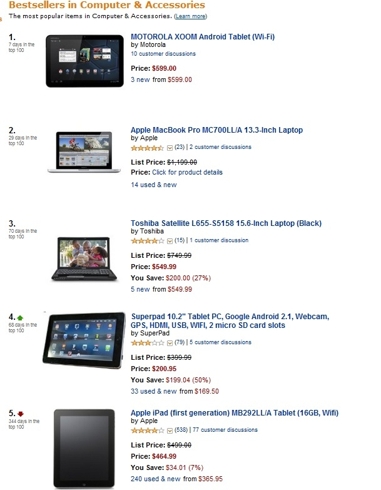 Click to enlarge
Despite the positive indicators, a few new serious competitors have emerged recently that may diminish XOOM enthusiasm. Earlier this week, Samsung (OTC:SSNLF) debuted its new Galaxy Tablets, available in both a 10.1-inch size (the same as the XOOM) and a smaller 8.9-inch size. The Galaxy Tabs are priced aggressively; Samsung is producing 16GB models, and at $500, the 10.1-inch 16GB Galaxy Tab will be $100 cheaper than a 32GB XOOM, the only storage size that Motorola produces.
Additionally, the Galaxy Tabs beat the XOOM in appearance; both tablets measure just .33" thick, which is even thinner than the iPad2, and both are also much lighter than the XOOM. Despite the Galaxy Tab's sex appeal, the XOOM still possesses features that should keep some consumers interested, including higher-resolution cameras and a "pure Android" experience.
Beyond the Galaxy Tab, there are also tablets from Research in Motion (RIMM), HP (NYSE:HPQ) and other Android manufacturers that will go on sale over the next few months, so the XOOM's window of opportunity as the iPad alternative is closing quickly.
The new Galaxy Tabs may help explain an unconfirmed piece of news that leaked early this week that suggested that Motorola will be winding down XOOM production by the beginning of the summer. While the rumor has not been confirmed, many industry observers have guessed that, if the statement is factual, the reason behind such a move would probably be that Motorola is readying a new XOOM. While the current XOOM is hardly obsolete, one with refreshed specs to match (or beat) the wave of Android tablets coming to market over the next few months may help retain MMI's current competitive edge.
Another troubling rumor has surfaced within the past few days. An article in InformationWeek stated that Motorola has been hiring executives from other technology companies (specifically Apple and Adobe (NASDAQ:ADBE)) for an initiative to create a new mobile operating system. If Motorola is really developing an Android alternative, I fear that it is misguided. Android brought it back from irrelevancy to its current status as a premier phone manufacturer.
If anything, consumers want manufacturers to move closer to providing a pure Android experience. The biggest shortcoming listed in many reviews of MMI's Atrix 4g smartphone has been the MOTOBLUR skin that Motorola puts over stock Androids. Motorola did seem to refute this rumor to some extent, as a spokesperson said that "Motorola Mobility is committed to Android as an operating system," so hopefully the company will remain loyal to that statement.
Beyond these short-term developments, the fundamental reasons to invest in MMI shares remain the same. Backlog for mobile devices is robust, increasing from $409 million at December 31, 2009 to $678 million on December 31, 2010 (10-K).The company's other line of business has been profitable over each of the past three years, and the mobile devices segment has clawed its way closer to profitability, losing $76 million in 2010 compared to $1.22 billion during 2009. And despite concerns of competition, Motorola does have a strong pipeline for its mobile devices unit; the Droid 3 and the Droid X2 are on the horizon and the XOOM WiFi's launch all seem to be accompanied by positive buzz.
At this point, I'd consider Motorola Mobility shares a "hold"; recent product announcements from competitors have increased the threat to MMI's mobile devices business. Despite the existence of these threats, most negative news and potential developments have been probably already been priced into shares, and if shares dip down to levels seen two weeks ago, I may even buy more.
However, if some of the more worrisome rumors become fact – either a complete discontinuation of tablets, or development of a new operating system – that may change my investment thesis enough to merit exiting the position.
Whether you believe that MMI is a buy, sell, or hold, it's easy to agree that any investment thesis on this company may change quickly due to the evolving market landscape. Therefore, I'll be continuing to track new developments and will provide updated information on my position if it changes.
Disclosure: I am long MMI.