Nvidia (NASDAQ:NVDA) is the king of graphics in a world that has gone crazy for graphics. We currently rate NVDA a strong buy, with the recent dip in the shares offering a terrific entry opportunity for new purchases.
Nvidia provides graphic processing chips that run digital images on computers, smart phones, tablet PCs, and dedicated gaming machines. Digital graphics are in programs and ads we watch on TV, a major part of most movies, as well as video games we play on our smart phones and video game consoles.
Jack Black's character, Po, said in the movie Kung Fu Panda, "There is no charge for awesomeness" -- although in Nvidia's case, there is. Indeed, there is enough of a charge for access to its graphic chips to make NVDA one of the fastest-growing companies in the Nasdaq 100 index, which is the home of America's most dynamic and exciting growth companies.
NVDIA competes in four distinct business segments:
The Graphic Processor Unit (GPU) segment offers a full-line of GeForce processors and memory products that support desktop and notebook PCs.
The Professional Solutions Business (PSB) segment provides a wide array of high-end professional workstation solutions under its Quadro and Tesla product lines, used in the manufacturing, entertainment, medical, science, and aerospace industries.
The Media and Communications Processor (MCP) segment features fully integrated ION motherboard graphics solutions that target high-end gaming and media streaming applications.
The Consumer Products Business (CPB) segment offers Tegra mobile products that support tablet PCs, smart books, smart phones, personal media players, Internet television, automotive navigation, and other devices. This segment also licenses video game consoles and other digital consumer electronics devices.
NVIDIA's business strategy targets some of the most significant growth areas in technology, successfully positioning itself as a recognized leader in emerging and lucrative segments, such as cloud computing and mobile Internet. A cross licensing agreement with Intel (NASDAQ:INTC) alone is valued at $1.5B over five years.
NVDIA is currently the third-largest specialized semiconductor manufacturer, with a market cap of approximately $10.4B. NVDIA has a float of 565 million shares, with under 5% short interest. Institutional investors hold 77% of shares, with insiders owning 5%.
In short, the big picture for Nvidia looks very bright.
Proof in the Pudding
If a company has superior products than its competitors, and is positioned front and center in favorable big picture trends, then it should manifest its superiority via increasing sales and earnings in the here and now. If not, one should question the overall premise regarding such products and such hopes for the future. So let us take a look at how Nvidia is doing in the here and now.
Nvidia is on track to grow its earnings 60% this year over last on sales growth of 15.4%. Next year earnings are expected to grow 24% on an increase in sales of 9.5%. With a forward P/E in the 17-14 range, the stock is currently very cheap in relation to its superior growth, making it one of the best value propositions in the Nasdaq 100. Analysts have been raising estimates recently.
The balance sheet is very strong with minimal long-term and total debt. Capital spending grew a modest 4.22% per year in the last five years. Nvidia's return on invested capital is 7.97% in the past 12 months vs. 0.58% for peers, and its five-year average is 11.01% per year vs. peers' -0.37%. Nvidia stock is selling at 18.03 times its trailing 12-month free cash flow.
Technical Trends and Trading
Nvidia is currently in buy mode per the AK Trading indicator (see chart below,) and the recent pullback makes NVDIA an super attractive buy opportunity at current levels.
[Click to enlarge]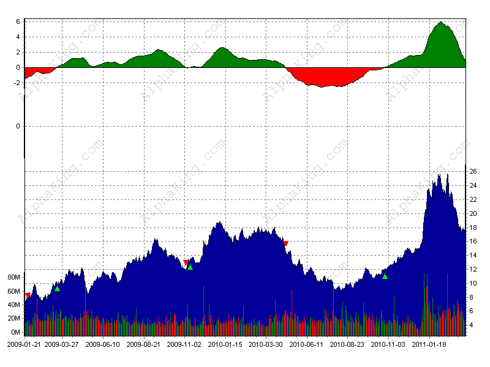 Click to enlarge
NVDA traded via the AK Trading signal as shown in the chart above (cash on sell signals) and turned $1,000 invested in 2000 to $8,170 by March 2011. There were 12 trades during those 11+ years, with 91.7% delivering a profit. The average gain on the winners was 23%, versus an average loss of 7% on the failed signals.
All 10 stocks currently held in the AlphaKing.com Q/10 portfolio (see below) traded using the AK Trading signal turned $1,000 into $10,521 between 2000 and March, 2011. There were 107 trades for the 10 stocks during that 11+ years, with 56.2% delivering a profit. The average gain on the winners was 86%, versus an average loss of 12% on the failed signals.
Current Q/10 portfolio and trading stance:
AMZN (SELL-CASH)
Baidu.com (NASDAQ:BIDU) (BUY-HOLD)
Celgene (NASDAQ:CELG) (SELL-CASH)
DirecTV (DTV) (BUY-HOLD)
Netflix (NASDAQ:NFLX) (BUY-HOLD)
NVDA (BUY-HOLD)
Autodesk (NASDAQ:ADSK) (BUY-HOLD)
Illumina (NASDAQ:ILMN) (BUY-HOLD)
Priceline.com (NASDAQ:PCLN) (BUY-HOLD)
Wynn Resorts (NASDAQ:WYNN) (BUY-HOLD)
All stocks are held until the stock's trend following indicator triggers a sell signal, and then cash is held until the next buy signal. Follow me on SeekingAlpha.com for updates and all future trades in this portfolio, including the king of awesomeness, NVDA.
Disclosure: I have no positions in any stocks mentioned, and no plans to initiate any positions within the next 72 hours.