While using Barchart to screen for low-priced stocks hitting the most frequent new highs, I came across Pain Therapeutics (NASDAQ:PTIE) and added it to the Barchart Van Meerten Speculative portfolio. The stock was added mainly for technical reasons.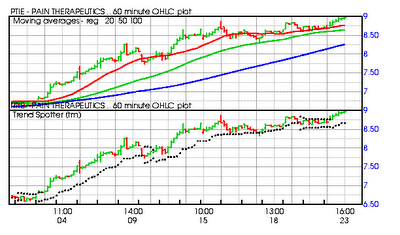 Pain Therapeutics (PTIE)
is developing a new generation of opioid painkillers.Opioids are drugs derived from the poppy plant. The company uses technology to reformulate opioid drugs, such as morphine, into new painkillers with improved clinical benefits. The company has four opioid painkillers in Phase II clinical trials. The company believes its drugs offer enhanced pain relief, fewer adverse side effects and reduced tolerance and addiction compared to existing opioid painkillers.
Technical Factors:
Trend Spotter (tm) buy signal
13 new highs and up 34.60% in the last month
Relative Strength Index 74.40% and rising
Trades around 8.85 with a 50 day moving average of 7.05
Fundamental Factors:
Although there is only 1 Wall Street analyst following the stock his buy recommendation and estimates are aggressive
Sales are estimated to increase by 174.80% next year
Earnings are projected to increase by 83.80% annually for the next 5 years
Investor Sentiment:
I'm surprised at the wide and positive general investor following for a stock followed by only one professional analysts
The CAPS members on Motley Fool vote 183 to 17 that the stock will beat the market
The more experienced All Stars agree 71 to 4
This is a speculative position, so please do your own due diligence.
Disclosure: I have no positions in any stocks mentioned, and no plans to initiate any positions within the next 72 hours.