Silver has again attracted the eye of many investors. The past week has seen silver prices rise by 10%, while 2011 has witnessed a 21.9% rise even after 2010 saw the metal rise 84%. While precious metals have contributed greatly to our returns, at Lakshmi Capital we always prefer to look forward rather than back in order to position our clients correctly.
Silver's fundamentals remain extremely strong, but its upward trajectory is concerning. Below is a chart of the white metal over the past few months.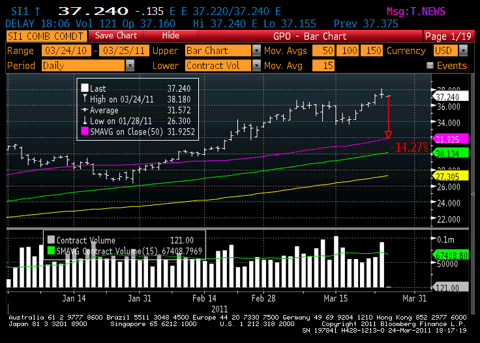 (Click to enlarge)
As can be seen, since the significant January correction, silver has marched upwards in impressive fashion. Silver now stands 14.27% above its 50 day moving average. Since the moving averages tend to be areas of significant support for commodities, silver would have to drop significantly before reaching long-term support lines.
Let's take a look at this week's CFTC report to see if silver's current rise is being driven by speculation.
This Week's CFTC Report
The below chart shows the price of silver in gray, Managed Money net longs in green, and Producer net shorts in blue.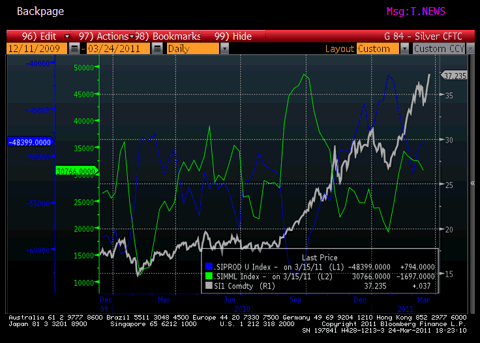 (Click to enlarge)
The "Commitment of Traders" report indicates that speculators are not responsible for silver's rally. Very surprisingly, Managed Money net long positions have actually decreased significantly during silver's latest rally. Since February 15, the Manged Money net long position has decreased by 10% while the price of silver has actually increased by 21%. Taken in a vacuum, this reading is extremely bullish, as it indicates that increased speculation by highly leveraged futures traders is not responsible for silver's recent rally (a problem evident in corn and crude oil futures).
If futures traders are not responsible for silver's recent price rise then who is? The answer must be ETF and physical silver buyers. Since physical silver and ETF shares such as SLV have become extremely popular with individual investors, the answer could very well be that the mom and pop investing crowd has finally gotten word of silver's rise and wants in. Usually this is a kiss of death for investments, as so-called "retail" investors are the last to get in on rallies, but we do not believe that silver's popularity with Main Street will be its downfall.
Because 50% of silver mined each year is used in industrial processes, this silver hoarding is actually extremely bullish for silver going forward. As ETF's and individual investors increase their silver holdings, this amount of silver is taken out of the world supply. As usual in economics, when supply goes down, price goes up.
In the past, retail investors have been considered "hot money," meaning investors that get in late in a trend and bail at the slightest sign of weakness. However, in the futures markets, Managed Money can be considered more speculative and fickle. Because Managed Money represents huge sums of money trading extremely leveraged futures products, their actions have immediate and drastic effects on prices.
To compare the SLV's effect on markets vs. future traders, the SLV currently holds 356 million ounces of silver, while Managed Money net longs control the equivalent of 153 million ounces of silver. At its peak in September 2010, Managed Money longs controlled 242 million ounces of silver. Clearly, retail/ETF investors are now in the driver's seat when it comes to silver.
The reason that it does not necessarily scare us that less experienced investors are becoming enamored with silver is because no leverage is utilized inherently when buying silver through the SLV or physically. For example, an individual investor with $25,000 to invest could buy about 675 ounces of silver at a price of $37/ounce. For $11,138 per contract (the margin requirement for silver futures from the CFTC, which interestingly was raised by 5% today), a futures trader could buy 2 contracts of silver with the same $25k, and control 10,000 ounces vs. the individual investor's 675. Because futures traders are so much more leveraged than holders of the SLV, corrections in the price of silver will not cause nearly as many, if any, SLV holders to forcibly liquidate. This should prevent the price of silver from falling too drastically.
Additionally, the fact that Managed Money has actually been decreasing their speculative long interest in silver as it has rallied indicates that hedge funds, pension funds, and other institutional investors are not yet believers in silver's rally. Just as in the stock market, a security climbing the proverbial "wall of worry" is a very healthy sign. This means that the security's price continues to rise in the face of many skeptics. As those skeptics are converted to believers, the security appreciates in value.
Lastly, Managed Money longs remain about 18,000 contracts below the all-time high set in September 2010. As Managed Money gains confidence in silver's rally and returns to speculate, the price of silver could rise drastically, especially when considering how much silver has been taken out of world supply by the SLV and physical holders of silver.
Even though silver's current run appears to be overextended on its face, looking deeper into the Commitment of Traders report and SLV holdings indicate that silver's rally may indeed be healthy. Let's consider silver's fundamentals before making a trade recommendation.
Fundamentals: Loss of Faith in Major Currencies
The chart below shows the price of silver in the top panel and the Australian and Canadian dollars on the bottom panel.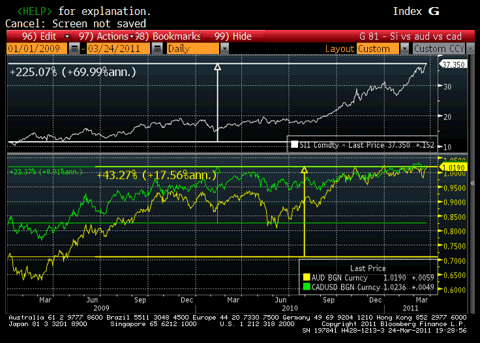 (Click to enlarge)

As can be seen, both currencies as well as silver have appreciated substantially against the dollar since January 2009. The reason for the dollar's weakness is easy monetary policy coupled with an extremely lax attitude toward U.S. fiscal health.
While the U.S. does not face an imminent debt crisis, foreign currency investors as well as precious metals investors are discounting the future event of the U.S. printing money to finance its gargantuan debt. The higher U.S. government debt goes, the higher the likelihood that officials will have to inflate away the debt, and thus devalue the dollar.
Furthermore, currency interventions and competitive debasement have now become commonplace. As we discussed last week, the G7's intervention to sell the yen is an extremely important event. While we believe it puts a ceiling above the yen, it also serves to further damage investors' confidence in paper currencies. Almost every government in the world would like their currency to be weaker so that their exports look attractive, including the United States. Traditionally, it is much easier to devalue one's own currency than strengthen it, but because so many countries in the world are attempting to do so at the same time, it has become a very difficult endeavor. For example, Japan's central bank tried to intervene and sell the yen back in September to no effect beyond one day.
As developed countries continue to attempt to devalue their currencies to stimulate their export sectors, investors will increasingly turn to gold and silver as insurance, and eventually as a possible replacement, to fiat currencies. With gold currently a 1% allocation in institutional investors' portfolios and silver receiving no allocation, the room to grow is vast.
Trade Recommendation
Given silver's tendency towards volatility as well as its current spectacular run above the 50 day moving average, we would advise a cautious long position in silver. One could achieve such a position by selling a put option on silver for December at the 30 strike for $1.53. In such a trade, an investor would collect $7,650 per contract, and the trade would be profitable as long as silver is above $28.47 on November 28, 2011.
Since there is a possibility of significant correction, we would recommend scaling into this position by selling 1 contract every few weeks (if the investor has sufficient capital) until the desired level of exposure is achieved. This method of dollar cost averaging will allow the investor to average into the position and not be strapped out if silver experiences a sizable pullback.
Disclosure: I am long SLW, SLV. Long silver futures, short silver futures puts, short silver futures calls.
Additional disclosure: All information included herein is the opinion of the firm and should not be considered investment advice. Past performance is not necessarily indicative of future results.