Yesterday shares of Nvidia (NVDA) were on fire. Four pieces of news fed on themselves to cause a big up move on heavy volume.
Nvidia introduced with fanfare its new graphics card GTX 590. GTX 590 is the world's fastest and quietest DirectX 11 graphics card ever built. The card contains dual-512 GTX 500 GPUs and a custom vapor chamber for cooling.

I am an electrical engineer and enjoy keeping up with new technology. GTX 590 is truly impressive from a technical point of view. From an investment point of view, the hyped impact of the new card is at best dubious. The table shows that the performance of GTX 590 is evolutionary and not revolutionary. Radeon cards are made by Advanced Micro Devices (NYSE:AMD), which acquired ATI.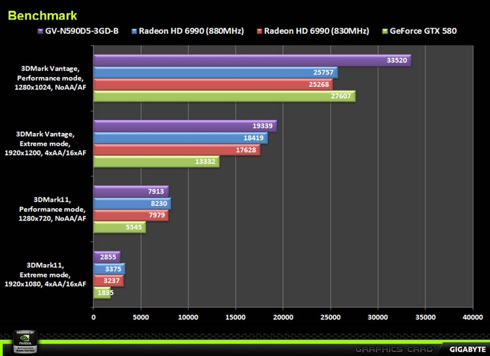 Click to enlarge
(Click charts to enlarge)
The question is how many people will shell out over $600 for the incremental performance improvement offered by GTX 590. Of course, a few hard core gamers will spend the money. But their numbers are in thousands not in millions. The financial impact on Nvidia will be minimal.
A blogger wrote that the chip in Motorola's (NYSE:MMI) Droid Bionics will be from Nvidia.

This supposedly newsworthy item was simply a regurgitation of the old obvious information from the Consumer Electronics Show from a while ago.

The third piece of the news was that Acer's "Iconia" tablet containing Tegra2 from Nvidia will be carried by AT&T (NYSE:T). In reality, this was not news as it was previously well telegraphed.

Some of the same analysts, after thumping their chests that the sky was the limit for the stock price at the top and at the stock's bottom were fretting about the coming glut in tablets -- again changed their minds. The speculation in the media was that the coming tablet glut will not be as bad as previously feared. I saw no credible hard data in the press to support this bipolar behavior.

I have been short on Nvidia from $25.53. On March 18th, when the stock was at $17.60, I issued an alert to the subscribers of the ZYX Short Sell Change Alert to take profits or protect the position with a tight stop. My decision to take profits was based on three of the six screens of the ZYX Change Method switching to neutral from negative.
For investors, Nvidia is a short on any significant bounce up. Obviously day traders can play from both sides. Due to its heavy volume, Nvidia forms a good day trading stock.

Disclosure: I have no positions in any stocks mentioned, but may initiate a short position in NVDA over the next 72 hours.

Additional disclosure: I was short on Nvidia from the average price of $25.53. I covered the last tranch at $17.60. I also told subscribers to the ZYX Short Sell Change Alert to cover or take protective measures on March 18th. I intend to sell short Nvidia again when all six screens of the ZYX Change Method are satisfied. I will also update my position and any further developments on my blog at blog.thearorareport.com