Investing has become much more of a global pursuit in recent years, with more non-U.S. stocks trading here in the U.S. ETF's have also made it easier to gain exposure to international stocks. However, there's often a disconnect between some ETFs' performance and the share performance of foreign stocks listed in the U.S. Some ETF's afford better exposure to foreign markets than U.S.-traded stocks do, simply because some countries don't have that many stocks trading here. Russia, for example only has four stocks trading in the U.S., whereas China has 231 and Canada has 170. You can also find U.S.-traded stocks on the Pink Sheets/OTC market, but these stocks can often lack liquidity.
We used a minimum of four stocks trading in the U.S. as a cutoff on these tables, so that Russia was included, due to its inclusion in the popular "BRIC" category:
**(SEA was the only ETF we could find with at least 20% weighting in Greece. It's actually a Shipping ETF that includes many of the Greek shipping stocks.) It looks like the European stocks have fared the best year-to-date, with debt-ridden Spain leading the pack, and Italian and German stocks close behind.
However, with the exception of South Korea, Spain, Italy, Hong Kong, and Canada, the ETF's listed above don't really correlate that well to most countries' U.S.-traded shares. To be fair, many ETF's have different profiles, some of them may concentrate on larger cap stocks, and others may even use derivatives in addition to equities, but most of them purport to give investors exposure to whatever foreign market is in their name. On the other hand, since some of these countries have so few stocks trading here, the share performance of their ADR's/ADS's is not truly representative of how that country's local stock market has performed.
So, which countries' US-traded stocks have posted the most earnings and sales growth over the past 5 years?: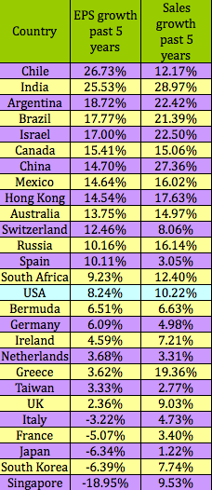 (Click to enlarge)
Not surprisingly, BRIC countries Brazil, India and China are near the top for the past 5 years, but Chile, Argentina, Israel and Canada are also in the top group. Canada, of course, is a commodity-rich nation - they're the biggest oil exporter to the US. Like Canada, Chile is also rich in resources, such as copper, which has quadrupled in price due to demand growth from China and India. Israel has burgeoning tech and biotech/healthcare industries.
What about the future? The following table is based upon analysts' estimates for future EPS growth for these US-traded foreign stocks: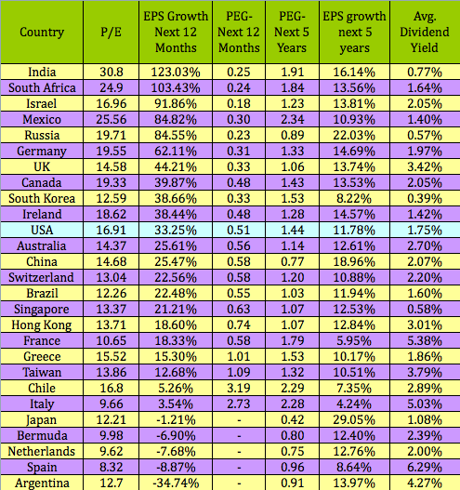 (Click to enlarge)
These future rankings look quite different from the past. Argentina has fallen to the bottom, and S. Africa, Mexico and some other countries' stocks are estimated to have very strong growth over the next 12 months. The Next 12 Month PEG ratios for a majority of these stocks look quite undervalued, including US stocks. Notice, however, how the 5-year projected valuations, (PEG-Next 5 Years), aren't nearly as undervalued, with the exception of Brazil, China, Singapore and Hong Kong.
Are U.S. stocks really going to increase earnings by 33%? If the recovery ramps up, it's possible, but, keep in mind, of course, that these are very broad, aggregate estimate numbers, based on a diverse array of stocks and countries. Your best bet would be to further research individual firms within the undervalued countries.
When it comes to dividend paying stocks, Israel seems to be in the sweet spot of combining future growth with dividends. Israel has a highly educated workforce, with more engineers and PhDs per capita than any other country. Israel also has more tech startups than any other country. There are currently 2 wireless Telecom stocks from Israel that are listed in the Telecoms section of our High Dividend Stocks by Sector Tables: Cellcom, (NYSE:CEL), and Partner Communications, (NASDAQ:PTNR). Israel also has some dividend stocks, such as these three tech firms, Formula Systems, (NASDAQ:FORTY), Mind C.T.I. (NASDAQ:MNDO), and Ituran Location, (NASDAQ:ITRN), which are listed in the Tech section of our high dividend stocks tables.
Disclosure: Author is long shares of PTNR. This article is written for informational purposes only.