By Richard Bloch
Crude oil is, well, crude. That's why we have refineries – to turn that crude oil into something more useful, like gasoline, heating oil, and even asphalt.
Refineries want to generate a profit, of course, so you would assume that the revenue from the distilled products should exceed the cost of the crude oil, but by how much?
That's what a "crack spread" shows. It's the difference between the cost of the raw materials (the oil) and what's refined from it. It's called a "crack spread" because you're "cracking" those varying hydrocarbons and reorganizing them into more useful substances.
I gathered some historical data on one of these spreads, but before I go on it's worth noting that this is an extremely simplistic view of the petroleum market. There are dozens of different kinds of crude oils, many different grades of refined products, and countless ways that they get to market. On the other hand, you could get a quick overview by taking a look at something called the "3:2:1" spread.
Three barrels worth of oil
This spread makes the assumption that at the wholesale level 3 barrels of crude oil yields 2 barrels of gasoline and one barrel of heating oil. In other words, if 2 barrels worth of gasoline sells for $80 and one barrel of heating oil sells for the $40 – or a total of $120 for both products, the spread would be $20 if crude oil cost $100 per barrel.
Using the spot price of West Texas Intermediate (WTI) crude oil, and the spot prices for RBOB gasoline and No. 2 heating oil from the U.S. Department of Energy, I created a chart showing this spread going back to 2003: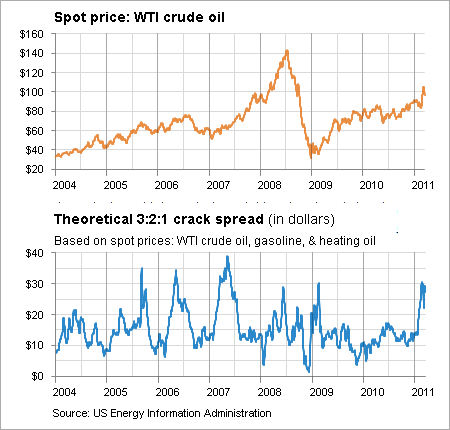 In nominal terms the spread recently reached its highest levels since the end of the recession, but it may be more helpful to look at the spread in percentage terms – that is, the profit of the spread as a percentage of the crude oil price – and it might also be useful to look at both pre- and post-financial crisis timeframes.
This chart shows the price of oil at the top. Below that is the profit margin based on the 3:2:1 formula as a percentage of the price of oil from 2003 to mid-2007: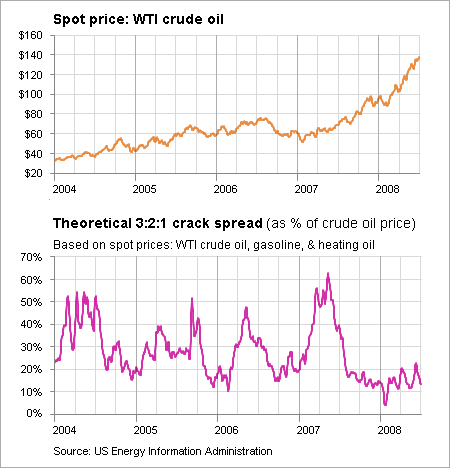 Just because the spread gets high, doesn't mean oil prices are going up. In fact, as oil rose to about $140, the profit margins grew tighter. That's not surprising. Higher margins can draw more competition into a market.
Note that the peaks tend to correspond with spring and summer, with the lower spreads tending to occur in the winter. This could mean that gasoline prices are more sensitive to market forces. Winter is obviously the season when heating oil prices are top of mind, while the summer is traditionally the gasoline-buying season.
Since April 2009, the spot price of crude oil has doubled. The spread in percentage terms peaked in mid-February, then eased a bit. Yet that peak was at its highest level of the past two years.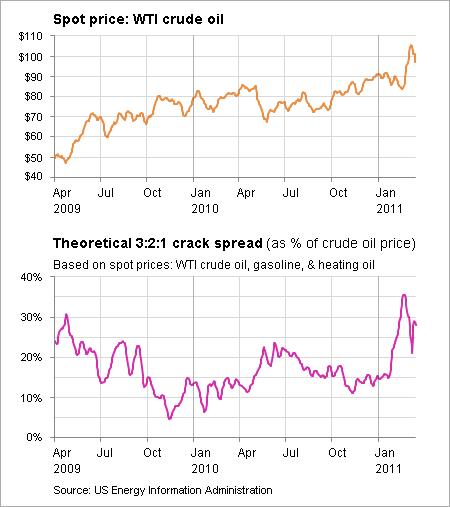 What about Brent?
The charts above show this crack spread applied to West Texas Intermediate oil, but some analysts believe WTI is becoming largely irrelevant, especially outside the US – and that Brent crude oil represents a more valid benchmark. Bloomberg quotes one analyst as saying "WTI is dead."
I'm not sure if the spread formula I've used even applies to Brent oil. Still, it's interesting to see how even though WTI is supposedly a superior grade, Brent oil now costs more than WTI, and has so for the past few months as you can see on the chart below.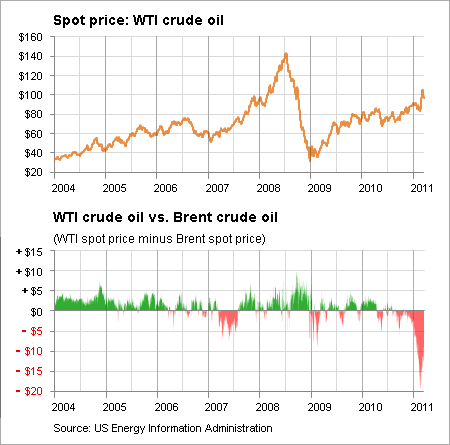 The difference between these two types of oil hasn't diverged this much in several years. If in fact WTI oil is largely irrelevant, then any crack spread calculations based on WTI might be irrelevant, too.
So if that's the case, then as Emily Litella might have said, "never mind."
Important Note
Content, including research, tools and securities symbols, is for educational and informational purposes and should not be intended as a recommendation or solicitation to engage in any particular securities transaction or investment strategy. You alone are responsible for evaluating which securities and strategies better suit your financial situation and goals, risk profile, etc. The projections regarding the probability of investment outcomes are hypothetical and not guaranteed for accuracy or completeness. They do not reflect actual investment outcomes and are not guarantees of future results, and do not take into consideration commissions, margin interest and other costs that will impact investment outcomes. Content may be out of date or time-sensitive, and is subject to change or removal without notice. Supporting documentation for any claims made in this post will be supplied upon your email request to editor@zecco.com.
At the time of distribution of the material contained herein, neither Zecco Trading nor Zecco Forex was a market maker or acted as the contra-party for customer transactions through the firm's principal accounts for the securities discussed.
Zecco Holdings, Zecco Trading, Zecco Forex, and their officers/partners/employees may hold a nominal financial interest in any of the securities discussed herein, with the nature of the interest consisting of, but not limited to, any option, right, warrant, future, long, or short position.
Neither Zecco Trading nor Zecco Forex has participated as a manager or co-manager in public offerings of the securities mentioned herein within the last twelve months.