For most prudent, thoughtful investors to go from "bull" to "bear" is a giant leap. In fact, that transition usually occurs in stages through a process of reassessment of the global risks, review of existing exposures, and teeing up of potential changes in positions should events unfold in a certain way. Ultimately one finds oneself close to if not already having taken that big step.
Readers of my articles and blogs over the past year will know well that I've been investing based on a positive view on global growth. Having visited many emerging markets over the past 10 years, I've seen firsthand how much infrastructure buildup needs to get done. By most measures, that is in fact what has been happening. Companies that play to those needs, such as material, machinery, resources, tech and business services, have generally performed accordingly.
Of late, much has been written about "headwinds" that could stall out the equity market rally that's been in place since the lows of March 2009. I myself just wrote one entitled "
Will 'Headwinds' Stop the Bull?
" That question is one that I ponder on a daily basis, and more so now than in the past. As pointed out in that piece, the global geopolitical issues that have erupted have flight paths that are extremely unpredictable and could have meaningful influences on the supply of oil, the overall cost of energy, shipping routes for all sorts of goods, regional conflicts, shifts in balance-of-power dynamics, etc.
Even if one believes, as I currently do, that the global growth thesis will ultimately prevail over those "headwinds," there is a shorter term event that should be weighed in the mix, namely, the "earnings parade" that is meant to start in early April. As companies start to report Q1 results, we might see more, or much more, of what we've seen in recent days ... companies reporting good-to-strong earnings, but coupling that with very sober guidance for the balance of 2011. We've seen a number of situations where companies have experienced some degree of margin pressure largely due to higher commodity and other input costs, and where the guidance for 2011 includes grave concerns about further margin compression.
There are four recent examples that are worth noting. And if the saying that "a picture tells a thousand words" is true, then consider the "4,000" words expressed in the charts below that show the price decimation that occurred when each of these companies made announcements in recent days that included some caution and/or experience already with either higher input prices, margin compression, some slowing in China activity from last year's robust pace, etc.
(Source:
ChartFacts.com
)
Click to enlarge charts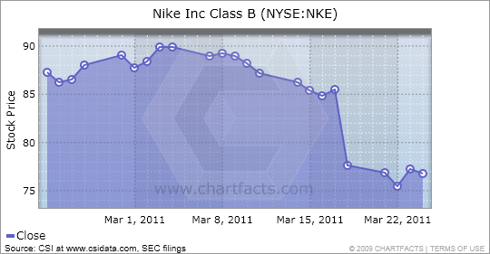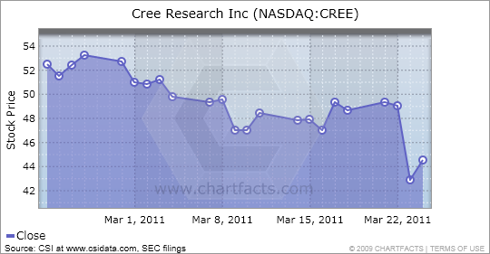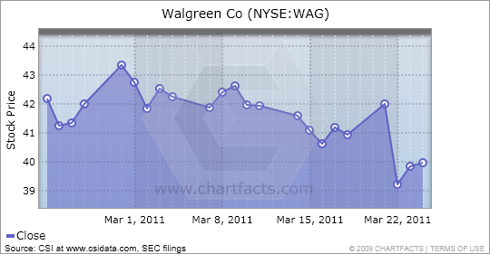 In the chart below for Research In Motion (RIMM), the last price was the close on March 24 before the company announced earnings later that evening. The stock traded much lower on the opening of March 25.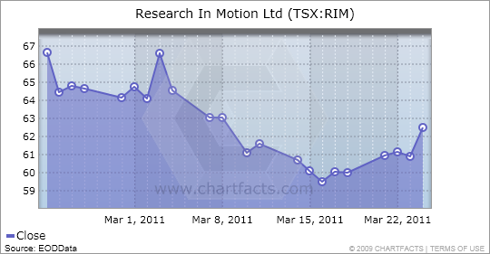 The point of focusing on these charts is to highlight the ruthlessness of the markets, at this time, to the kinds of headwinds that are front and center on the radar screen. Earlier in the year, we also had some similar experiences with companies missing analyst expectations on earnings and then suffering the stock price decimation. But at that time, there appeared to be a quicker rebound where "mercy" looked to be the dominant factor. This time around, early signs are that "mercilessness" might prevail.
It's a word to the wise to take note ... to consider the global landscape and to acknowledge the shift in risk dynamics, to consider lightening up on overall exposure if appropriate, and to weigh the degree to which a market set back might provide re-entry points at lower levels. This is not meant to be a "forecast" or a "call" on the market. Rather, it's meant to highlight shifting winds around the globe and the possible impacts on equity valuations as we head into the next round of earnings releases. At times like this, some form of "defense," or at least" defensive thoughts," might be the best preparation for an effective "offense."
(Please note: This article is solely meant to be thought provoking and is not in any way meant to be personal investment advice. Each investor is obligated to opine and decide for themselves as to the appropriateness of anything said in this article to their unique financial profile, risk tolerances and portfolio goals).
Disclaimer: Please read and consider important information related to all communication made by Soos Global on this site by clicking here.
Disclosure: I am long WAG, NKE.
Additional disclosure: Also long many stocks in SPX, QQQ and VWO. Positions may change at any time without notice.