Bull markets are said to "climb a wall of worry", which speaks to the contrarian role of investor sentiment relative to stock prices. The news continues to provide reasons to be concerned, and yet the market has gained 5.2% since making an intraday low of 1,249 on March 16.
According to Bloomberg -
Merkel Forces European Leaders to Cut Startup Capital of 2013 Bailout Fund:
European Union leaders cut the startup capital for the future euro emergency aid mechanism after German demands to make smaller upfront payments stoked fresh concerns about Europe's effort to quell the debt crisis.
Reactor Core May Be Breached at Damaged Fukushima Plant:
Japan's nuclear regulator said one reactor core at the quake-damaged Fukushima Dai-Ichi power plant may be cracked and leaking radiation. "It's very possible that there has been some kind of leak at the No. 3 reactor," Hidehiko Nishiyama, a spokesman at the Japan Nuclear and Industrial Safety Agency said in Tokyo today. While radioactive water at the unit most likely escaped from the reactor core, it also could have originated from spent fuel pools stored atop the reactor, he said.
Irish Banks May Need 27.5 Billion Euros More Aid, Analysts Say:
Ireland's government may have to inject an additional 27.5 billion euros ($39 billion) into the country's banks after a third round of stress tests next week, according to a survey of analysts and economists. That will exhaust about 80 percent of the 35 billion-euro fund set up last year in Ireland's international bailout to shore up the country's lenders, according to the median estimate of 10 analysts and economists surveyed by Bloomberg News.
Investors Intelligence surveys stock market newsletter advisors and produces a way to track sentiment in the form of their bull/bear ratio. From a contrarian perspective, extreme ratios on the high end tend to be bearish; extreme readings on the low end of the range tend to be bullish. If investor sentiment continued to be stubbornly bullish in the aftermath of recent events in Japan, the Middle East, and Europe, it would be a red flag for the markets.
The good news is the bull/bear ratio has dropped from a recent high of 3.00 to the current reading of 2.26, which aligns well with what we would expect to see during on ongoing bull market.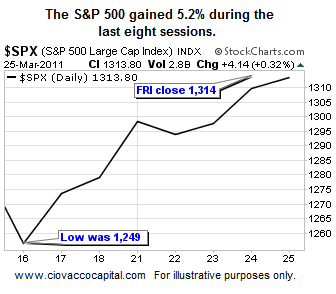 Sean Kraus, CIO at Citizens Business Bank, may have captured the reason for the bear's big disappointment in the last eight trading sessions. Mr. Kraus told Bloomberg:
Investors are getting back into the mode of thinking there's an economic expansion phase that's likely to continue. " This week's earnings reports were "very, very positive, and a lot of the commentary coming out of the companies was also positive.
In an article, U.S. Stocks Have Biggest Weekly Gain in Almost Two Months on Profit Growth, Bloomberg highlighted the following bullish drivers behind the rapid gains off the March 16 low:
AT&T (NYSE:T) climbed 3.3 percent after agreeing to buy T- Mobile USA from Deutsche Telekom AG, forming the biggest U.S. wireless-phone company.
Oracle (NASDAQ:ORCL), Jabil Circuit (NYSE:JBL) and Micron (NASDAQ:MU) advanced more than 6.1 percent after profit or forecasts at the computer-related companies beat analysts' projections.
The S&P 500 recouped all of its losses following Japan's magnitude-9 earthquake on March 11. As concern about the temblor eased, the Chicago Board Options Exchange Volatility Index, which measures the cost of using derivatives as insurance against S&P 500 losses, extended its drop since March 16 to 39 percent. That's the most since November 2008 for the measure known as the VIX.
From a big picture perspective, despite the recent correction in stocks, investors on the long side of the market have three major factors in their favor: (1) the economy is growing, (2) earnings are strong, and (3) monetary policy remains extremely accommodative. Consequently, we began to redeploy cash on March 17, including adding to our positions in energy (XLE, XOP, IEZ), materials (NYSEARCA:XLB), commodities (NYSEARCA:DBC), precious metals (SLV, GLD), mid caps (NYSEARCA:IWP), value stocks (NYSEARCA:VTV), and industrials (NYSEARCA:XLI). We provided some sector specific rationale to support these moves on March 20. In Oversold Market May Represent An Opportunity, we outlined a rare "extreme oversold condition" that from a historical perspective (1982-2011) offered a favorable risk/reward entry point for cash.
What are the technicals telling us about the market's recent rally attempt? They are telling us to respect the move and that the odds favor it continuing. Is it possible that the bullish indications outlined below are incorrect and the market "whipsaws" us in the form of a resumption of the recent declines? Yes, but possible and likely are not the same thing. The odds favor a continuation of (a) the current rally attempt, and (b) the primary trend, which is up and bullish. As outlined on March 22, we continue to believe the S&P 500 could reach 1,400 to 1,440 sometime in 2011.
Simple support and resistance analysis tells us "what was once resistance now becomes support" as prices move up. The market (NYSEARCA:SPY) now has several forms of possible short-term support in close proximity, which improves the risk-reward profile for taking cash off the sidelines.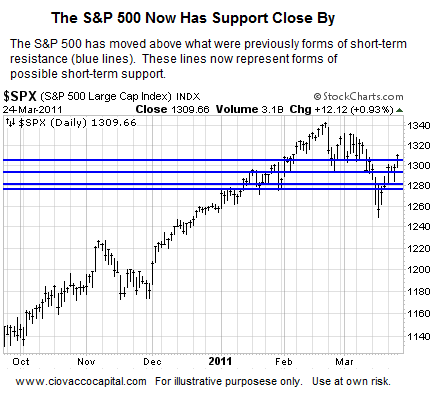 Our preference for energy-related investments was rewarded on Friday when NYSE Arca Oil index rose 1.3% to 1,373, the NYSE Arca Natural Gas index rose 0.9% to 690, and the Philadelphia Oil Service index rose 0.1% to 289.
Developments in the March 24 trading session also supported investing some additional cash. Market breadth refers to the number of advancing issues and the number of declining issues in a given market. Healthy markets have positive breadth or broad participation in rallies. The Summation Index, shown below, is an intermediate-term measure of market breadth. Currently, the Summation Index is trying to make a bullish turn (see green arrow in lower-right of chart below). Notice how the S&P 500 acted (see top of chart) after the Summation Index made positive turns in the past (see green boxes). Since we always think in probabilistic terms, the move in the Summation Index increases the odds of a sustainable turn in stock prices.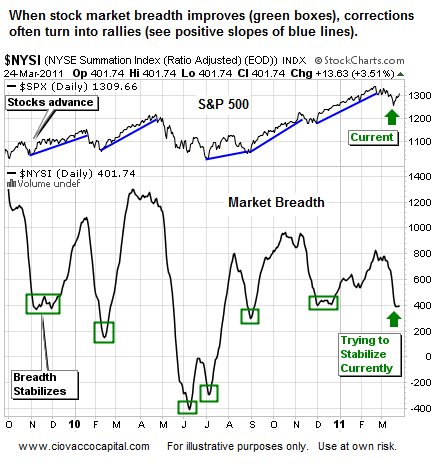 According to a Commerce Department report released on Friday, U.S. real gross domestic product increased at a 3.1% annualized rate in the fourth quarter, revised up from the 2.8% pace reported one month ago. These numbers are nowhere near what we would expect to see near the onset of a new bear market.
Based on studies of recent corrections and subsequent rallies, we have a "correction model" which looks at eighteen different things we would expect to see at the end of a correction and at the beginning of the subsequent rally. As of the close on March 24, eighty-three percent of the boxes have been checked in a bullish manner.
The coming week brings economic reports in the form of Pending Home Sales, Consumer Confidence, ISM Manufacturing, and Nonfarm Payrolls.
Disclosure: I am long XLI, XLE, XOP, IEZ, XLB, DBC, SLV, GLD, IWP, VTV. Generally, I am long stocks and commodities