Earnings per share can be a fickle friend. Fluctuating margins, tax rates, and other items can make the underlying and sustainable growth trend a little more difficult to calculate.

It has been reported that companies with healthy increases in both revenue and earnings have more persistent earnings growth than those that reporting a boost in EPS without a corresponding boost in sales. The paper, Sustained Earnings and RevenueGrowth, Earnings Quality, and Earnings Response Coefficients (2004), goes on to report that in revenue-backed earnings growth, there is often less 'earnings management', and higher future operating performance than companies simply trying to cut-back on costs and increase margins only.
Our approach will be an aggressive search for very high quarter over quarter growth of roughly 20% for the last 3 quarters in a row. Then we will look over the quality of this growth and put it into perspective as to a good buy or a good bye.
Companies with Rocketing Sales
| | | | |
| --- | --- | --- | --- |
| Company | Ticker | Market Cap (mil) | 12 Month Sales |
| China Information Technology, | | 177.8 | 163.8 |
| FreightCar America, Inc. | | 355.1 | 142.9 |
| interCLICK Inc | | 145 | 101.2 |
| JinkoSolar Holding Co., Ltd. | | 573.1 | 708.6 |
| LeapFrog Enterprises, Inc. | | 278.5 | 432.6 |
| Lime Energy Co. | | 111.2 | 95.7 |
| Oasis Petroleum Inc. | | 2747.2 | 128.9 |
| Rubicon Technology, Inc. | | 652.3 | 77.4 |
| SuperMedia Inc | SPMD | 105.5 | 1176 |
So is that it then? Look for companies with superstar revenue growth and simply buy? Not so fast.

First, look at the small market cap of these companies. Not one is over 3 billion or into the mid-cap range by some standards. Companies usually need to be small to achieve 20% quarterly growth. And average 12 month sales is around $100 million only.

Already we can see that many of these are likely fairly new companies just starting to exert themselves. Or they could be small companies that never quite made it and are having revenue spasms on their way out. We will need to be cautious as we are dealing with companies with smaller revenue streams that can exhibit higher volatility leading to false signals. Let's sink our teeth into 2 of the companies.
SuperMedia Inc. (SPMD)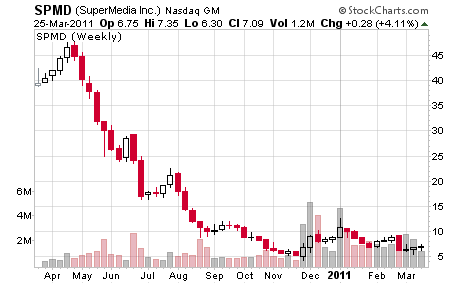 By simply looking back over the past 4 quarters, sales are outstanding! They go from $154 million, to $247 million, up to $349 million, and now to $426 million. Is it all blue skies then? Hardly.

Looking back year over year this company has seen a steady decline in sales starting at least in 2004. From roughly $3 billion in 2008 down to $1.17 billion now, this company has slumping revenues. In addition to that, in 2009 Superpages went Chapter 11 and came back with the new name SuperMedia. That tainting is often hard to live down in the minds of investors.
Many see this advertising business model as outdated and simply unable to keep up to the hip new ways of Google (NASDAQ:GOOG), Facebook, and the others. The short-term pop in revenue cannot, in my opinion, justify buying this until we see some clear direction of a solid revenue-based growth plan.
Jinko Solar Holding Company (NYSE:JKS)

This is one stock with incredibly strong sales between quarters and years. Look at some of the numbers:
Dec

2010

–

$268.8

million

Sept

2010

– $

218.8

million

June

2010

–

$137

million

March

2010

–

$83.5

million
Then consider the annual sales:
2007

–

$107.9

million

2008

– $

332.1

million

2009

– $

238.5

million

2010

–

$708

million
With a brief exception of 2009,the sales have been rocking. Is this the whole picture though? Not when you look at share dilution. The company went from 12.5 million shares in 2006 up to 23 million shares today. When you factor in a constant pump in shares, sales growth is looking a little more tepid.
This means that if you want blockbuster growth looking forward on this stock, the company is going to have to seriously put the brakes on share dilution or watered down sales growth will begin to rear its ugly head in EPS. If margins stay the same, they better slow down the share-printing factory and let sales growth be fully realized per share.

Earnings have been steeply revised upwards, but I'd like to see this amazing growth begin to trickle down to the shareholder without being redistributed among more and more people.
Quarterly Revenue Up But….
RAIL

has

annual

sales

dropping

like

an

anvil

from

the

sky

LF

sales

is

pretty

flat

to

down

over

the

years

.

Return

on

equity

is

very

low

as

well

as

net

profit

margins

.

Traders

punished

this

stock

with

tepid

winter

holiday

sales

,

but

earnings

are

climbing

up

overall

.

Recall

that

the

point

is

to

have

revenue

backed

earnings

,

and

on

that

level

,

LeapFrog

is

to

hitting

that

target

year

over

year

CNIT

has

a

serious

margin

sliding

problem

that

will

need

addressing

LIME

had

a

negative

margin

last

year

,

but

this

is

quickly

improving

year

over

year

OAS

posted

positive

EPS

last

quarter
To Buy or Not to Buy…
For me, I like to buy when sales are jumping at very high rates between quarters and years, and the company is not sitting on the stock like an elephant through constant dilution. Margins can be negative, but as long as they are rapidly improving, I like it. When the stock does turn profitable, it should have a very good run on the back of rocking revenue. (Here is a market that could see a massive revenue boost as the pigment Titanium Dioxide may double over the next few years)
As far as stocks go, I like OAS, LIME, ICLK, and RBCN. CNIT is a buy once they get their margins back from whoever stole them. JKS is a good pick, provided the dilution stops soon.


Disclosure: I have no positions in any stocks mentioned, and no plans to initiate any positions within the next 72 hours.