In the two short weeks since the March 11 Tohoku disaster, being bullish on Japan has almost become a cliché. The sheer scale and speed with which foreign investors piled into Japanese stocks in the wake of the March 11 earthquake and tsunami and after a two-day rout on March 14 and 15 is one for the record books.
In the U.S., Japan-related ETFs experienced $1.2 billion in inflows in the week after the March 11 disaster. On March 16 alone, Japan equity ETFs traded in the U.S. reportedly saw an estimated $700 million in inflows, the heaviest one-day inflow on record. According to Japan's Ministry of Finance, foreign investors bought a record JPY 891 billion (USD 11 billion) in Japanese stocks in the week through March 18, the most since comparable records began in 2005. The Tokyo Stock Exchange numbers indicate cumulative net buying of JPY4,362 billion (USD54 billion) by foreign investors since Q3 calendar 2010.
click to enlarge images
Buying/Selling of Japanese Equities by Foreign Investors, Prop Traders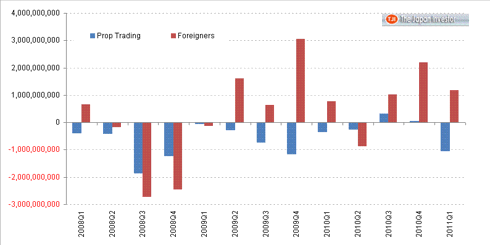 Source: Tokyo Stock Exchange, in JPY
This wave has drawn in experienced global investors as well as individual investors and institutions that don't normally invest internationally, and our caveat to these investors is, "watch your currency risk."
Experienced global investors realize that the risk reward calculation becomes more complicated when you invest outside your home currency. Instead of having two possible scenarios, i.e., the stock goes up or it goes down, there are now four scenarios to consider: 1) you could make money through capital gains and currency gains, 2) you could have capital losses but currency gains, 3) you could have capital gains but currency losses, and 4) you could have capital losses and currency losses.
Forex Traders Learned the Wrong Lesson from the 1995 Quake
The lesson learned by foreign forex traders from the 1995 Kobe earthquake was that expectations of repatriation by Japanese investors of foreign funds to cover reconstruction costs as well as a rapid unwinding of carry trades triggered a sharp rally in JPY. From January 17, 1995, the yen spiked from JPY/USD99.52 on the day of the quake to a new high of JPY/USD79.75 on April 19—representing a rapid 25% appreciation of JPY versus USD.
In reality, the surge in JPY/USD on March 17 to a new historical high was due to the same factors that caused JPY to surge in 1990 with the collapse on the Japanese stock and property markets, in early 1995 after the Kobe quake, in October 1998 with the collapse of Long Term Capital, and in the September 2008 collapse of Lehman Brothers—i.e., the collapse of the yen carry trade.
The carry trade flourishes best in an environment of high interest rate differentials between major countries like Japan and the U.S. and low forex market volatility. Carry trade positions are created with derivative contracts, forex futures and forwards, interest rate swaps or simply high margin leverage, as is the case with individual forex traders. With such leverage, positions can go bad very fast in times of excessive market volatility caused by exogenous shocks or market crashes.
Aside from the carry trade unwinding, we see other currency market parallels between 1995-1998 and now. The JPY surge to a new high of JPY76.52 in Asian trading and JPY77.16/USD in Tokyo trading was not because of fund repatriation by Japanese institutions needing to pay for disaster losses.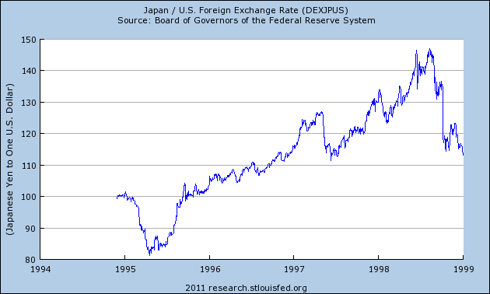 In reality, there was no such repatriation. The IMF sees no signs of Japanese insurers or other Japanese institutions are selling foreign assets to pay damage claims. In the IMF's view, this repatriation would not materially affect the yen's value even if Japanese institutions do repatriate funds.
Further, as the above graph of JPY/USD between 1995 and 1998 shows, the sharp appreciation in the yen was but a temporary spike in JPY/USD that marked the end of a long-term appreciation from the JPY240/USD in 1985. The lesson we drew from the Kobe quake was that the longer term effect on JPY from the quake was actually to weaken JPY, as the BOJ pumped liquidity into the financial system and the government pumped in fiscal stimulus to fund reconstruction. As a result, JPY weakened nearly 40% after the initial spike by 1998.
A JPY/USD Bear Could Maul USD-Denominated Japan Returns
The following table shows the short-term and medium-term impact of currency movements on the Nikkei 225's USD-based returns after the Kobe quake. Short-term, the spike in JPY basically offset the selloff in stock prices. Over the next three years, however, the bear market in JPY/USD completely offset capital gains in the Nikkei 225. This time, short-term capital losses in the Nikkei 225 were again largely offset by a sharp spike in JPY/USD.

Source: FRED, Nikkei
Going forward, however, new Japan bulls will have to carefully watch their currency exposure to avoid possible currency losses negating yen-denominated capital gains.
In first half 2010, foreign investor expectations for a weaker JPY/USD rate were foiled by a growth scare in the U.S. economy mid-year that prompted the Fed to roll out QE2. This time, the JPY/USD weakening trend could be more sustainable. The Fed is due to end its "QE2" program in June, the European Central Bank is expected to raise interest rates as early as next month, while the Bank of England is forecast to tighten policy later this year. Meanwhile the BOJ has poured tons of liquidity into the financial markets because of the Tohoku disaster, and will likely be called on to expand its balance sheet more aggressively to help with a massive reconstruction bill, while the Naoto Kan Administration will need to come up with at least JPY10 trililon of fiscal stimulus as soon as possible.
Disclosure: I have no positions in any stocks mentioned, and no plans to initiate any positions within the next 72 hours.