Research In Motion (RIMM) announced earnings Thursday night and dropped 11% on miserable guidance. How could you have predicted such a sour future for RIMM? Certainly, revenue and EPS wouldn't have alerted you; they've climbed 1,000% in the last 5 years. Operating cash flow wouldn't have triggered any fire alarms; cash flow rose 2,500% the last 5 years. Only one metric, operating income per device, or OPD*, captures RIMM's problems and correctly predicts its dismal future. The OPD is easily derived* and goes to the heart of RIMM's problems. This is the OPD story: despite RIMM selling more Blackberries each year, each phone sale actually generates dwindling profits. Every year, RIMM makes less on each Blackberry. Over the last 4 years, RIMM's profit per sale has dropped from $140 to $83 a phone. I've highlighted this new metric in the past and used it to warn investors to stay away from the stock.
Let's look at the number of Blackberries sold over the last 5 years, and then, at the operating income generated by each phone sold (NYSEARCA:OPD).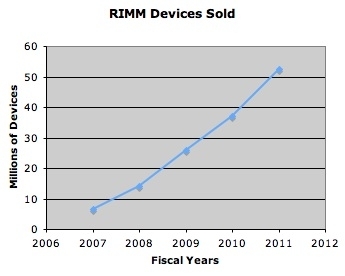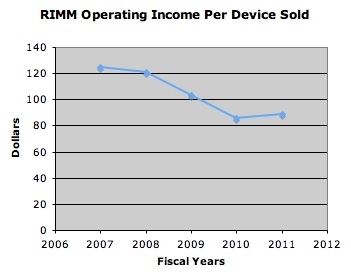 Although RIMM sold lots of product, they have been able to stop the decline in OPD. The quarterly dive in OPD has been even more startling. Below is the OPD for the last 5 years of Q4 earnings.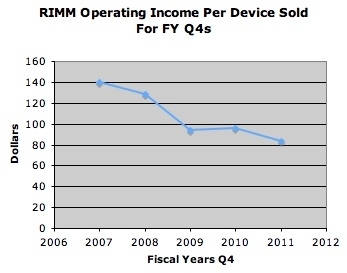 Why has RIMM failed so miserably in preserving its operating income per device? Apple (NASDAQ:AAPL)! Apple entered RIMM's space in 2008 with the launch of the iPhone at a time when the Blackberry ruled the smartphone business. Against probably the greatest competitor on the planet, RIMM was obligated to cut the prices of its phones, spend more on advertising, and invest heavily on its research and development. Again, all of this was done in order to defend itself against Apple, and all adversely impacted its OPD. Thus, although RIMM's operating income skyrocketed 1100% these past 5 years, OPD fell dramatically.
OPD crystallizes the negative trends in RIMM:
RIMM has been compelled to lower its ASPs due to stronger competition.
The company has had to spend more money marketing its lineup.
RIMM has become reactive. When Apple improves its iphone, RIMM has to answer. When Apple creates the tablet category, RIMM must respond with its PlayBook. Apple is controlling the market. RIMM is trying to play catch-up.
If you had followed OPD, you would have sold RIMM a few years ago and moved into Apple. In contrast to RIMM, Apple's OPD has moved ever higher as the company has innovated and executed its way into a very strong market position.
Apple has greatly increased its OPD despite bringing higher volumes of its products to market.** (See charts below)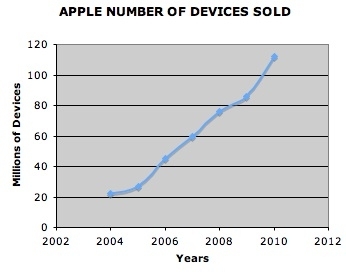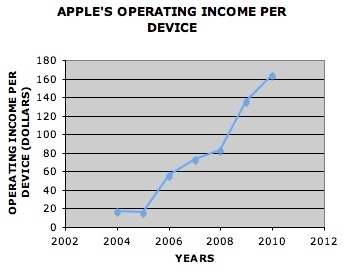 RIMM has failed to measure up to Apple. Apple, aka RIMM-killer, has also been a NOKIA-killer as I described in a previous article. The destruction isn't over. This puts all other tech companies on notice. Apple is a buy while RIMM remains a sell.
*OPD, or operating income per device, is operating income divided by the number of product sold.
**Apple's devices include iPhones, iPads, iPods and computers, numbers easily derived from quarterly reports.
Disclosure: I am long AAPL.