After laying out an outlook for gold and oil, we turn our attention to one of the most discussed commodities – silver. Silver has been a shining star on the commodities horizon but faced some resistance lately driven by adverse economic shocks. Despite remaining uncertainties, our quantitative models suggest that after a short period of increased volatility, silver might reach the $40-45 levels by the end of the year.
For those who did not have a chance to go through our previous analyses, we briefly outline the procedures we employed. There are two major steps required to construct an outlook for any financial asset:
Forecasting U.S. business cycle using one of the quantitative models.
Simulating possible outcomes based on business cycle swings over the past 20 years.
A forecast of the U.S. business cycle is based on a purely quantitative U.S. monthly GDP model. Recent updates confirmed that the soft patch may last until the end of summer at which point a new economic upswing should take over. At the trough annual GDP growth may fall close to 1%. However, in any case, we pay more attention to the turning points rather than the growth levels.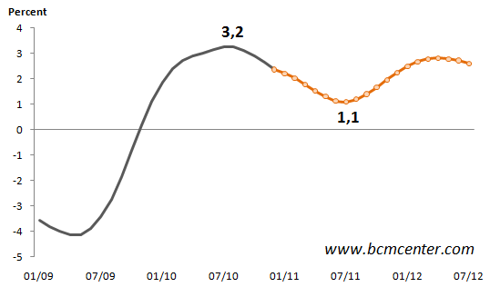 (Click to enlarge)
Next, we use an economic outlook and 20 years of historical data to simulate the range of possible outcomes for silver. Essentially, what we do is find similar positions in past business cycles and collect evidence on how assets reacted using historical data.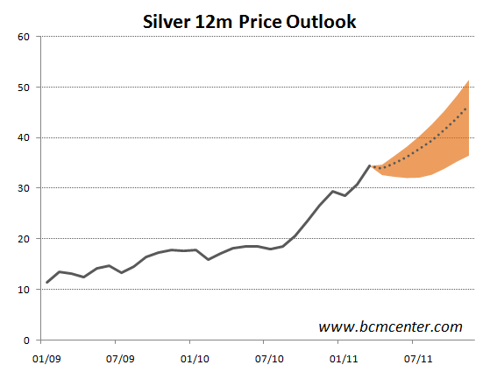 (Click to enlarge)
Results of the simulation suggest that silver remains a promising asset for this year. However, it is very unlikely to repeat the previous year's performance. In the short-run, recently observed vulnerability may prevail until the early summer, but after that downside risks diminish substantially. Upside potential for this year stays as high as $40-45 per ounce.
Disclosure: I am long SLV.