When you hear "technology," what companies do you think of? Chances are they include the Dow Jones Industrial Average's (DJIA's) five tech names: Cisco (CSCO), Hewlett-Packard (HPQ), IBM, Intel (INTC) and Microsoft (MSFT).
These are the cautious investor's friends. They don't make us have to decide between income, value and growth – we get all three! How comfortable.
[Click all to enlarge]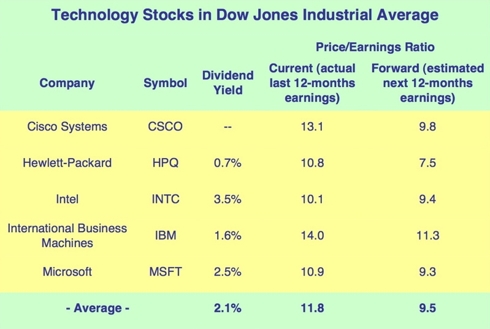 However, "comfortable" is rarely associated with successful investing. That's because there is only one time when we can get income, value and growth from leading technology stocks -- and that is when the market has been beat down by adverse events, producing widespread investor fear and selling (think March 2009).
Yes, there are times when one tech category catches fire, allowing other tech stocks to drift to attractive levels. However, these "neglected" stock opportunities are rare. In today's market, the five DJIA tech stocks don't qualify.
Then why are they so attractively priced? Because these "classic" companies are "old" technology. No, not outdated, but off the cutting edge. The leading edge companies are where the action, growth and potential profits lie. Cisco, HP, IBM, Intel and Microsoft no longer occupy that position. For proof, we need look no further than each stock's performance.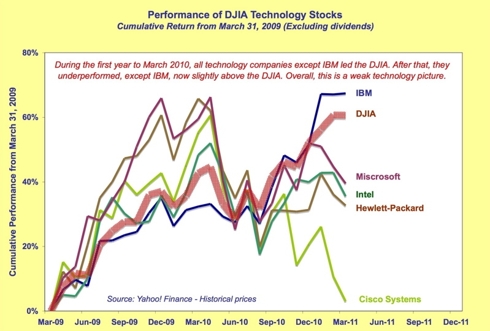 Technology: The "what-have-you-done-for-me-lately?" sector
We all know that technology doesn't stand still. But we often don't appreciate how technology's innovative process causes a perpetual shifting of fortunes. The next, best company is often not the last, best one.
Anyone who has been investing for a while can easily recall former technology stars that are now has-beens. The two main problems are (1) innovation with widespread appeal is difficult to repeat and (2) a winning product defines and balloons a company's structure, making it hard to adjust to the next evolutionary step.
One way to guard against owning the last, best company
In normal markets (meaning when analysts are making informed judgments and investors' emotions are in check), we should expect to pay up for technology stocks with bright futures. Flipping that around, a technology company with an attractive (lower) price is indicating a weaker forward view. That's why the DJIA-five are questionable holdings. They are too cheap.
Why focus on technology now?
This is part of the shift away from value and towards growth that I discussed
last fall
. In addition, I see U.S. stocks entering a
true bull market
. It's in bull markets that a good dose of technology stocks can boost a portfolio's return.
How should we invest in technology?
This is an excellent question because (1) we usually do not know of the new trends and/or "winners" until after they are well along and (2) there are many "losers" that we need to avoid if possible.
A good first step is to select technology companies that we understand well
and
in which we have high confidence. Technology stocks can be volatile and, to be successful investors, we need to be able to ride through the troughs.
Then, to diversify our holdings with other good opportunities, we can invest in well-managed technology and growth stock funds. (We don't need to pick only technology funds because most growth funds own many technology stocks.)
Note:
These are actively-managed
funds. Index funds do not provide the diversification and return potential we are looking for. Although there are growth indexes, they are poor substitutes for active management. Growth indexes use
quantitative measures
, but a good growth portfolio requires
qualitative judgment
.
What about screening for promising technology companies? Screening can be useful. However, the process is different from the familiar value screening, and we will cover that in the next write-up.
So the economic environment and the bull market I see forming mean that an allocation to "new" technology company stocks could be rewarding. We need to look beyond the DJIA-five for the real technology opportunities.
Disclosure: I am long INTC.
Additional disclosure: Intel is used as an income position