The first months of the year usually see a plethora of companies report annual results for the previous year. As all of the companies in which John Fredriksen, the world's 72nd -richtest man, have recently reported their 2010 results, I thought it was time to take a new look at what has happened in 2010 at these companies and what their recent financial performance has been.
The portfolio
Mr. Fredriksen's business interests are mainly in two areas: shipping and oil drilling & energy services. As of March 25, nearly 60% of the portfolio was concentrated in oil drilling & energy services, with heavyweight Seadrill (NYSE:SDRL) accounting for 50% of the total portfolio value (about $5bn).
The shipping interests accounted for roughly 30% of the portfolio value, spread across various names, mainly oil carrier Frontline (NYSE:FRO), LNG carrier Golar (NASDAQ:GLNG) and the shipowning company Ship Finance (NYSE:SFL).
The remaining 13% of the portfolio are mainly concentrated in Mr. Fredriksen's second-largest portfolio company, the salmon farming operation Marine Harvest (OTCPK:MNHVF) - 11% of the portfolio - and a large stake in Aktiv Kapital (AKKAF.PK).
The total value of the portfolio is nearly $10bn at the end of March.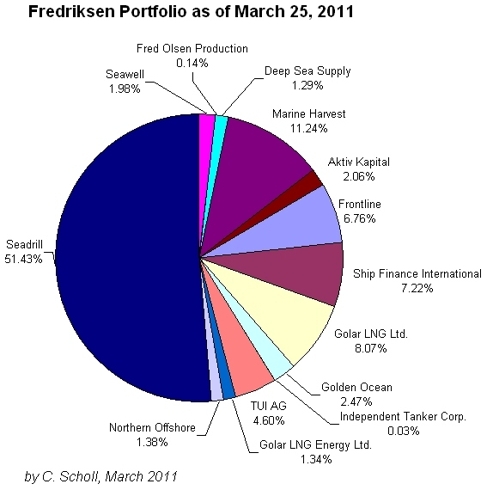 Performance of largest holdings 2010-2011
The main holdings in the Fredriksen portfolio performed well in 2010. While the value of the S&P 500 (NYSEARCA:SPY) index increased by 17.8% in the considered timeframe (January 8, 2010 – March 25,2011), the change in value of the seven largest holdings was as follows:

The Fredriksen holdings are known for their generous dividends, and all did indeed pay a nice dividend during the last year (except TUI, where Mr. Fredriksen ist still struggling to gain influence). Seadrill paid $3.285 in dividends per share during the period, and Marine Harvest distributed $0.075 per share. It is due to pay an other $0.11 per share this summer, amounting to about 9% yield at the current price. Golar LNG has spun-off parts of Golar LNG Energy (OTC:GOLAF) during 2010, and started its long-awaited quarterly payout of $0.25 per share from long-term charters recently. Its shares have rallied sharply recently, reducing its yield to only about 4%. Ship Finance has been increasing its quarterly dividend for the last five quarters; its current yield is 7.4% (likely to increase).
The performance of oil shipping juggernaut Frontline was rather good given the very difficult market for large crude carriers over the last year. Including dividends of $2.1 per share, Frontline shares lost less than 3% in value – while many competitors, like General Maritime (NYSE:GMR) are facing severe difficulties. The value of TUI shares continued to recover in 2010, but have recently retreated from the highs reached at the beginning of 2011 due to unrest in the Middle East and Egypt in particular, one of TUI's main destinations. The difficult market for dry bulk carriers caused the value of Golden Ocean shares to drop about 18% including dividends. Golden Ocean managed to stabilize its business in 2010 by entering into long-term contracts for its ships and acquiring 10% of Knightsbridge Tankers (VLCCF) through an asset-swap.

(Click chart to enlarge)
SHIPPING
Shipping companies account for about 30% of Mr. Fredriksen's portfolio. The total value of these investments as of March 25th was $2.8bn. The main investments are oil tanker operator Frontline (FRO), in which Fredriksen holds a 34% stake worth $652m, the shipowning company Ship Finance International (SFL), in which Fredriksen holds a 43% stake worth $697m, and LNG shipping company Golar LNG (GLNG), in which Fredriksen holds a 46% stake worth $780m.
Fredriksen also holds a controlling stake (40%) in Golden Ocean (OTCPK:GDOCF), which owns dry bulk vessels. This stake is currently worth $240m and pays a 15% dividend. Further investments include a 7.4% stake in Frontline subsidiary ITCL (ITKSF.PK) and an undisclosed but confirmed stake in 'The Containership Company ASA', a container shipping venture founded by two shipping veterans (see recent presentation here pdf) .
Mr. Fredriksen continues to hold a 15% stake in the German tourism and shipping conglomerate TUI AG (OTCPK:TUIFF), where he is engaged in an activist battle. TUI is looking to dispose of its stake in major container shipping company Hapag-Lloyd, in which it still has an investment of more than $2bn.
Spot shipping rates have remained low, hurting the profitability of Fredriksen's investments, but it seems highly leveraged competitors have suffered much more. Ship Finance International, the financial hub of Fredriksen's holdings, continues to enjoy good cashflows. A large part of its income is now derived from rents for the drilling rigs it owns and rents out to Seadrill and other drilling companies.
Unlinke oil and bulk carriers, LNG carriers have recently seen a surge in charter rates. Short-term demand for liquefied natural gas is likely to increase in Japan to supplement power demand after some nuclear plants need to be inspected and repaired, while Tepco's Fukushima plant will most likely be decommissioned.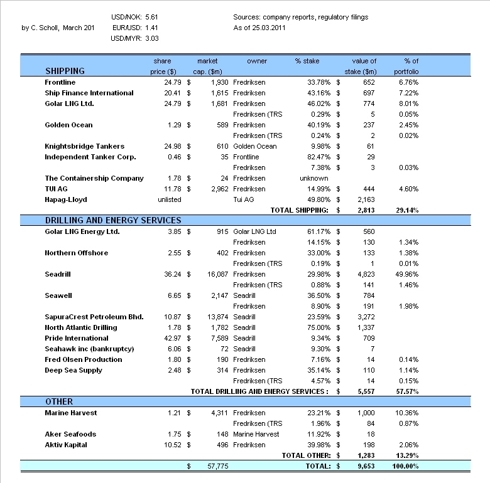 DRILLING AND ENERGY SERVICES
2010 was a very busy year for the drilling industry. The Summer of 2010 saw the large deepwater accident at BP's Macondo well, operated by Transocean (NYSE:RIG), the largest competitor of Seadrill (SDRL). Seadrill's modern rigs continued to enjoy high dayrates, allowing the company to pay generous dividends. Mr. Fredriksen currently holds a 30% stake in Seadrill, worth $5bn.
The last year also saw consolidation moves in the industry. Seadrill has long held a less than 10% stake in Pride International (NYSE:PDE), which has received an offer from Ensco (NYSE:ESV). Seadrill still holds its stake according to latest filings, and a rival offer might still materialize.
Meanwhile, Seadrill made some moves of its own. Its well services subsidiary Seawell merged with Allis-Chalmers Energy (ALY). Following the merger, Seadrill still holds a 36.5% stake in Seawell.
Following the merger, Seadrill's stake in Seawell was reduced from 52.3 % to 36.5%. Fredriksen personally holds a 9% stake in Seawell.
Smaller rig operator Northern Offshore (OTCPK:NFSHF) in which Fredriksen holds a 33% stake worth more than $130m has also secured new contracts.
Next to its investment in Pride (PDE), Seadrill still holds shares in Seahawk drilling (NASDAQ:HAWK), which has filed for Chapter 11 bankruptcy. The shares continue to trade and Seadrill's stake is still worth about $7m. The investment in Sapuracrest Petroleum continues to thrive. Seadrill's 23.6% stake in the Malysian company is currently worth $3.3bn. Sapuracrest's market capitalization is just $2bn short of Seadrill's.
Seadrill recently floated 25% of its harsh-environment drilling subsidiary, North Atlantic Drilling (NYSE:NADL) on the Oslo exchange. The market currently values the subsidiary at $1.8bn.
After the spin-off by Golar LNG of about 40% of its stake in Golar LNG Energy (OTC:GOLAF), Fredriksen increased his stake on the open market, and currently holds about 14% of the company's stock. Golar LNG energy operates LNG tankers and FSRU (Floating storage and regasification units). The company also recently set up an LNG trading division.
Fredriksen continues to hold a significant stake in Fred Olsen Production, which operates FPSO (Floating production, storage and offloading) units (his 7% stake is worth $14m). He also holds a controlling stake (40%) in Deep Sea Supply (OTCPK:DSSPF), worth $125m.
OTHER INVESTMENTS
Salmon farming company Marine Harvest (OTCPK:MNHVF) continued to thrive in 2010. Marine Harvest is currently Fredriksen's second-largest holding after Seadrill, more than 10% of the portfolio. His 25% stake is worth nearly $1.1bn. The company benefited from high prices for Salmon and good operational performance. After CEO Ase Aulie Michelet resigned in March 2010, the company started to pay out large dividends. Marine Harvest will pay a further 10% dividend this year, and continues to hold a 12% stake in Aker Seafoods.
The award for the largest dividend will go to Aktiv Kapital (AKKAF.PK). This February, the company announced a dividend of 20 Norwegian kroner, which was 40% of the stock price at the time of announcement. The company has announced to return to shareholders about $215m via dividends and share buy-backs. Aktiv Kapital's shares have rallied sharply after the report. Fredriksen's 40% stake in the debt-collection company is worth about $200m.
Disclosure: I am long FRO, SFL, GLNG and am long Marine Harvest, Golar LNG Energy, Golden Ocean and Independent Tankers on the Oslo exchange in Norway.