The stock market was recently hampered by several adverse shocks giving a rise to concerns over the sustainability of the bull market. On the back of our simulation results, we firmly believe that the bull market is intact. Positive economic momentum, which is expected in the second half of 2011, may lift the market above 1,500.
We look at financial assets, particular industries and economic events through the prism of business cycle swings. We link economic growth and financial markets in a purely quantitative manner. The central component of our approach is a model for U.S. economic growth. Recent updates confirmed previous expectations of the soft patch in the short run followed by a new economic upswing by the end of summer.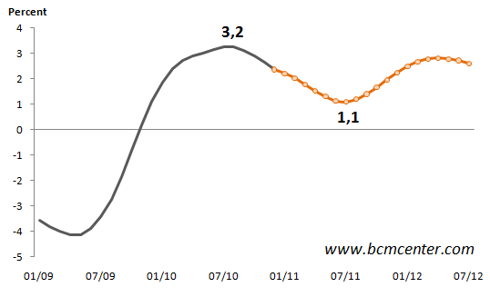 Click to enlarge
(Click to enlarge)
It needs to be remembered that the stock market is a leading indicator of the economy. Thus, if our economic projections are correct, expected upswing should start to influence market prices now. The next step is to quantify implications of the expected economic growth profile for the stock market. This step is accomplished with a simulation using data on business cycle swings from the past 20 years.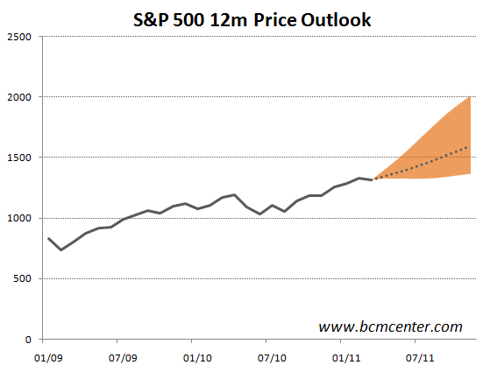 Click to enlarge
(Click to enlarge)
History suggests that the stock market has on an average benefited from the improving economic momentum. While in the worst case, the market may benefit only marginally, but the best case potential provides a good reason to stick with the market. Moving from the extremes to the average expected performance, we note that the 1,500 level can be actually breached before the end of the year. This would surpass most of the investment banks' projections. Are analysts unreasonably pessimistic? Time will tell.
Disclosure: I have no positions in any stocks mentioned, and no plans to initiate any positions within the next 72 hours.