The automotive segment today represents a small share of Immersion Corporation's (NASDAQ:IMMR) activity, having ranged historically between 6% and 12% of total revenues.
If we look at a chart resuming the vertical's performance since 2003, there's room for a few thoughts: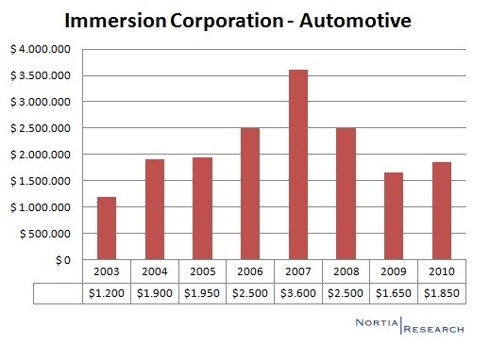 (Click graphics to enlarge)
Automotive revenues grew quite steadily from 2002 to 2007, when they peaked at about $ 3.6 million a year.
One of the main drivers for this growth was probably the fact that BMW (BAMXY.PK) had installed Immersion's TouchSense technology for rotary controls since 2002 in its 7 Series vehicles, and since 2003 in some of its 5 and 6 Series cars.
Other early wins included Volkwagen's Phaeton (OTCPK:VLKAF), Rolls Royce (OTCPK:RYCEY) and Bentley cars.
In 2007 BMW decided to remove haptics from its iDrive interface. The move was part of a larger redesign of the UI, as the original iDrive had caused significant controversy among BMW users, mainly for its complexity - about one hour of practice was needed to adapt to the system.
The move was welcomed by iDrive critics, but Immersion paid the highest price for the failure of the complex approach taken by the German manufacturer, and probably lost its main revenue source in the vertical.
Despite the criticisms of iDrive, the concept of a computer-oriented interface has grown in the luxury segment of the industry, and more recently Immersion's haptics have been included in the Mercedes-Benz S-Class Sedan, and into the Remote Touch controller in the Lexus (NYSE:TM) RX 350 and 450h, launched in 2009.
Comments about the Lexus Remote Touch Haptic Controller are much more positive, as shown in a video made by Cnet, where the device is described as "a slick new iDrive killer called 'remote touch'."
What is interesting about the automotive segment, is that Immersion collects a few dollars of royalties for each car sold, as opposed to the few cents in the mobility segment. As the same car might include both rotary technology (a controller) and a haptic touchscreen, revenues can increase rapidly with just a few design wins. If we look at past performance, revenues since 2003 have been over $ 17 Million, and Immersion's technology has been so far included in just about 2.4 million cars.

Revenues in 2010 were just slightly higher than 2009, probably benefiting from the latest models introduced by Lexus, and we can hope that the bottom is now behind the company.
The product development process for automobiles is very lengthy, taking sometimes longer than four years. Immersion worked hard to get a few design wins, directly or through its partners in the segment, that might finally push the vertical among the most important revenue stream contributors for the company, although probably only in a couple of years.
Visteon (NYSE:VC) presented its C-Beyond demonstration vehicle at CES 2011. The company has been working on the concept for a few years, and the introduction in the market is finally foreseen for 2012.
Haptics is also included in Visteon's Growth market concept car, developed in partnership with 3M (NYSE:MMM), another Immersion licensee for casino gaming.
Here is a video from GeekNews taken at CES 2011. Other comments can be found on Immersion's web site, while Visteon is describing its Haptic Feedback Touch Display at this link.
While Immersion's partnership with Visteon has been known for quite a while, it is more interesting to note a recent announcement made by Hyundai Motor (OTC:HYMLF) at CES 2011, that may confirm that haptics is definitely going to be implemented in tomorrow's vehicles.
Hyundai, in conjunction with Immersion licensee Daesung, introduced an 'Intelligent Haptic System' applied to major controllers, to help control vehicle functions with tactual feedback and LED-based visual feedback.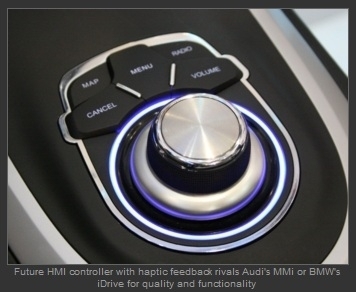 Mp3car has a short video showing the technology, and it is interesting to read what Car Design News wrote about the system:
Of most immediate relevance to Hyundai's short/mid-term future cockpit design, may be the iDrive-type HMI controller, which includes haptic feedback dubbed 'Intelligent Haptic System'. This feels and looks close to production ready, and illustrates Hyundai's increasingly premium positioning. While couching this view with the fact that the system remains a concept, it's design, usability and quality stands direct comparison with the premium German auto makers' products, and is far beyond anything currently seen from the likes of Lexus — with its mouse-controller — or Jaguar — with its touchscreen.

The controller itself features a raised metal knob with a rubber surround, that turns, with a varying responses, sometimes a pleasing bezel-like click, as per Audi's MMi, sometimes a rubberised springyness. It's all part of the haptic feedback that's built in. In front of it are a series of shortcut buttons and around the raised knob itself is a light ring, which changes color in correlation with the different function selected, echoing the display screen (red for HVAC, purple for car status, blue for navigation, etc). What's impressive is the way the 'haptic feedback' has been integrated, with feedback varying to help a user understand where they are within a menu, and ultimately minimising the need to take eyes off the road.
Hyundai is a Korean company, and Immersion's partnership with Samsung (OTC:SSNLF) and LG (OTC:LGERF), is already a testimony of how much electronics companies from that country are sensitive to innovative technologies like haptic feedback as a way to differentiate their products.
While the timing for a Hyundai vehicle in the market incorporating Immersion's haptics may still be hard to predict, and take a few months/years, it is a positive sign that the company's technology is brought to the automotive vertical from various partners, as if haptics was already a "must have" for suppliers to the car industry.
As the Tesla (NASDAQ:TSLA) new car, due in 2012, is also expected to incorporate Immersion's haptics, automotive may really become an important catalyst contributing to an acceleration of the company's growth, at least from next year on.


Disclosure: I am long IMMR.