Last week Northern Oil & Gas (NYSEMKT:NOG) was the subject of a concerted short attack from a number of sources. While we've been long NOG along with a number of other Williston Basin "Bakken" players for quite some time now, I'm not defending them as much as pointing out a few items that I feel need ... clarification. I won't address all of the hyperbole that was included in the original articles or the backpatting pieces written by friends of the author as I think phrases like "looming horror story" and "magical transformation" speak well enough as to the kind of, um, journalistic effort we have here. It wasn't all written in error though. One of the friends of the author did comment that there was a lot he didn't know about NOG and on that point I heartily agree with him.
Short Claim #1. NOG's depletion rate isn't high enough, suggesting something untoward with their DD&A accounting. The authors basically say that because NOG increased its depletion charge in the 4Q10 report that it means the wells are declining off at a higher than expected rate. They go on to claim that NOG's depletion expense has been abnormally low on the basis of depletion as a percent of revenues going so far as to cite Petrobakken (PBKEF.PK) as having a higher rate and saying the NOG is therefore in for future depletion rate hikes and implying this will lead to a collapse of earnings growth.
ZComments:
First, just as a point of order, depletion should be measured in volumes, not revenues. The author addressed it as a percentage of revenues saying it was low compared to one cherry picked comp who is not in the heart of the play but further afield (more on that below). Measuring depletion and or the entire DD&A expense (of which depletion is the second D) as a percentage of revenues leads to wide fluctuations from quarter to quarter and year to year resulting from the change in the price of oil. Since we are talking about something that's related to volumes why not use volumes? Especially since that's industry practice. The appropriate metric is therefore DD&A in $ / BOE.
Second, DD&A is a function of what the company has in the play in terms of asset costs (including the cost of leasing the acreage).


The depletion component is a function of capital costs, production during the year and an estimate of remaining reserves.
The equation for depletion is [Net Capital Costs X (Production / Reserves)].
Ways for depletion on a per BOE basis to go up include lower reserves or higher costs.


Reserves have been growing so that's not the cause of the increase.
Production has been rising which results in depletion expense growth but flat DD&A on a $/BOE basis.
Costs are up as well which has been well documented as lateral lengths have risen, along with increasing frac stage counts and Service cost inflation due to regional Oil Service industry capacity tightness.

Third, NOG's DD&A for 2010 was $19.19 / BOE. It's essentially in line with it's peers of Birmingham Exploration (BEXP), Kodiak Oil & Gas Corp. (NYSE:KOG), and Oasis Petroleum (NYSE:OAS) which were $19.85, $17.92, and $19.91 respectively. If the short author had picked KOG using the same rationale as they picked Petrobakken I guess they'd be arguing for a need for DD&A to fall.
Fourth, the author does say that the under-reporting of depletion expense will result in explosive earnings growth before it is corrected. That's true enough. I'd be concerned if: 1) I thought they were truly under-reporting it (but again, they are in line with their appropriately chosen peer group) and they use Ryder Scott to estimate their reserves (see below) and 2) if I truly cared about EPS growth and not Cash Flow per Share growth. In the E&P realm we focus on cash flow as, after all, we want our companies to reinvest cash flow in more land and more wells so that it can grow over time. DD&A is a non cash expense. Earnings don't represent anything more than an accounting number while cash flow gives you a handle on what the company is actually making and what it can afford to put into it's future plans.
Short Claim. Bakken well profiles are not well known and may be declining faster than people expect.
ZComments:
If this is a problem for NOG then it's a problem for all of the Williston Basin "Bakken" players. NOG doesn't operate its production but instead some of the best names in the play from public players EOG Resources Inc. (NYSE:EOG), Continental Resources Inc. (NYSE:CLR), Birmingham Exploration (BEXP) to private operator Slawson do. Take a look at Brigham's long lateral production profiles in the play to date. Note that the wells all track pretty much along the same pattern. Note also that the more recent wells, with longer laterals and increase frac density track in the upper portion of the graph. These wells are getting better as the players learn more about the play.
The following chart is BEXP's read on what the ultimate recovery from a Bakken long lateral will look like. This range is echoed by a number of their peers. NOG simply gets a small piece of this type of well. Over and over and over again.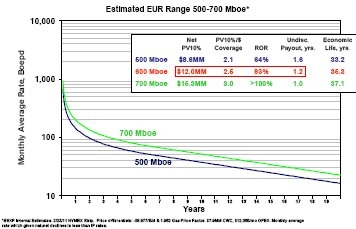 Short Claim: PetroBakken's Fall Is a Glimpse Into What Will Happen To NOG. Perhaps they are right. But the stories of these two companies are very different, so perhaps not.
ZComments:
They might as well have compared NOG to Exxon (NYSE:XOM) for all the similarities the two have. Yes, they both have Bakken wells but PetroBakken's Bakken wells are way up in Saskatchewan, not in North Dakota, and the two plays are simply not the same. Also, the strategy, growth profile, and balance sheet are quite different.
Acreage:


NOG acreage in the Williston is located largely in Mountrail and Dunne counties, near the core of the North Dakota Bakken fairway. Think BEXP's Ross area and EOG's Parshall area.
Petrobakken has Saskatchewan Bakken potential and has been drilling wells with a higher water cut of late. In fact, it would'nt be surprising if this is the cause of the recent stock price retracement in PBKEF.PK. Petrobakken also has a Cardium play so it's not a pure Bakken player and as such, we're not even close to an apples to apples comparison which the author would know if they cared about what a dolomite is or why you'd like to have them interbedded within the middle Bakken member you are drilling.

Balance Sheet:

PBN.TO - Net debt of $1 B.
NOG - No debt, $152 mm in cash, $100 mm of undrawn revolver capacity.

Production Growth:

PBN.TO grew 58% in 2010, largely from acquisitions. However, I'd note that production from their Bakken segment slid quarter after quarter in 2010, a problem that NOG simply doesn't have.
NOG grew 215% in 2010, largely due to organic efforts.

Strategy and size are both opposite ends of the spectrum. Petrobakken operates and is multiples the size of NOG. NOG is purely a non-operator and is still small. But if I were looking for one name with a falling chart in E&P land and a higher DD&A rate (as a percentage of revenues for that matter) then I might have picked PBN.TO as a comp as well. Otherwise, it's a lousy match.
Short Claim - CFO Chad Winters has little experience/is unqualified for the job. The author of one of the short articles suggested he might not even have a college degree. One short went on to suspect that he's too young and inexperienced to handle the job.
ZComments:

According to one sell side source, Chad has an MBA from the University of Minnesota. The former probably means he has a college degree as well. Mr Winter joined the company in 2007, their third hire, before taking over as CFO in March 2010.
Notably, the last CFO didn't leave, he was promoted to president so he's still there if Chad needs some advice.
More notably, NOG conducted a successful equity secondary offering in November 2010, raising $200 mm with Mr Winter at the financial helm. The deal was well timed and was not priced in the hole as many deals were late last year. The stock didn't miss a beat, continuing to perform well after the deal was concluded.
Short Claim - Management is selling lots of shares.

ZComments:

True. The CEO and other members of management have in aggregate sold several hundred thousand shares in recent weeks.
But ... I also like to look at how many shares a guy sells vs. how many he has left:

CEO Reger sold: 757,622 shares in addition to his usual planned sales in the last couple of weeks.
He has 2.99mm shares remaining.
I don't know why CEO Michael Reger would sell 20% of his shares with the shares having risen roughly 1200% since the end of 2008 lows? Do you? Yeah, thought so. If large share sales continue beyond the automatic share sales or if his share grants accelerate I'll take more notice.

... And I like to look around at what members of other management teams are doing, and in the E&P area, right now, you see a decent amount of selling given the rapid recent rise in crude prices.
Short Claim - NOG Uses a Nobody of an Accounting Firm.

ZComments:

It's the accounting firm they started with and maybe it's time for an upgrade, but they are a member of the BDO Siedman Alliance, which gives them access to substantial oil and gas accounting expertise. There is a popular misconception that moving up to a big accounting firm means you are getting better service and advice when in reality, NOG would be a smaller account for those big accounting firms and might actually get only freshly minted CPA's who might take a rote approach to their numbers.
Some Things the Shorts Left Out:

Reserves: Engineered by Ryder Scott.
That really should be an "enough said" kind of comment but let me add that Ryder Scott is arguably the best in the business (a tie with Netherland Sewell in my mind for conservatism and skill).
They may be "going cheap" by sticking with the accounting firm they started with but not with their choice of reserve engineering firm.
Who else uses Ryder Scott? Lemme see: Just about everyone. See their client list here.
Acreage valuation vs. peers (that's NOG, second cheapest on the left in the graph below). Some have criticized the company for being valued at such a high multiple of their acreage while they admittedly can buy acreage for a far lower price in the real world. In fact, the average price NOG paid for new leases in 2010 was $1,043 per acre. I call that a good job. There is something to the value associated with putting these deals together, from obtaining the acreage to optimizing one's acreage portfolio over time as the play evolves to make sure that it get's drilled and doesn't simply remain moose pasture. And, if your leases are in the right part of the play (as it is beginning to look like many of NOG's are), no longer is the thinking one Bakken and maybe one Three Forks well per section. Now as many as 4 of each in each zone could cross the acreage. This sort of resets the price per acre metric.
Price to Cash Flow: Also in line to cheap versus it's peers. At 11.5x 2011 estimates NOG would be somewhat pricey to historic metrics for current year multiples were it not for the consistent growth they are expected to again churn out this year. Given the prospects for a continued strengthening of the North Dakota rig count it's likely that estimates for 2011 and 2012 will continue to march higher as this year plays out. Were the rig count to suddenly flatten, the company would still likely post 25% sequential production growth.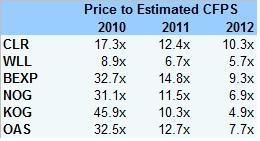 Nutshell: I don't find NOG to be out of line with their peers in terms of valuation. They do have a simple model: 1) buy acreage, 2) well permit is filed by operator on land including their leases, 3) wait for AFE's (authority for expenditure) to come in, 4) say yes, I want to participate in a well because I had the foresight to keep a cash stock pile on hand, 5) operator spuds well, 6) pay bills as they come in, and 7) cash revenue checks as they come in. It's not rocket science. I can't blame the CEO and others at the firm for cashing in some shares given the rally in the price and I'd note that they did a secondary before, not after, making the bigger sales themselves and that even after the sales, they have enough shares in the game to easily assure investors that they are aligned with the interests of the company. The other "stuff" brought up by the shorts seems simply to be that and not a tangible reason for me to sell my position in the ZLT. I remain long.
Disclosure: I am long NOG, BEXP, KOG, OAS.