I was in the process of cleaning out my email inbox and stumbled upon several old press releases that had been automatically sent to me by my online broker. These messages arrived via alerts on the individual stocks that I owned (and some that I didn't own but was considering). I was able to select ticker symbols for which new released information can be sent to me in real time as it happens, to an email address or as an alert through an app. It is a great feature to have and I highly recommend it.
Cleaning out my inbox is something that I do on a regular basis, but this time I saw an old message with a subject line that caught my attention. It read "Sun Microsystems purchased by Oracle (NASDAQ:ORCL) for $7.4 billion." It is amazing how that news still feels as if it were yesterday. Some of the details, according to the PR, suggested that Oracle would acquire Sun for an estimated $9.50 a share in cash, which would be net of Sun's cash and debt. This amounted to a whopping $5.6 billion. That amount of money for Sun Microsystems?
This type of event is one that can bring even the most seasoned investor severe cases of anxiety and uncertainty. I had witnessed this before with the AOL (NYSE:AOL) - Time Warner (NYSE:TWX) marriage that proved disastrous for both companies. We recently learned how that ended. So did I need to wait to see how this one was going to unfold?
Oracle, known primarily for its innovative database software solutions, now apparently wanted in on the hardware action. This left many industry watchers scratching their heads, including me. I had a somewhat modest position in Oracle at the time and all I could think about was how much the company overpaid for a fledging hardware company with seemingly little future. I was not only angered by this event, but it drove me to the point where I could not wait to close out my Oracle holdings the very next day.
The business rationale explained during an ensuing press release was quoted as follows:
"With the addition of servers, storage, Sparc processors, the Solaris operating system, Java, and the MySQL database to Oracle's portfolio of database, middleware, and business applications, we plan to engineer and deliver open and integrated systems - from applications to disk - where all the pieces fit and work together out of the box."

"Each layer of the stack will be architected to improve performance, leverage innovation and centralize management so that IT will be more predictable, more supportable, and more secure. Customers will benefit as their system performance, reliability and security goes up and their system integration and management costs go down."
At the time, my thinking was "I'm not going to hold on to the stock waiting to see if they would be right."
Well folks, this is why making stock decisions filled with emotion can hurt you as an investor, because the anger got the best of me, and I was wrong for selling the stock, and it cost me.
The company recently released its third quarter earnings results. Net income for the third quarter that ended on the 28th of February rose 78% to $2.1 billion over the same period last year. They attributed the growth to strong software sales and an improving hardware business. Not only did revenue for the quarter jump 37% to $8.8 billion, but also revenue from new software license sales rose 29% to $2.2 billion year over year.
They reported an adjusted profit of $2.76 billion, or 54 cents a share for the quarter, up from a year-ago equivalent profit of $1.95 billion, or 38 cents a share. Total revenue rose 37% to $8.8 billion in the most recent quarter, from $6.4 billion this time last year. In fact, the average estimate of analysts polled by Thomson Reuters was for earnings of 50 cents per share on revenue of $8.67 billion.
Revenue from the core business, which includes licensed software as well as product support, increased by 13% to $3.7 billion. Oracle's "hardware product gross margins increased to 55% in the quarter so we are now completely confident that we will exceed the $1.5 billion profit goal we set for the overall Sun business for the current fiscal year," Co-President Safra Catz said in a statement. (Ouch! I think that comment was targeted at me.)
The good news did not end there. The company also reported that all geographic regions had revenue growth of 30% or more, with strong sales for the Exadata and Exalogic appliances, Co-President Mark Hurd said in a statement. The devices enjoyed sequential revenue growth of more than 50% during the quarter, a trend Oracle expects to increase during the fourth quarter.
Oracle also signed a number of large deals "with some of the biggest names in cloud computing," including Salesforce.com, CEO Larry Ellison said in a statement. "Salesforce.com's new multi-year contract enables them to continue building virtually all of their cloud services on top of the Oracle database and Oracle middleware," he added.
With the purchase of Sun Microsystems, it is clear they now have their sights set strategically to be a "one stop shop" for clients. They want to provide customers with mission-critical solutions that integrate easily and rapidly and can also span both hardware and software. I was utterly impressed and left to now wonder "if only I could have seen this when they first announced the deal?" That is why I am here writing about it, while they are paid to make those decisions; and a good one it has proven to be.
In fact, they have targeted both Hewlett-Packard (NYSE:HPQ) and IBM (NYSE:IBM), both among the company's biggest rivals. They announced during a call that they would stop developing software for Intel's Itanium chips. Some are speculating that this is due to HP's Integrity servers having titanium processors. It is worth noting that both HP and IBM were among the list of potential acquirers of Sun before Oracle stepped in. So there is no "love lost" between the three firms.
What is even more remarkable to go along with this news is that the company also upped its quarterly dividend and issued strong fourth quarter guidance. This encouraged several analysts to raise their estimates and price targets for the company on Friday (3/25). In a recently released note, one prominent analyst, Richard Davis of Canaccord Genuity, was quoted as saying:
"Upside May quarter guidance (is) likely the result of sustained software license momentum and expectations for continued margin improvement in the acquired hardware business," He raised his Oracle price target by $1 to $37. "We believe Oracle is one of the most attractive large-cap tech growth stocks."
Also, CEO Larry Ellison informed investors of the many large hardware and software deals that were signed in the third quarter. He said "These were with some of the biggest names in cloud computing." He also said something else that reminded me of how much of a mistake it was for me to sell the stock last year. He said simply: "Oracle is the technology that powers the cloud." That reminded me of the reason that I invested in the company in the first place, "the cloud" in fact is where seemingly everything is going.
Alright, my mistake has been made, so where do we go from here?
Well, the decision is pretty clear. We buy the stock right here at this level and don't look back. How can anyone deny the value? Oracle is arguably in the best position right now to benefit from increased budgets in IT spending in an ever-recovering economy. Not only do companies require software projects and database programs, but they also rely on the management and administration to service them. These are the key strengths of Oracle. They will face competition from IBM, Cisco (NASDAQ:CSCO), SAP (NYSE:SAP), Microsoft (NASDAQ:MSFT) as well as Hewlett-Packard. But with Oracle's leading business applications and leading database software solutions, they will face much stronger demand for their products, particularly with its increasing integration in business software, hardware, platforms and use.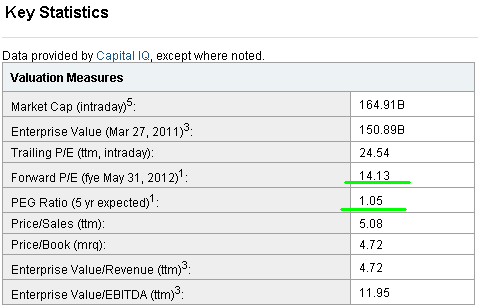 What is clear is that Larry Ellison has an aggressive plan to move the company forward. The company has very good reasons to be optimistic. They are expecting to exceed their goal of $1.5 billion in operating profit in the first full fiscal year following the Sun acquisition on top of its $4 billion scheduled for R&D this year. They are going to sustain their robust growth ratios and profitability.
The company predicts sales will increase by a significant percentage in the next quarter. Also with EPS of $0.69 -$0.73 cents above consensus estimates of $0.66, the stock's valuation is not out of line, at nearly 21X - earnings, but the forward multiple is only 14. At this price, it is a steal.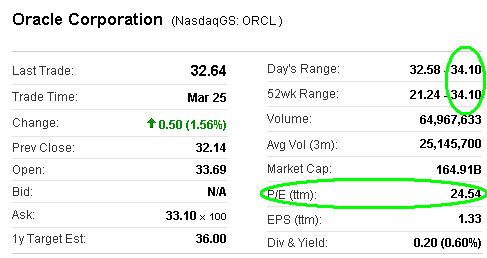 Normally, I would not advise buying a stock at or near its 52-week high, but if I would ever make an exception for one company, Oracle would fit the criteria. They are trading at a relatively modest trailing P/E ratio of 24. The current valuation is too good to pass up for all of the reasons mentioned above.
In case you were wondering, I sold Oracle last year at a price of $22.54, a day after the announcement of the Sun acquisition. Currently the price sits just under $33 after hitting its 52-week high recently of $34.10. It stands as one of the worst decisions I have ever made. Just to put it in perspective, the market cap has grown by almost $45 billion since they acquired Sun. It only cost them $5.6 billion for the purchase. Another reason why the opinions of analyst should never be exclusively substituted for your own due diligence.
Disclosure: I am long CSCO.
Additional disclosure: Except for CSCO, I have no positions in any of the stocks mentioned, and no plans to initiate any positions within the next 72 hours. I receive no compensation to write about any specific stock, sector or theme.