On January 20th, I posted this article on RIMM. I turned bearish on RIM last summer and made some money on the dip back then. Shortly afterward, its shares did the QE thing, despite the fact that Android started sucking up market share everywhere while simultaneously squeezing margins like orange juice. As excerpted from the aforementioned post:
We have updated our mobile OS and handset manufacturer market share model and will make it available to subscribers as an online app by next week. In the meantime, let's review some of the findings – vendor by vendor. First up is Research in Motion. This was a profitable short in 2010, with the share price hitting our targets within 100 pennies. Since then, the stock has risen appreciably. Let's take a look to see if the rise was justified.
Page 5 of our Research in Motion (RIMM) forensic analysis clearly stated that while we expected RIMM's handset shipments to rise as a result of a rapidly expanding smartphone market, it will lose considerable market share.
As it turns out, it appears that we erred slightly to the optimistic side with an 18% market share estimate for 2010. By the end of the 3rd quarter, RIMM has fallen to 15.3% according to information calculated from IDC, and its descent has accelerated far faster than even we (the bears) have anticipated – a full 350 basis points for the quarter. This is 6x the descent of last quarter and 7x the descent of the quarter before that. It is quite safe to assume that they will be materially below this point at year's end (the data that we crunch is lagged by a quarter). This market share loss is most assuredly caused by the outsized growth of Android, which I will demonstrate in a minute. Below are charts generated from an updated version of this document: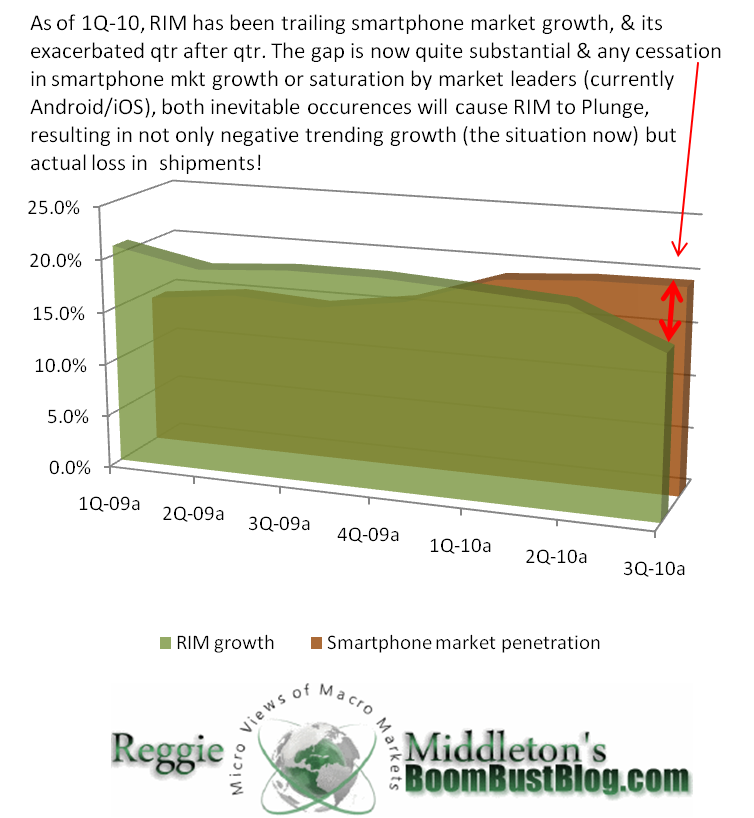 As you can see above, for the full year of 2010 RIMM has trailed smartphone market penetration growth and that trail has increased each and every quarter with the rate of descent rapidly increasing.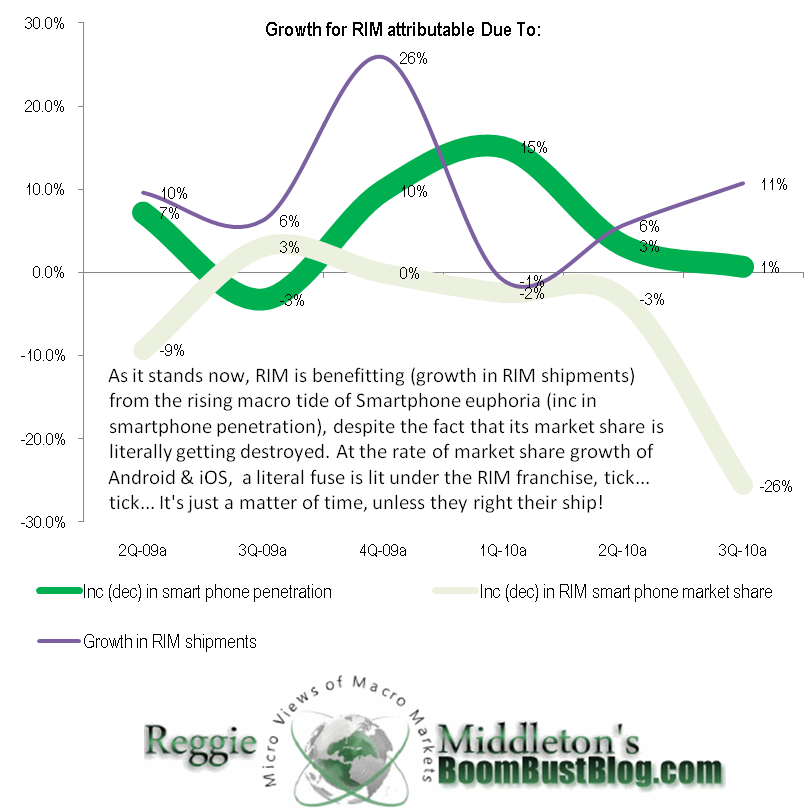 RIMM's share price has benefited from an increasing equity market as well as the announcement of new products. The Torch, although possessive of redeeming new qualities, is essentially still a generation behind Apple (NASDAQ:AAPL) and 1.5 generations behind Google (NASDAQ:GOOG) Android. See this article.
Research in Motion is following the exact path we laid out for it since the 3rd quarter of 2010. Notice the share price announcement since our January 20th pronouncement.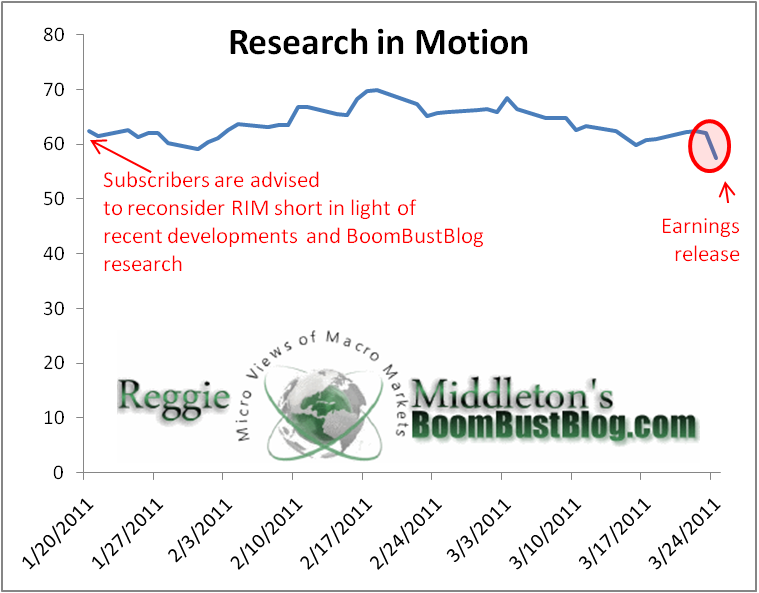 So, what did RIMM have to say during the last earnings release? From the WSJ:
Research In Motion Ltd. posted a 32% jump in quarterly profit, but the BlackBerry maker warned of lower earnings and revenue in the current period. Shares fell 10% in after-hours trading. The Waterloo, Ontario, company also said it plans to allow Android applications to run on its PlayBook tablet computer, due out next month. The move will greatly expands the number of apps available on the PlayBook. But it is a concession by RIM, as it has struggled to compete against Apple Inc. and a slew of devices running Google Inc.'s Android software.
This should be of absolutely no surprise to my regular readers:
RIM said it shipped 14.9 million BlackBerrys in the quarter ended Feb. 26, near the top of its guidance of 14.5 million to 15 million units, but below the 16.2 million iPhones Apple sold in its December quarter.

RIM has set the North American launch of the PlayBook for April 19. Executives said Thursday the tablet's rollout wouldn't be affected by the quake in Japan, and RIM plans to release three more tablets this year.

The PlayBook launch comes as RIM struggles to compete in the U.S. and increasingly relies on sales in emerging markets for its growth, where cheaper models make up more of sales.

The competition is coming in both the consumer and corporate markets, the latter of which RIM has traditionally dominated.
Again, clearly forecast in my previous research reports.
… For the current quarter, which ends in May, RIM forecast earnings of $1.47 to $1.55 a share on revenue of $5.2 billion to $5.6 billion. The outlook is below the Thomson Reuters mean estimates for the quarter of earnings of $1.65 a share on revenue of $5.64 billion. RIM said the guidance reflects a shift towards cheaper handsets and an increased level of investments for research and marketing, especially for its tablet. The range is also wider than usual "to reflect the risk of potential disruption in RIM's supply chain as a result of the recent earthquake in Japan," it said.
I have been preaching margin compression for some time now. Google's Android has totally upended the mobile computing space by issuing a nearly unassailable business model that pushes a technology that grows and morphs at least 2x the speed of its closest competitor. It has went from last place to 1st place in global market share in just over a year (historically unprecedented) while retaining the pole positing as the fastest growing mobile OS. RIM is getting smoked and these quarterly reports are heavily lagged and backward looking. They don't come close to revealing RIMM's current position and predicament. RIMM will get smoked in the tablet wars, even if its PlayBook is a hit – which I doubt it will be. Speaking of tablets and margin compression:
Reggie Middleton on Research in Motion
There Is Another Paradigm Shift Coming in Technology and Media: Apple, Microsoft and Google Know its Winner Takes All


Disclosure: I have no positions in any stocks mentioned, but may initiate a short position in RIMM over the next 72 hours.