A large number of investors as well as analysts do not understand the legal system and implications of legal wranglings with the necessary depth; this simple fact opens up significant profit-making opportunities for those who can combine in-depth legal knowledge with in-depth knowledge of the markets.
On Friday, the U.S. International Trade Commission (ITC) ruled it would reconsider an earlier ruling that an Eastman Kodak (EK) digital camera patent was not infringed upon by Apple (NASDAQ:AAPL) and Research In Motion (RIMM), also commonly referred to in legal documents as RIM. The ruling may ultimately help Kodak win more than $1 billion in royalties from the two companies.
I have started or have been instrumental in the start-up of over 50 (mostly) technology ventures. I have also acquired a handful of small technology companies. In every case, intellectual property has been at the forefront of my radar. I learned even more as I went through the arduous seven-year process to obtain 28 patent claims on the ZYX Change Method from the U.S. Patent and Trademark Office (USPTO).
At issue here is the Kodak patent commonly known as "218." U.S. Patent No. 6,292,218 is the complete number. The 218 patent on capturing, compressing, and storing digital images is critical intellectual property in the age of digital cameras becoming ubiquitous. not only as standalone devices but also in smart phones and tablets.
In its complaint, Kodak asserts that the 218 patent describes and claims an image capture and processing device with certain components for "previewing" the scene to be captured. The diagram from the 218 patent will give a sense of the patent to investors.
[Click to enlarge]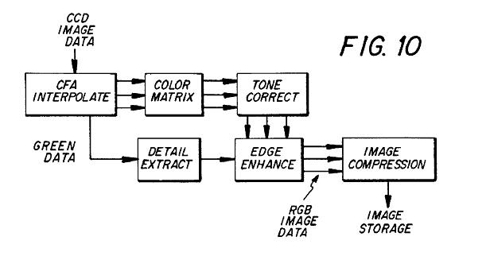 Click to enlarge
Kodak's complaint claims that certain Apple products, including the iPhone 3G and iPhone 3GS ("Apple accused devices") and certain RIM products, including the BlackBerry Tour; BlackBerry Storm 9530; BlackBerry Storm 2 9550; BlackBerry Bold 9000, 9700; BlackBerry Curve 8300, 8310, 8320, 8330, 8350i, 8520, 8530, 8900; BlackBerry Pearl 8100, 8110, 8120, 8130; and BlackBerry Pearl Flip 8220, 8230 ("RIM accused devices") directly infringe, contribute to infringement, and induce infringement on the 218 patent.
The complaint was filed on Jan. 10, 2011 requesting that the ITC commence an investigation pursuant to Section 337.
The ITC does not have direct authority over patents, but it wields a big stick. The ITC has the power to ban import of the infringing products into the United States. The ITC is a quasi-judicial arbiter of trade disputes. The ITC cannot order monetary damages, but the threat of being kicked out of the lucrative United States market usually leads to settlements.
Alleged Apple-accused devices are imported from China, and alleged RIM-accused devices are imported from Mexico. Neither company can afford to stop bringing these devices into the United States.
The complaint claims that Apple and RIM unlawfully import into the United States, sell for importation, and/or after importation sell within the United States certain mobile telephones and wireless communication devices featuring digital cameras and components thereof, which allegedly infringe certain claims of the 218 patent.
In an earlier ruling, Paul Luckern, the ITC's chief administrative law judge, stated that the 218 patent is invalid for obviousness. Luckern ruled that the 218 patent is obvious in view of prior published works, and thus Kodak failed to show that Apple and RIM committed infringement. Judge Luckern did not find any violation of the Tariff Act by Apple and RIM.
Ironically, another judge ruled earlier that Samsung (OTC:SSNLF) and LG infringed on the 218 patent. To a lay person this may seem odd, but inconsistent legal rulings are commonplace.
Kodak used the ruling to wrest $550 million from Samsung and $414 million from LG.
From an investment point of view, in the short term both Apple and RIM are cash-rich – a billion dollar settlement will not hurt either company. It is certainly a positive for Kodak. However, from a longer point of view, several questions remain unanswered, and there may be significant investment opportunities not only in gadget companies but also in semiconductor companies such as OmniVision (NASDAQ:OVTI).
I am long on Apple from $131 on my core position and long on OmniVision from an average price of $12.50. It may seem perverse, but according to the ZYX Change Method it is time to stay long or buy these stocks with tight stops. My trading plan is briefly described here. The rationale for the trading plan will become clearer to the readers in Part 2 of this article.
Disclosure: I am long AAPL, OVTI.
Additional disclosure: I may initiate a short position in RIMM. I may also trade on both long and short side on EK.