AP Business Writer Francesca Levy published a good article on Sunday, which discusses the predictability of the stock market.
In it, she points out that while the outcome of the escalating war in Libya is uncertain and the threat of severe nuclear contamination from a breached Japanese nuclear reactor still looms, the markets ended the week up.
Investors are left wondering: what happened to all that headline-driven volatility from two weeks ago?
In the article, Levy seems fairly certain that last week's rebound wasn't so surprising and that numbers suggest stocks will likely keep rising for the next few months.
I hope she is right. I'm looking at the week ahead as a first test to her theory, especially since we may run into some resistance given the fact that some of the market indexes appear to be in dangerous "overbought" territory and in that situation the demand for certain assets unjustifiably pushes prices to levels that do not support the fundamentals.
I have put together some charts which may help to visibly point this out for your reference:
click to enlarge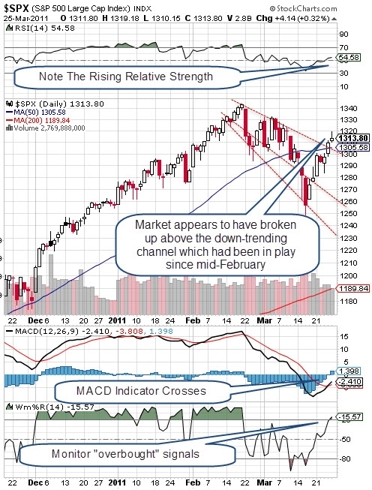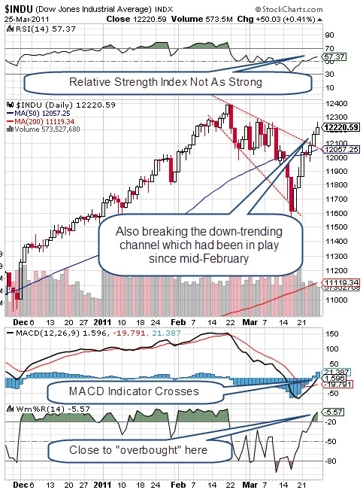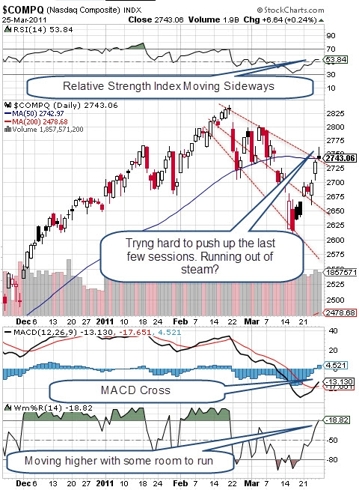 As I look back at the week, I find pleasure in seeing that my "technical breakout candidate," Molycorp (MCP) finally broke out of the wedge pattern it had been trading in since my original article in early March.
Here is their most recent chart: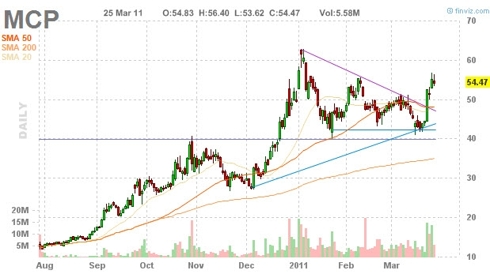 Despite some of the doubt expressed by pundits like Jim Cramer of thestreet.com, this is a stock that should be trading much higher in the months ahead. I have spoken to other money managers who have had direct contact with management and they also believe that the company is the most well-equipped and well-planned rare-earth company in North America.
Cramer, on March 7th, said the stock was trading too high and that it should be sold. Molycorp closed at $47.70 on that day.
Again, on March 21st, Cramer reiterated his sell on Molycorp, saying "It's overvalued and I can't own an overvalued stock in this market." The stock has risen 14% higher since then.
Cramer's own stockzine published an article stating that demand for the group of 17 metallic elements used in a growing number of consumer and industrial products will not only increase dramatically, but will also help re-build Japan. On Friday, the Wall Street Journal's James Areddy said a new tax on Chinese exports of rare earths might also signal Beijing's intention to further build up its strategic rare earth reserves.
In the U.S., several bi-partisan members of the House and Senate plan to file, or have already introduced, bills to build stockpiles of rare-earth elements and restart the relatively dormant U.S. industry, perhaps helped with loans or federal commitments to buy a domestic supply.
Yet, some experts say the threat is overblown and that the government doesn't have to do anything drastic.
Either way, until either the perception or reality of the problem goes away, I see Molycorp continuing to climb. This is especially true since the prices being paid for some of the minerals which the company is already actually mining continues to rise. Also, as long as plans announced from the Chinese government continue to drive up rare element prices, there is no reason to be caught short on this stock.
Another stock I would not want to get caught short on during the days and weeks ahead is Cleveland Biolabs. [Note: see my related article about Cleveland Biolabs (NASDAQ:CBLI) which I published before their recent spike-up].
Despite the fact that another writer with an aggressively negative attitude at thestreet.com fails to see how Cleveland BioLabs will fare any better than Hollis-Eden Pharmaceuticals, the truth is that various agencies within the U.S. Government have already spent over $77 million helping to develop the company's anti-radiation drug (see this slide from a recent company presentation and Seeking Alpha article).
While thestreet.com writer correctly points out that in 2007 the U.S. government canceled its contracts with Hollis-Eden, he fails to point out that the reason for those cancellations was because Cleveland Biolabs's drug proved to be far superior to several others still in development. In addition, despite not spending money on lobbying efforts like Hollis-Eden did, the company is anticipating another injection of $50+ million the Biomedical Advanced Research and Development Authority (BARDA). That pending grant may total more than all previous grants and government contracts combined.
Whether or not the company will see its CBLB502 drug used by the Japanese during clean-up or containment efforts remains to be seen, of course, I find it interesting that the U.S. military has now been called in to help now that Japanese officials suspect a breach in one or more of the stricken Fukushima Daiichi nuclear plants.
The U.S. Navy is now sending barges loaded with 500,000 gallons of fresh water to nearby Onahama Bay so that water injections can begin in the next few days, the Associated Press is reporting. That could set the table for use of the drug by U.S. soldiers exposed to high radiation, for even if the Japanese choose not to approve emergency use of Cleveland's late-stage drug candidate on their own people, no one in the U.S. would stand to see their own soldiers suffer life-threatening exposure to high radiation doses knowing that Cleveland's drug exists and that the U.S. has spent millions helping to develop it just for this type of scenario.
To me, the call for help from the U.S. military also underscored the pressures Japanese officials and Tepco executives are facing as they have been criticized for not providing information or acting to help protect workers in a timely fashion.
Given all of that, I fail to see how CBLI is anything but a "buy" here, especially after the pull back from their recent spike.
Disclosure: I have no positions in any stocks mentioned, but may initiate a long position in MCP, CBLI over the next 72 hours.