Despite a significant amount of global turmoil, markets are surging ahead and giving interested investors nice returns. Stocks motored briskly higher over the past week with a devil-may-care attitude, shrugging off renewed concerns about European debt, bad news on the nuclear emergency in Japan, intensified air-to-ground fighting in Libya, renewed unrest in Syria and several undesirable data points on the U.S. economic recovery.
The Dow Jones Industrial Average rose 3.05%, the Standard & Poor's 500 Index rose 2.7%, the Nasdaq Composite rose 3.7% and the Russell 2000 small-caps rose 3.7%. Growth mid-caps, our favorite cross-market group, climbed 3.2%.
Despite the power of the rally, it was impossible to pinpoint a catalyst other than to observe that risk appetites were whetted by lower prices for those who believe a global economic recovery is under way. Just as stocks blew off a terrible housing number on Wednesday, they shrugged off a lousy durable goods number Thursday, taking heart instead at an improvement in unemployment claims. The next touch point on jobs will come next Friday, when the March estimates will be reported by the U.S. Bureau of Labor Statistics. It will be probably be another fairly strong reading, around +175,000.
[Click all to enlarge]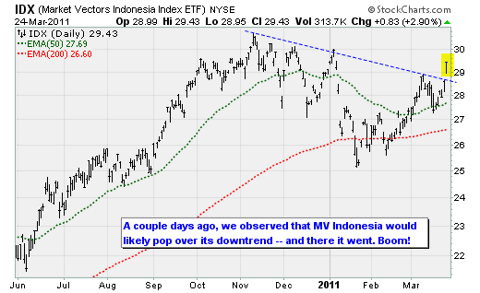 The improvement in overseas markets is striking when looking at global market growth. You probably know already that my pick of Market Vectors Indonesia Index ETF (NYSEARCA:
IDX
) a couple weeks ago on the rebound off its 200-day average is going strong, up a whopping 2.9% on Thursday to a three-month high, as shown above. But all emerging and developed world markets outside the United States were up nicely as well, +1.2%. Among the best were iShares MSCI South Korea Index Fund (NYSEARCA:
EWY
), +2.2%.
And are you ready for this? The exchange-traded fund for iShares MSCI Spain Index (NYSEARCA:
EWP
) rose to a new one-year high this week, most likely on expectations that if Portugal and Ireland are going to be bailed out, so will Spain, if worse comes to worse. One source of strength for the Spanish economy has been tourism, as sun seekers from the northern climes who would normally have flocked to the Mediterranean port cities of Egypt and Morocco this year have gone to Spain instead -- a little safer.
Sources tell me that a lot of money fleeing unrest in the Middle East and Northern Africa is flooding into Spain as well, where real estate is cheap after a massive bust, the climate is simpatico and there is a long history of Northern African influence. The Muslim and Berber ethnic groups once called "Moors" were run off the Iberian Peninsula a few centuries ago, but reportedly Spain, which has been rather down on its luck financially in recent years, is not turning a cold shoulder to Libyan, Moroccan, Tunisian and Egyptian elites seeking a second chance as they flee turmoil back home.
Tech led market growth this week as its recent dip appears to have rekindled interest in the sector, with retail, energy and industrials not too far behind.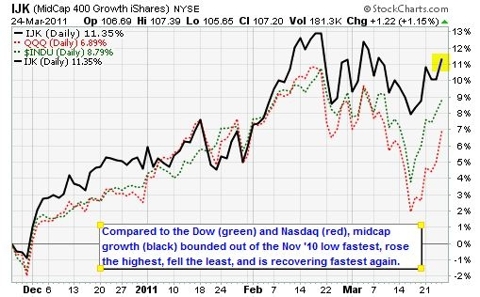 Among market cap groups, which my research shows is the best single way to play a big rebound, iShares S&P MidCap 400 Growth ETF (NYSEARCA:
IJK
) was again the big winner due to the way it crosses sector lines, up 1.2% on Thursday. In the chart above, you can see why we are so high on mid-cap growth for streamlined portfolios. It rose the fastest out of the November low last year, rose the most by January, fell the least in the recent unpleasantness, and has rebounded the fastest since.
Remember that medium-sized growth companies are as nimble as small-caps but have the financial resources of large-caps. They can be buyers of other companies, but are also small enough to be acquired as well. It's the sweet spot.
Some of the IJK components that are ripping the cover off the ball are Idaho-based chipmaker Micron Technology Inc. (NASDAQ:
MU
), up 8% on earnings and the expectation that it will get a lot of the memory chip business that has been lost in Japan; credit card services provider Alliance Data Systems Corp. (NYSE:
ADS
), which did not skip a beat from its uptrend during the recent soft spot; industrial machinery makerCrane Co. (NYSE:
CR
), which also didn't waver one bit in mid-March; and mining machinery maker Joy Global Inc. (JOYG). These all look great and will push the IJK fund higher in coming weeks.
Over in the world of technology on Thursday, the biggest news was some very fine earnings reports, led by software maker Red Hat Inc. (NYSE:
RHT
), up 1.8%, and StrataGem XR stalwart Cognizant Tech Solutions Corp. (NASDAQ:
CTSH
), which rose 3.8% to a new all-time high. Red Hat, as you may recall, has moved on from its roots as a Unix play to be considered a premier "cloud services" play, and as such it ignited demand for other cloud stocks like Salesforce.com Inc. (NYSE:
CRM
), +5.8%, and Citrix Systems Inc. (NASDAQ:
CTXS
), +3.6%.
So what's the message?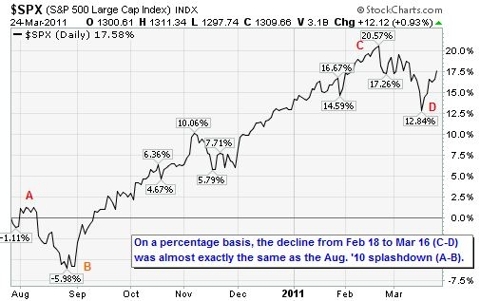 Pretty much the same as the past two years. Virtually all negative episodes in the market since the March 2009 reversal have ended in pain for short-sellers. The recent dip has been a bit deeper than others of the past six months, but about the same as last August.
It's pretty hard to be a grouch when the U.S. Federal Reserve is on investors' side, inflation is low and major industrials like mega-cap Caterpillar Inc. (NYSE:
CAT
) andmid-sized Gardner Denver Inc. (NYSE:
GDI
) are at or near all-time highs after taking a breather in the past month.
Plus there is the matter of what you might call the global "term structure." Pension managers all over the world are way behind in their obligations to grow their clients' money the promised 7.5% to 8.5% during the past 10 years, and pressure has mounted for them to get their acts together.
With money cheap and earnings growth decent due to lower expenses for workers, all the seeming negatives -- social disturbances in North Africa and the Middle East, earthquakes and tsunamis in Japan, and a random debt blow-up in Portugal -- appear not to rank very high.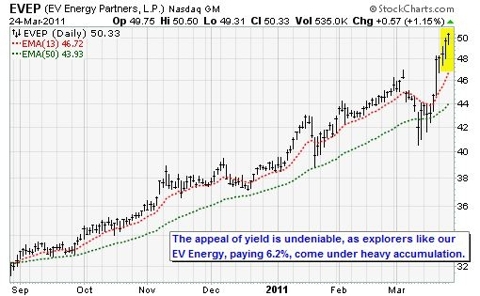 Just look at the appeal of companies like EV Energy Partners LP (NASDAQ:
EVEP
). It is just your basic oil and gas driller in the Appalachia basin, nothing special, but higher commodity prices plus a 6.3% yield have put it in the crosshairs of fund managers desperate to add yield to capital appreciation. This is one of the most important dynamics at work today, so make sure you are taking advantage.
Disclosure: None