By David Russell
Rather than fleeing technology stocks such as the semiconductors, investors are simply shifting to new sectors. Read on to find out which ones they are. I started this column with a bearish outlook, trying to believe the S&P 500 was running out of life. But as I've watched my short positions turn from brief winners to losers, I realized something had to change.
This is one of the hardest things in trading because we all tend to ignore facts before us in our daily lives. For most things, being wrong doesn't come back to hurt you right away. Not so in the stock market. Perhaps more than any other institution, it is unforgiving of people who insist they're right when they're not. That's why long-term investor Ken Fisher calls it "The Great Humiliator."
So, I was going to suggest looking at health-care stocks as a conservative bet because I thought the market was running out of steam. The main reason was that the recent weakness in technology -- especially semiconductors -- had convinced me that economically sensitive stocks had lost favor. But I was wrong. It turns out investors are simply shifting to new sectors: metals and coal.
Stocks such as Freeport-McMoRan (NYSE:FCX) and Alcoa (NYSE:AA) have been weak most of the year, but now they've broken their downtrends. Tuesday was a big news day for the industry, with insiders on opposite sides of the globe describing a positive backdrop: Tom Albanese, CEO of Rio Tinto (NYSE:RIO), said in Hong Kong that aluminum prices are poised to climb. Later in the day in New York, the head of FCX said copper demand was picking up. And Goldcorp's boss described unexpectedly strong demand for gold among Chinese consumers.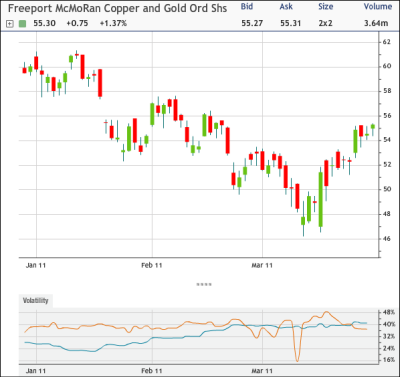 Investors should also be aware of silver producers such as Coeur d'Alene Mines (NYSE:CDE) and Exeter Silver (NYSEMKT:XRA) because, whatever gold does, silver does more. Both precious metals look extremely bullish now, and this China angle adds an entirely new dimension to one of the strongest trends of the last decade.
Coal companies like Consol Energy (NYSE:CNX) and Peabody Energy (BTU) are also hitting on all cylinders, and show strength on just about every front. First, they're linked to metals because coke is used in steel production. Secondly, they're riding the surge in energy prices as the world frets about unrest in the Middle East. And third, the nuclear mess in Japan is restoring interest in good ol' fossil fuels as a reliable and safe source of energy.
Investors also cannot ignore rare earth stocks, a subsector of this industry that has only emerged in the last year. The main names are Rare Elements (NYSEMKT:REE) and Molycorp (MCP), which made a huge move in late 2010, consolidated and are returning to our Heat Seeker tracking system. They're not only new as public companies, but also new in terms of importance because their metals, unusual substances such as Samarium and Praseodymium, are needed for electronics and high-tech equipment like lasers, specialized magnets and batteries. China was previously willing to supply the world, but now they're turning mercantilist and limiting exports. Given that the novelty of this group, you can bet that many big institutional investors remain completely underinvested. That means REE and MCP have the potential to double and triple several times over in the next few years.
Two other names that deserve some attention are Century Aluminum (NASDAQ:CENX) and James River Coal (JRCC). CENX reported very strong earnings on Feb. 15 and is now challenging levels its 2010 highs. JRCC gapped higher earlier this month after a strong report of its own and has also increased exposure to metallurgical coal. But the thing I really like is that they're still far below the 2008 highs. These stocks seem to be highly leveraged, and I suspect will significantly outperform peers if their broader sectors rally.
Disclosure: I own CENX shares.