Dover Corporation (NYSE:DOV), founded in 1947, is a diversified global manufacturer of products for markets including energy, product identification, material handling, electronic components and equipment, mobile equipment, fluid solutions and engineered products. Revenue last year totaled $7.1 billion. Last year was also the 55th consecutive year DOV increased its dividend, the fourth longest record on the New York Stock Exchange.
Industrial Products - $1.9: Industrial Products manufactures material handling equipment, hydraulic parts and other accessories for off-road vehicles. It also offers mobile equipment related products such as refuse truck bodies, tank trailers, vehicle service lifts, car wash systems, internal engine components, and various aerospace components.
Engineered Systems - $2.2: Engineered Systems provides products and services for the refrigeration, storage, packaging and preparation of food products, as well as industrial marking and coding systems.
Fluid Management - $1.6: Fluid Management manufactures polycrystalline diamond cutters used in drill bits for oil and gas wells, pressure, temperature and flow monitoring equipment used in oil and gas exploration and instrumentation for oil and gas production.
Electronic Technologies - $1.4: Electronic Technologies designs and manufactures electronic test, material deposition and manual soldering equipment, micro-acoustic components, and specialty electronic components.
Year 2010 revenue of $7.1 billion rose 24% from the prior year, 20% from organic growth and 4% from acquisitions. Gross profit margin increased 200 basis points to 38.3% above 2009. Developing economies in Asia contributed 17% of 2010 revenues and that percentage is expected to rise further with expansion into Asia and other growing markets. EPS was $3.70, up from a depressed $1.91 in the prior year. DOV was hit hard by the global recession, but it has also had a major rebound. Strong finances and a low payout ratio allowed DOV to extend its unusually long streak of higher annual dividends.
Year, EPS, Dividends
2007, $3.26, $0.77
2008, 3.12, $0.90
2009, 1.91, $1.02
2010, 3.70, $1.07
DOV is positioned in growing areas: Demand for smart phones, shifts to shale drilling, product safety and the rising middle class in developing economies. Acquisitions made in the last two years added 13 cents to EPS in 2010. In December DOV offered to buy Sound Solutions (Austrian-based), the world's leading manufacturer of dynamic speakers and receivers for cell phones and other consumer electronics (its largest acquisition which will significantly broaden product lines). Four more acquisitions were made in January 2011, including Harbison-Fischer. Sound Solutions and Harbison-Fischer will increase revenue by more than $500 million annually, adding to earnings and cash flow.
Expansion in emerging markets is a key objective for DOV. Q4 2010 was the second consecutive quarter that revenue from Asia exceeded revenue in Europe. For 2010, growth rates were 50% for Asia and 52% in Latin America. In the past two years, manufacturing centers were opened in India, China and Brazil to provide significant cost savings while allowing DOV to capture additional market share by aligning the products in local markets.
In 2011, DOV will continue to concentrate on product innovation, geographic expansion, disciplined capital allocation and servicing customers. A growing global economy will bring increasing demand for products, particularly in developing regions. A key corporate objective is 10% or greater annual earnings growth. DOV expects 2011 revenue growth of 9-11%, representing organic revenue growth of 6-8% plus growth from acquisitions of 3%. Management is guiding diluted EPS from continuing operations for 2011 of $4.05-4.25. Analysts are forecasting EPS of $4.23 and $4.79 next year.
Revenue growth has stuttered in recent years, hurt by the global recession. But the company has recovered, helped by acquisitions. In the last 10 years the stock rose from 35 to 65, slightly less than doubling, which kept it off my article on "10 Best S&P 500 Dividend Aristocrat Growth Stocks." The stock yields 1.7% at $65.51 with a P/E under 16X. A growing business bringing higher earnings and dividends will enable DOV to extend its streak of higher dividends, a key for rising stock prices.
Dover Corporation - 10 years
Click to enlarge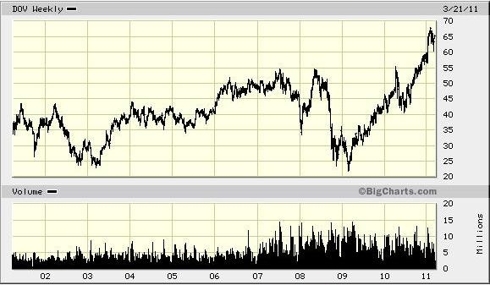 Disclosure: I have no positions in any stocks mentioned, and no plans to initiate any positions within the next 72 hours.