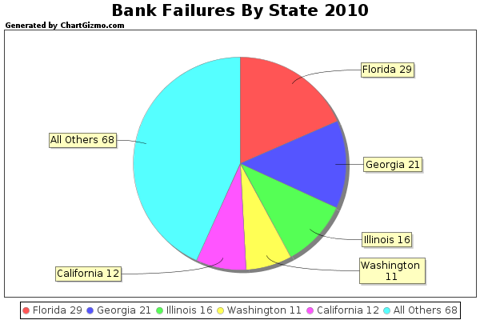 (graph by problembanklist.com)
On Friday, banks are closed down by the FDIC, and it appeared the start of the year that the number of banks that would fail would rise, but there were none closed on March 4, March 18, and only one on March 25th. In 2009 140 failed; 2010, 157 failed; to date it is "only" 26 that have failed, so readers may conclude failures have slowed down.
It may also be the regulators have their hands full with too many continuing bank problems. No one seems to like the auditors or regulatory authorities, but they are there to protect depositors, not the investors or bank Board of Directors. Perhaps the reason for the "slow down" comes from The FDIC on February 23rd reporting its "problem list" has grown from 884 to 860. The number is more dramatic if you consider almost 300 banks have failed in the last two years and are no longer on the list.
From the recent filings, most of the banks that have failed have not had a profit in two years, have large noncurrent loans, and their major causes of grief continue to be "construction and land development loan." The real estate market has not turned around, causing both a lot of collateral, defaults, and losses.
Many of the banks that have failed have Board of Directors with little professional bank experience, and while they may have their community in mind, members were more like entrepreneurs than "minders" of the risks involved with other people's money, let alone their chief consideration of their original investment or investments from friends and relatives, let alone their personal reputation. It is a tremendous responsibility, and many were seemingly too cavalier about it
Most of the FDIC "Cease and Desist" orders have been to make changes, but to keep the same management (not all, but many) and to call for an infusion of capital. The problem is new investors are afraid to put in "good money after bad" as they have no protection, meaning when the bank fails and is taken over by another bank, they lose their original investment in the bank.
A good example is The Bank of Commerce of Wood Dale, Illinois was closed and will become a branch of AdvantageNational Bank Group of Elk Grove Village, Illinois, which assumed all the deposits. Stock holders here lost everything, but Wintrust Financial received its 80th branch "across Chicagoland."

Advantage is part of the Wintrust (NASDAQ:WTFC) Community Bank Group which includes 15 banks and thrift subsidiaries in Illinois with Advantage as their fourth largest with $405 million in deposits. The largest is Lake Forest Bank & Trust with $1.4 billion, followd by North Shore Community, $1.2 billion, Hinsdale Bank, $1.4 and NorthBrook $1 billion, according to FDIC records, with combined deposits of $10.9 billion and total assets of $14 billion, as of December 31, 2010. Their web site states "79 branches across Chicagoland." With The Bank of Commerce, it is now 80.
http://why.wintrust.com/
According to chicagobreakingbusiness.com, "As the population of banks has gone down in Chicago, the Wintrust brand actually means something now," Edward Wehmer, chief executive of Lake Forest-based bank holding company, said Monday at the Raymond James & Associates 32nd Annual Institutional Investors Conference in Orlando.
"The banks will soon be branded 'Wintrust Community' banks."
He reportedly predicted 20 banks will fail in Chicago this year. The Bank of Commerce is third in Illinois, so 17 more?
http://chicagobreakingbusiness.com/2011/03/wintrust-to-build-community-network-banks.html
In this town of approximately 14,000. It is not far from Hoffman Estates or Northbrook, or Chicago. The Chicago Sun Times recently ranked it as the fourth best of Chicago's 150 suburban areas. The area now known as Wood Dale was first inhabited by the Winnebago tribe, part of the Sioux nation, and is used as hunting grounds. The land was awarded to them for fighting the French. The Winnebago gave up the grounds after Illinois became a state in 1818, and later they moved to Wisconsin then Iowa. The town's growth came after the 1960's, according to the City of Wood Dale, Illinois web site (wooddale.com).
In addition to "construction and land development loans," the residential real estate market added to The Bank of Commerce woes as equity dropped from $9 million year-end 2009 to $695,000 year-end 2010 with $38.1 million in non-current loans. The bank had lost $11.3 million the previous year and $8.3 million year-end 2010 with charge offs of $1.8 million in construction and land development, $1.4 million in loans secured by nonfarm nonresidential properties, $1.4 million in loans secured by 1-4 family non residential properties, as well as $234,000 in commercial and industrial loans. Tier 1 risk-based capital ratio 0.51%.
The FDIC estimates that the cost to the Deposit Insurance Fund [DIF] will be $41.9 million.
As of December 31, 2010, The Bank of Commerce had approximately $163.1 million in total assets and $161.4 million in total deposits. In addition to paying a premium of 0.10% to assume all of the deposits of the failed bank, Advantage National Bank Group agreed to purchase essentially all of the failed bank's assets.
Tracking Bank Failures Map:
http://graphicsweb.wsj.com/documents/Failed-US-Banks.html
List of Bank Failures:
http://www.fdic.gov/bank/individual/failed/banklist.html
Disclosure: I have no positions in any stocks mentioned, and no plans to initiate any positions within the next 72 hours.