KEYW Holding
(NASDAQ:
KEYW
) is a cyber technology and security company primarily for the U.S. government intelligence and defense industry. It was founded in 2008 and just became public in October 2010. There's a lot of investor backing and high hopes for this company and they have been acquiring a lot of small IT companies. Due to overvaluation and underperformance, KEYW looks to be a good short.
KEYW has high valuation multiples in comparison to its peers, as shown here:
[Click to enlarge]
This high valuation is because investors expect KEYW will do well and win many contracts. The high hopes for KEYW come from its all-star management team that used to run Essex Inc. Essex Inc went from a company worth only $20 million in 2000 to being bought out by Northrop Grumman (NYSE:NOC) for $580 million in 2007. This amazing growth story happened primarily because Essex had acquired companies that had products the National Security Agency (NSA) ended up using extensively and the NSA became Essex's biggest customer. Lee Moodispaw was the CEO that led Essex to its wild success and is now the CEO of KEYW and has his previous team from Essex. The street is expecting Moodispaw to grow KEYW like he did Essex.
However, so far things have been sluggish for KEYW.
KEYW is trying to win contracts, but haven't won any bids since going public outside of a $16M deal for Surface Mount Technology products. Most of KEYW's revenue has been from acquired companies. They were recently passed over on an Air Force contract known as A5XP. Prior to the IPO, KEYW was telling investors that they were confident they would get the A5XP contract. Moodispaw now says it's OK they didn't get the A5XP deal because they got the SMT contract. He has said "our main limitation has been the availability of staff resources to perform the work vital to the mission of our customers." This limitation could also prevent them from getting future deals.
The street seems to think KEYW has a good chance of winning an upcoming contract opportunity called "AURA" which is a 7-year, $700 million program with the NSA. This contract is very important for KEYW to get and is a binary event. If they win the contract, the stock will surely go up significantly, and if they lose, the stock will drop. Investors are hoping Moodispaw and his team will be able to win over the NSA because of their previous success with Essex.
I am skeptical, however. The products that Essex had sold to the NSA were niche and cutting-edge technology like fiber-optic receivers and transponders and reprogrammable radars that allowed the NSA to quickly adjust to changing mission requirements. The AURA project isn't niche. It's a very broad and complicated endeavor. It involves the NSA moving five systems onto the cloud, and there's a plethora of integration and security issues. Any mistakes here could compromise national security. KEYW has heavy competition from large defense technology companies for this contract. With the decrease in government defense spending, they all want this job really bad. KEYW says their advantage is they are more agile than their competitors. Their theory is that big defense companies such as Mantech, CSC and L3 are bureaucracies that take longer to make decisions and get things done. It's hard to say how much more agile KEYW is than its competitors and how much the NSA will value this.
"Large companies have a very, very tough time being agile," said Ed Jaehne, KEYW's chief strategy officer. "Their business model is built on more traditional methods, and cyber space is different than that. It is the quintessential asymmetric environment of engagement."

KEYW has a lot of companies that signed on to support them in this program. The biggest of these subs are Lockheed (NYSE:
LMT
), TASC and General Dynamics (NYSE:
GD
). Definitely a plus for KEYW is having these companies subcontracting for them. KEYW's competitors for the contract are: SAIC, Raytheon (NYSE:
RTN
) with L3, Mantech with Booz Allen (NYSE:
BAH
), CSC and CTC. SAIC seems to be the favorite to getting the contract as they have an industry leading cyber protection product that the NSA is already using. The NSA is expected to make a decision on who they will pick for the project in mid-2011.
KEYW's slow start after its IPO is a cause for investor concern. KEYW's biggest acquisition, The Analyst Group, acquired on February, 2010, turned out to be a disappointment. The original acquisition price was $34.65M in cash and debt and an earn-out of up to 3 million KEYW shares based on TAG's revenue performance. TAG significantly underperformed in its revenue projections, and so KEYW cancelled all of the earn-out. This is shown in KEYW's Q4 2010 financial report under the statement of cash flows shown below. While this adjustment may look like a wash from a GAAP standpoint, in reality it's a bad acquisition and will result in less revenues for KEYW going forward.
Click to enlarge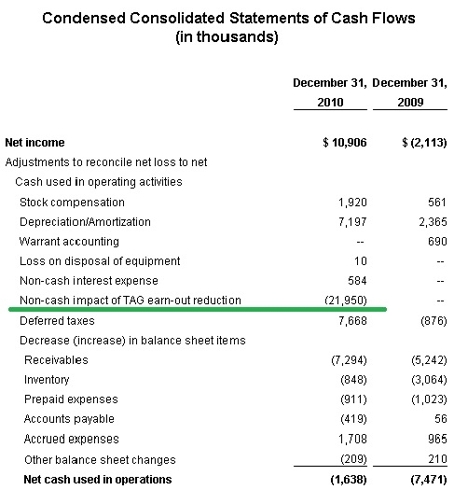 KEYW's acquisitions will continue in 2011. "We begin 2011 with zero debt, and a robust pipeline of strategic acquisition candidates", said Moodispaw. A company on an acquisition spree is more open for problems down the road.
In the long run, the U.S. is cutting its defense spending. This isn't good for a small company like KEYW that's just breaking into the defense sector space. The bigger, more established defense stocks are grabbing all the market share they can get, and trying to bump-out the little guy.
Disclosure: I am short KEYW.