Meet Multiband Corp. (NASDAQ:MBND). Nestled in the snowy confines of Minnesota, Multiband is the largest nationwide DIRECTV (DTV) master system operator in the Multiple Dwelling Unit (MDU) market. Multiband is also one of the largest full-service home service providers (HSP), handling around 20% of all DIRECTV's installations, maintenance and upgrades for residents of single-family homes.

Since acquiring Directech Holdings two years ago, Multiband has undergone a dramatic transformation, growing its revenues from $43M in 2008 to nearly $270M in 2010. In addition, the company has posted five consecutive quarters of significant operating profitability as measured by EBITDA. The stage has now been set for Multiband to report a breakout Q4 on the morning of this Thursday, March 31st. While the stock has certainly had a solid run-up after management pre-released better-than-expected guidance a few weeks ago, we believe the market has yet to fully grasp just how powerful Multiband's profitability will be. Let's discuss.

After reporting three quarters of significant year-over-year EBITDA growth last year, in November Multiband issued the following guidance for the entire fiscal year: Revenues of $255-$258M, with EBITDA expected to range from $18-$20M. In the last few weeks, however, management indicated the numbers for Q4 would be significantly better than previous estimates. How much better? Although specifics were not mentioned, it seems pretty clear they knocked the cover off the ball. When a company uses the phrase "materially exceed" in a pre-release, we get bullish. When management uses it twice, we start to get excited.

James L. Mandel, CEO of Multiband, commented: "We continue to execute ahead of plan and successfully leverage our infrastructure to generate significant year over year revenue and EBITDA growth. The operating efficiencies in our expanded platform, which includes superior performance metrics as well as the potential for diversified installation and ancillary services, are driving improved efficiencies within our business model and delivering tangible positive operating results. Coupled with stronger than expected top line activity, we now expect our EBITDA results to materially exceed the guidance we have previously given on an annualized basis. In addition, the company expects revenues to materially exceed previous guidance as well."

Sounds like a breakout quarter, right? Well as good as it sounds, we like to spend some time constructing our own models before we begin singing the praises of any company. In the case of Multiband, we spent hours reviewing its past three company conference calls, and picked the brain of the lone analyst following its progress as well – Craig Hallum's Mark Argento. But, before we present our potential Q4 scenarios, we should back up a bit and give some color on how Multiband has arrived at its current inflection point quarter.

Under the auspices of CEO Jim Mandel, Multiband has quickly become a strategic and important partner for DIRECTV over the past two years. With its workforce of over 2,000 trained technicians, performing over 5,000 jobs a day, Multiband has become an integral part of DIRECTV's business model and a trustworthy installation partner. In a sense, by providing superior customer service to DTV's customer base, Multiband has become an invaluable cog within DIRECTV's machine. DIRECTV values its relationship with Multiband so much that in early October, it not only extended Multiband's contract until 2014, but it opted to include commercial installations as well. This is significant. With Multiband now in a position to provide its installation services to bars, restaurants and hotels, the company has added an entirely new source of revenue and EBITDA growth potential in 2011 and beyond.

During its Q3 conference call, Mr. Mandel discussed how Multiband has firmly entrenched itself into DIRETV's ecosystem and become one of the top two service providers for DIRECTV:

"We continue to compare favorably to other HSP providers from an operational and financial perspective, due to our investment in a process that streamlined our operation and allows us to scale the business to include not only enhanced call and support center services, but security and wireless high-speed Internet. These have culminated into increased incentive revenue on our HSP side, and we feel we still have room for improvement to gain additional incentive revenue from DIRECTV going forward."

Read between the lines. In 2010, Multiband gained significant market share from its competition by offering additional value-added services that the smaller HSP providers could not.

Before presenting two Q4 models, readers should understand a few specifics of Multiband's business. Typically, Multiband experiences a big spike in its costs of goods sold in either Q2 or Q3 of each fiscal year due to seasonal hiring plans. In 2009, these costs were spread out between both its second and third quarters. In 2010, the costs were heavily weighted to its third quarter. For a company with only 10M shares outstanding (15M fully diluted after accounting for the 5M in preferred shares), this sizable increase in costs of goods sold from Q2 to Q3 caused Multiband's profitability to noticeably decline on a sequential basis from Q2 to Q3. See the highlighted areas below to see what we mean:
Click to enlarge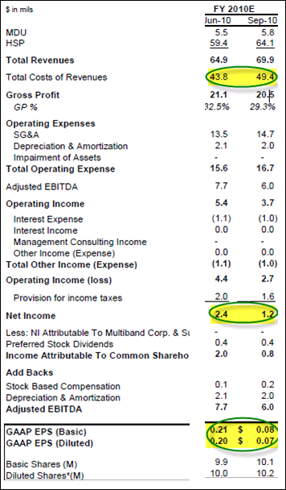 Click to enlarge

During its conference call with investors in November, Mr. Mandel explained how the increase in costs of goods sold was a Q3 phenomenon. With these seasonal costs now out of the way, Multiband will now see significant leverage in Q4, and that leverage is very impressive. If we assume the cost of goods sold decreases sequentially in Q4 by $3.5M to $45.9M (we will use the numbers provided by Craig Hallum here), Q4 profitability is set to surge. With revenue expected to now "materially exceed" previous estimates and grow significantly on a year-over-year basis, these additional revenues should flow directly to the bottom line. In an effort to quantify how substantial an effect these additional revenues will have on Multiband's profitability, we have modeled two separate scenarios below:
Scenario #1

Total Revenues: $73 M
Cost of Revs: $45.9M
Gross Profit: $27.1 M
Total OPEX: $17.2 M
Adj. EBITDA: $11.9 M
O. Income: $9.9M
Interest Expense: $1.1M
O. Inc. (After Interest Expense): $8.8M
Provision for Income Tax (45% Rate): $3.96M
Net Income: $4.84 M
Preferred Stock Dividend: $0.04M
Net Income To Common Shareholders: $4.44M, or GAAP EPS of $0.44c a share ($0.22 fully diluted).

Based upon the inferences gleaned from the company's pre-release, it would seem that using $73M as our revenue estimate is being conservative. At this level, revenues would have only increased 7.3% over last year's Q4 print of $68M – an increase that would not seem to qualify as "significantly higher" on a year-over-year basis.

With this in mind, we have presented a second Q4 scenario, with a $78M revenue print, and mapped out what it could mean for Multiband's profitability. In an effort to remain as objective as possible, we have also increased the company's cost of revenues by $1.1 M and its OPEX by 200k. Take a look:

Scenario #2

Total Revenues: $78M
Cost of Revs: $47M
Gross Profit: $31M
Total OPEX: $17.4M
Adj. EBITDA: $15.6M
O. Income: $13.6M
Interest Expense: $1.1 M
O. Inc. (After Interest Expense): $12.5M
Provision for Income Tax (45% Rate): $5.625M
Net Income: $6.87
Preferred Stock Dividend: $0.04M
Net Income To Common Shareholders: $6.47M, or GAAP EPS of $0.65c a share ($0.32 fully diluted).

After observing DIRECTV's record setting Q4 and its surge in net new subscribers, a breakout quarter from Multiband should not come as a big surprise. After all, Multiband has been posting record EBITDA throughout 2010, earning approximately $16.4M for the first nine months, a marked improvement over the (-$0.4M) in the same period of 2009. If we take the mean of our two estimates, EBIDTA in Q4 would be $13.75M. Add it up. This implies EBITDA of $30M for 2010, well above current estimate of $19M for 2010.

Should we be accurate in our analysis, we could easily see MBND trend toward $10 by the summer. By placing a 6-7 multiple on $30M in EBITDA, it would bring us to a valuation of $9-$10.50 (based on fully diluted share count of 15M). This is not unreasonable if you consider the company's closest competitor, Mastec Inc., receives an 8x EBITDA/EV multiple.

Given Multiband's profit potential, we remain buyers of the stock at current prices and on pullbacks to $5 over these next few days into earnings. Please note: We would keep any new position in the stock small due to the lack of liquidity in the name. We look forward to issuing a follow-up piece on Multiband in the coming weeks.

In addition to being a high conviction trade for the next few months, there is also a second major catalyst that should emerge in the second half of the year – Multiband's expected ramp of its Multiple Dwelling Unit business. According to Craig Hallum, Multiband should begin to see traction on this side of its business in the second half of 2011. If all goes well, the Multiple Dwelling Unit business could actually turn into a multi-year ramp and potentially double or even triple its current revenue base, while simultaneously increasing EBITDA by $35-$90M, depending on product mix. Should such a scenario play out, the potential for a multi-bagger from current levels over the next 24 months is very real. Stay tuned as we await more color on this ramp during the conference call later this week.
Disclosure: I am long MBND.