The trading day yesterday began with a small bounce higher which lasted through most of the day. During the final hour sellers finally stepped in and pushed the market lower.
Could we see lower prices ahead?
I stated the following this weekend:
There are lots of bearish signs moving into the market. Over the past week, the VIX has gone from more than 30% above its average to more than 15% below. In the past this type of volatility in volatility has been overwhelmingly bearish. If you just look at 15% both ways there are eight instances when this type of movement has occurred and only once was it bullish for the market one month later.

Furthermore, the major market indices are overbought on a short-term basis and nearing overbought on an intermediate time frame.

Couple all of the aforementioned with upcoming negative seasonality and you can quickly see where I am going. All I can say is keep selling premium and remain cautious.
I do believe we are in for quite the tumble in the months ahead. For those of you who follow the q-ratio, you know that we have pushed to historic levels and that spells trouble going forward.
The good thing is, the High-Probability, Mean-Reversion strategy doesn't care about the long-term movement of the stock market or if it moves up or down. All it cares about is taking advantage of extremes in the ETFs I follow.
The current trade is profitable and if the bears take over Tuesday we could have the best trade so far in the portfolio. So far, the performance has been amazing.
Short-Term High-Probability, Mean-Reversion Indicator – as of close 3/28/11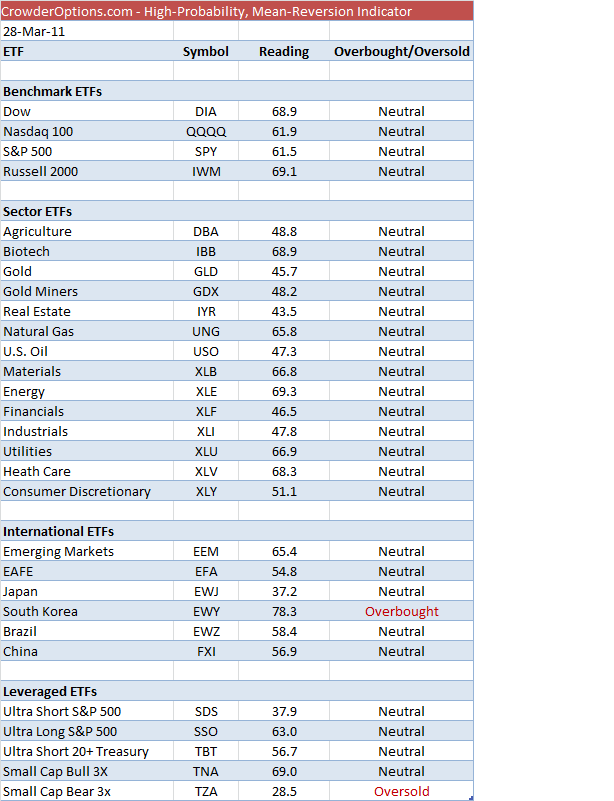 Disclosure: I am short SPY.