We have upgraded our recommendation on Franklin Resources Inc. (NYSE:BEN) to Outperform from Neutral. The decision is based on the company's first quarter 2011 earnings, which came in substantially ahead of the Zacks Consensus Estimate, reflecting strong growth in revenue and higher assets under management (AUM), partially offset by increased operating expenses.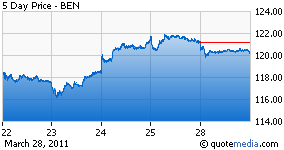 Franklin's first quarter earnings came in at $2.23 per share, outpacing the Zacks Consensus Estimate of $1.91 per share. Moreover, the results were well ahead of earnings of $1.54 per share in the prior-year quarter and $1.65 per share in the prior quarter. During the reported quarter, Franklin repurchased 1.7 million shares of its common stock for a total cost of $198.5 million.
Earlier in March, Franklin reported preliminary AUM of $693.7 billion by its subsidiaries for the end of February. Results were up 1.9% from $681.0 billion as of January 31, 2011 and 24.7% from $556.3 billion as of February 28, 2010.
Franklin's closest competitor - Invesco Ltd. (NYSE:IVZ) reported preliminary AUM of $641.1 billion at the end of February 2011, up 2.9% from $623.1 billion at the end of January 2011. The increase in AUM was primarily driven by positive returns from financial markets, strengthening of foreign currencies against the U.S. dollar and net inflows into institutional money market funds.
During the first quarter of 2011, market returns improved as the global economy continued to proceed toward recovery. Global markets showed signs of stabilization and the recovery in the markets appreciably benefited Franklin's AUM, fee revenue and non-operating income. We expect the company to continue to benefit from the economic recovery.
Franklin announced two strategic transactions in the first quarter of 2011. The company entered into a new strategic relationship with (Telegis) Capital Management, acquiring a 20% equity stake. This company's experience in commodities, managed futures, and hedge fund replication ideally balances existing Franklin's alternative offerings. The company also announced the acquisition of Rensburg Fund Management, a UK equity specialist with about $1.5 billion in AUM. The Rensburg acquisition allows Franklin to diversify product offerings in the key markets. Therefore, we expect Franklin to benefit from the growth potential of these two transactions.
Franklin stands strong from a balance sheet perspective. The company has been able to generate positive cash flow even in an increasingly difficult operating environment. The company remains in compliance with the requirements for regulatory ratios. It has been increasing dividend every year for the past six years. The company enhanced shareholders' value by returning over $5 billion to shareholders through dividends and repurchases in the past four years, including $1.5 billion in 2010.
On the flip side, Franklin's increasing focus on international markets for investment products has led to increased exchange rate and other risks in connection with earnings and income generated overseas. Moreover, Franklin's investment management and related services are subject to wide and intricate, overlapping and frequently changing rules, regulations and legal interpretations in the countries in which it operates. Although the financial markets continued to improve during the first quarter of 2011, the business and regulatory environments remain uncertain and subject to change.
For Franklin, consolidation in the financial services industry has created stronger competitors with better-quality financial resources and broader distribution channels. New products offering from tough competitors could decrease sales of products, potentially resulting in market share decline, revenue and net income. Therefore, Franklin invests in advertising and promotion in response to changing business conditions to advance products for potential new growth opportunities. As a result of potential changes in strategic marketing campaigns, the level of advertising and promotion expenditures may increase more rapidly than revenue.
Overall, Franklin's global footprint is an exceptionally favorable strategic point, since its AUM is well diversified. This coupled with a strong balance sheet is expected to cushion the company. Furthermore, the latest acquisitions are expected to strengthen the financials of the company in the upcoming quarters. However, Franklin is not immune to the volatile economic environment, which has been made worse by the costly regulatory environment. The regulatory restrictions could negatively impact the company's AUM and in turn increase its costs.
Franklin currently retains a Zacks #2 Rank, which translates into a short-term 'Buy' rating.