I currently have a Sprint (NYSE:S) HTC Evo Smart that uses Google's (NASDAQ:GOOG) Android operating system, but living in the Northwoods of Wisconsin, I don't have 4G service, even though my phone is able to utilize it.
Click to enlarge: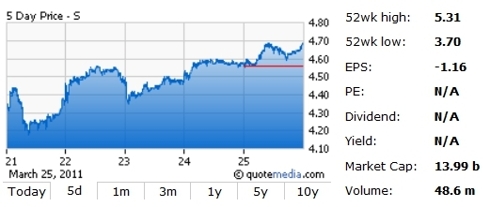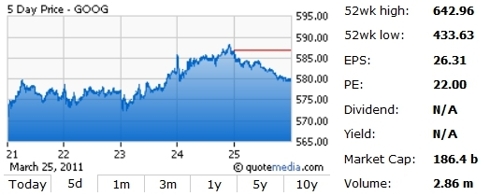 I do, however, get 3G service and it works quite well. I also have a portable XM radio (SIRI) that can even record (but not transfer) the various stations.
My subscription with Sirius ran out this month, but I have not used the satellite radio service for awhile. When Sirius was the only real choice, I thought it was good, and normally would prefer it over FM radio. Like so many things that make our lives more convenient, technology has enabled us to have greater choice and possibilities in entertainment. Years ago, I had a subscription to Yahoo Internet radio (NASDAQ:YHOO), and while it was pretty good for home or office, it really wasn't practical once I stepped outside the door.
Click to enlarge:

Shortly after getting my new Sprint Smart phone, I discovered Pandora, an online radio station. It did not take long for Pandora to become my preferred radio station, and I believe it is vastly superior to FM radio or XM/Sirius radio. I especially think it's great while driving. One may guess that up in the Northwoods, using Pandora may not be all that good, but I have found it to be convenient and I have good reception. I simply plug the earphone jack into the audio jack of the vehicle radio, then plug in the cigarette lighter power adapter for the phone, and it will play music indefinitely. I am also able to do this at no additional cost for the data or the Pandora music service. Pandora does offer a commercial-free upgrade, but I have yet to find the commercials played often enough to be annoying (I am listening to Pandora as I write this).
As a parent, I have found that with the right type of music, my 18-month-old son will start to dance around. It is incredibly funny for my wife and me to watch our little "monkey boy" dancing around. Simultaneously, we have also found that if there is a cell phone or regular phone within reach, he will pick it up, hold it up to his head, and start" talking" into it (which I find both amusing and disturbing at the same time). He has a very keen interest in the colors and lights of my cell phone.
Recently, after I took a look at it upon receiving a text message, he reached for it and started to ask for my phone. I thought it may be amusing to turn on Pandora radio and lock the phone so he would not be able to make changes. I handed him the phone to see if he would dance. With wood floors, it was perhaps not the smartest thing to do, but at least if he dropped my phone, it wasn't going to fall far. As luck would have it, a song with a good beat came on and he started to dance, which I would have videotaped with my phone had he not been holding it.
As we watched in amusement, I started thinking about how cool the Pandora radio service is in relation to Sirius radio, which I wrote about not long ago. Specifically, I thought how convenient it is to be able to use my cell phone to play music; I would not have been able to do the same with my Sirius radio. While my Sirius radio is portable, without a clear view of the sky, it is useless unless it's playing something pre-recorded.
After giving this further consideration, I went to EDGAR Online, Yahoo! Finance, and Seeking Alpha to do some research on the different cell phone makers and cell phone service providers. I also e-mailed Toyota Motors (NYSE:TM), Ford Motors (NYSE:F), and General Motors (NYSE:GM) to get more information regarding the accessibility of plugging in an iPod and or smart phone in their vehicles. What I learned makes it pretty clear to me what the future holds for satellite radio.
Click to enlarge:


Just like roads made travel for consumers immensely easier, cheaper, and more convenient compared to travel by trains, Internet content delivery will do the same thing due to technology advancements in wireless Internet, vehicle Internet radio, and hand-held devices. Sirius is most likely in a no-win situation, having to support what appears to be a soon-to-be diminishing subscriber base. Here is a breakdown of how each company, independently acting in their own interests, will unintentionally but nonetheless implicitly collude to take away the profit potential of Sirius XM- without even trying.

The ability to stream video through handheld devices is growing, and I believe it will quicken the pace by which Sirius becomes obsolete. Apple (NASDAQ:AAPL) is actively working towards the goal of providing greater video streaming possibilities with AirPlay.
Click to enlarge:

With AirPlay, users can stream video from their iPhone to Apple TV. Apple is also licensing AirPlay technology to other audio companies to enable greater home and office use. Apple is not alone in its desire to provide streaming content to home users. Google is offering an Android TV platform that is designed for video. These two systems will be able to offer video and audio from one system, removing the requirement of having to operate and pay for separate systems. AirPlay and Android audio streaming would appear to directly compete with Sirius's ability to attract subscribers who use Sirius in the home and or the office.
Because Pandora, Yahoo Radio, AOL Music (NYSE:AOL), Live 365 and others allow for both handheld devices and home computers, users are able to customize their music while on the go or at home.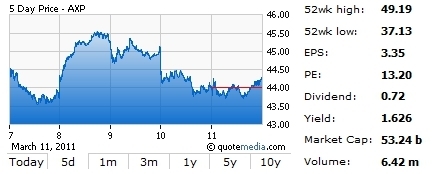 Instead of limiting users to fewer than 200 channels (with about half having commercials despite listeners paying a subscription fee), the Internet with an iPhone/smart phone offers thousands of choices, including customizable stations. Most Internet content delivery is provided without a subscription fee, with equal or better quality. Instead of locating an acceptable placement for a satellite antenna with a cord that will reach the stereo system, smart phone users with Internet access can simply plug their smart phone into their stereo system if it is not convenient to connect their stereo system into a computer.
Consumer electronics makers have noticed. They are increasing the offering of products that can either natively connect to the internet to provide free online radio stations, or, what is becoming standard on home theater systems, a connection to smart phones via Bluetooth or USB.

Click to enlarge:



Looking at Amazon.com (AMZN), a listener can find a great many choices in home video and audio products at just about every price point, low and high.
I believe it would be reasonable to assume that internet radio in the home is only going to grow from here, and we will see greater choices in both content and devices to play the content. Why would anyone pay a subscription for satellite radio when they can get music online for free or even commercial-free radio for a lower cost? SIRI does offer some content not found elsewhere, but I will address that later. The answer is they won't, or at least not enough to make the numbers work for Sirius's investors. Yes, it is true that SIRI is available online as well as via satellite, so listeners do not have to buy SIRI equipment to listen. However, at a cost of over $13 a month plus various fees and taxes and possible other "gotchas", listeners who are given a choice between being locked into a monthly service fee versus free service will continue to put a headwind on SIRI turning a profit.
It is obvious that SIRI is not going to be able to compete at home for subscribers and it seems everyone already agrees on this. The bulk of the marketing and new business, therefore, is not going to come from home users, but rather from vehicle use.
Click to enlarge: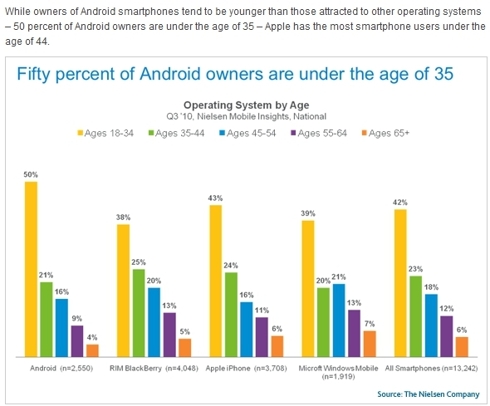 There are currently four major different operating platforms running smart phones (plus various smaller commercial and non-commercial operating systems). The four include Google's Android OS, Microsoft's (NASDAQ:MSFT) Windows Phone 7, Apple's iOS, and Research In Motion's (RIMM) BlackBerry OS. They are all currently in an accelerating software arms race (with changes in players) as smart phone sales continue to climb. What this means for consumers and for Sirius is that smart phones continually become more user-friendly, feature-rich, lower cost, and ultimately more attractive to buyers. Of course, this means greater competition for Sirius.
What makes the race to improve the operating system so important to Sirius is the number of apps available to improve the smart phone functionality for the user. For example, "Pandora" is an app that loads for free onto a smart phone and the listener controls the music playing with its user interface. Other apps for music include AOL Music Powered by CBS, Live365, Yahoo Radio, lastFM, Slacker, Iheartradio, Stitcher, Comedy Radio Free, and countless others. They provide a listener with just about every imaginable music genre including comedy, talk radio, NPR, Political, and even Howard Stern replays. If you want it, you can find an app that will not only provide it, but allow you to customize your listening experience, which is something that Sirius just cannot do with fewer than 200 stations.
There are about 300,000 apps for the iPhone and over 200,000 for Android (which is gaining ground on the iPhone), and new apps are coming out at a blistering pace. Once you add in YouTube and other video providers, listeners can not only get music, but be able to watch music videos on their smart phone as well. Again, this is something that SIRI falls short on. If you like the song you're listening to, with a push of a button, you can own it, and save it to your smart phone to listen to whenever you want, as often as you want. While having the software is one part of the equation, it is useless without the hardware that is able to receive wireless internet fast enough to support streaming audio and/or video and the operating systems on which the apps run.
This brings us to the second arms race in smart phone technology, the actual physical phones and hardware.
In 2009, RIMM had four of the top five smartphones on the market, according to CRN. RIMM's BlackBerry Curve even beat out the AAPL iPhone. In 2010, the BlackBerry Curve was still number one with the iPhone at number two and Motorola (NYSE:MSI) running on the newly released GOOG Android OS Droid coming in at number three. In 2010, the landscape changed somewhat. While the RIMM BlackBerry still held a slight lead over the others, the market share dropped and appears to be continuing to drop. HTC has made huge gains in market share and Motorola and Samsung (OTC:SSNLF) have made slight gains. HTC is now releasing a 3-D camera phone, and at the same time, Sprint is announcing that they will be offering higher subsidies for phones, so I expect sales to continue to improve for HTC, most likely at the expense of RIMM.
Click to enlarge: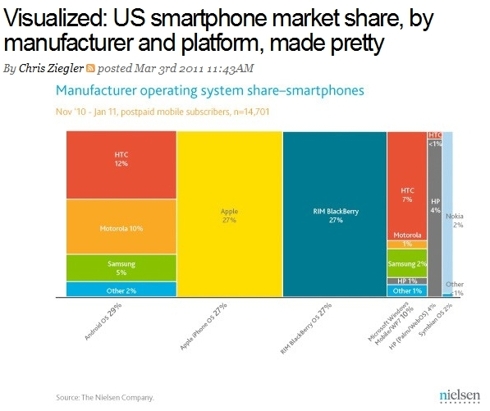 Looking at the numbers, one thing is very clear: People are turning to smart phones in ever increasing numbers. According to Nielsenwire, over 40% of those who acquired a new cell phone in the six months prior to November 2010 bought a smart phone. This trend appears to be accelerating. This is no surprise, with the consistently falling price of technology, which should continue to fall as the various manufacturers fight for market share.
At the current rate, it appears that over half of cell phones being sold in the U.S. will be smart phones by the end of 2011, and over 30% of all cell phone users in the U.S. will have smart phones. At the end of 2010, there were just over 300 million wireless subscriber connections. Based on projected growth, it can be reasonably expected that over 100 million smartphone subscribers will be active. This is about double the number of just three years ago.
While SIRI cannot compete with home users, it has been able to barely survive with its share of the vehicle market. While it was made abundantly clear that the market could not support even two satellite radio services it was hoped that if XM and SIRI combined, the new single entity could make a go of it. At the time, it was a fairly reasonable expectation as the only real competition with live radio was the lower quality FM and AM radio terrestrial stations that had limited geographic reach.
But the landscape is changing, and by looking at the numbers, with a doubling of smart phone users to over 100 million and growing, SIRI no longer has a quality advantage or even a significant coverage advantage. At the same time, SIRI has a major cost of content delivery disadvantage by having to maintain several satellites in the air, ground stations to support the transmission, and some terrestrial antennas for large cities due to tall buildings blocking the signals. We will get to the financials, but for now, let's continue to look at why we can expect subscriber conversion with new vehicles to slow down, new subscriber signups to slow down, and the churn rate to climb.
To support the smart phone hardware and software, there are several large nationwide cell phone carriers that support smart phones (as well as smaller regional carriers but I will focus on the majors with this article). Up first is Sprint, not because it is the largest – in fact, it is relatively small among the majors – but because I have used Sprint for years and I am most familiar with it. Sprint has almost 50,000,000 customers and sells one of the hottest smart phones on the market today, the HTC EVO 4G. With Sprint's unlimited data plan and superior availability of listening content available at no cost, I believe it will significantly impact SIRI's ability to attract and retain subscribers.
Click to enlarge: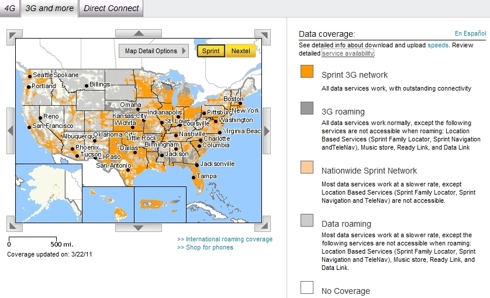 Verizon (VZ) is the nation's biggest wireless provider by subscribers.
Click to enlarge: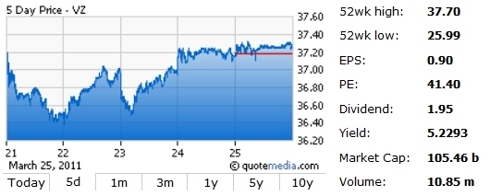 Verizon has over 80 million customers and offers some of the best-selling smart phones available. Verizon recently added the iPhone and the Thunderbolt by HTC, which is capable of 4G. Verizon offers several data allowance plans with their smart phones including unlimited data use. Similar to Sprint, I believe the large coverage area of Verizon, combined with unlimited data availability, will greatly impact SIRI's ability to attract and retain subscribers.
Click to enlarge: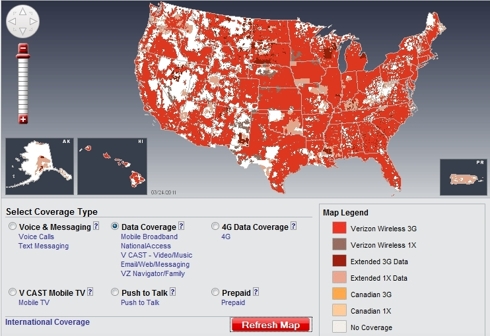 AT&T (
T
) currently is the largest iPhone carrier in the United States.
Click to enlarge: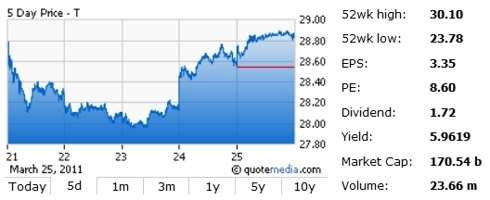 AT&T also carries phones by HTC, Motorola, RIMM, and others. Unless you're grandfathered in with an unlimited data plan with your smart phone, the offering by AT&T is likely the least favorable compared to Sprint or Verizon if you are a heavy data user on your smart phone. With the cost of providing wireless services continuously declining, combined with competition, especially now that Verizon is offering the iPhone, it appears likely that AT&T will have to consider more data user-friendly plans in the near future.
Even so, according to the AT&T data calculator, a person can stream approximately 60 hours of music per month and still have the ability to use other data features with their smart phone. For someone who may listen to less than 10 hours of music while traveling per week, AT&T is just as big of an impact to SIRI. It seems reasonable that someone who doesn't listen to many hours of music while traveling would be less willing to incur SIRI's subscription fees. I believe that AT&T, similar to the other carriers, will impact SIRI's ability to attract and retain subscribers.
Click to enlarge: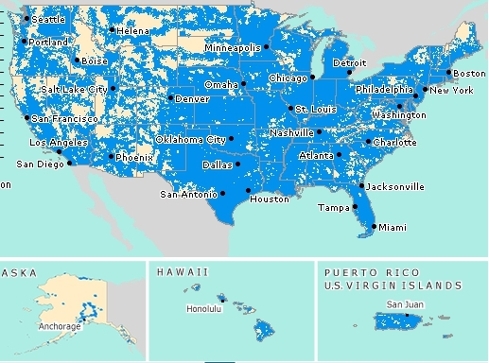 T-Mobile, which may be soon acquired by AT&T, advertises itself as America's largest 4G network. Like Sprint, T-Mobile offers an unlimited data plan for smart phone users for approximately $110 per month. T-Mobile offers HTC, Motorola, Blackberry and other smart phones. While it may be questionable how much geographical area is covered with T-Mobile, it is clear that T-Mobile offers service to the majority of the United States. It is also clear that the company is an integral part of the continuous push for greater availability and lower cost of wireless data through smart phones. Again, I believe T-Mobile wireless services will have an impact on SIRI.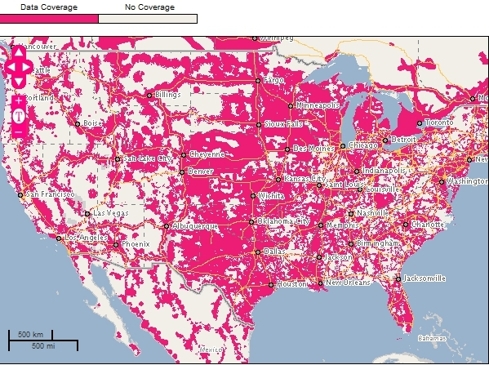 Read: The Smart Phone Threat to Sirius: Part II, here
Disclosure: I am short SIRI.

Additional disclosure: I am long S, HPQ