"Therefore a wise general strives to feed off the enemy. Each pound of food taken from the enemy is equivalent to twenty pounds you provide by yourself." (Sun Tzu, The Art of War)
Youku.com (NYSE:YOKU) - the "China Youtube / internet movie website" - has been doing well since its IPO back in December.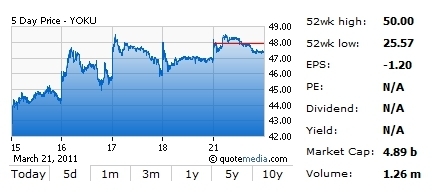 While the IPO price was lower when offered, YOKU opened for an active trading price near $27 a share. With its current trading price higher than $51 per share, it would appear that YOKU is well on its way to doubling. The current price puts the market cap at approximately $5.4 billion. It appears that management is doing a great job of convincing investors that YOKU is a good place for working capital. YOKU books may be honest by Chinese standards, but that doesn't mean YOKU investors are not at risk when other Chinese frauds are exposed. Using EDGAR Online, we can take a look at the corporate structure from page five of the IPO filing.
click to enlarge images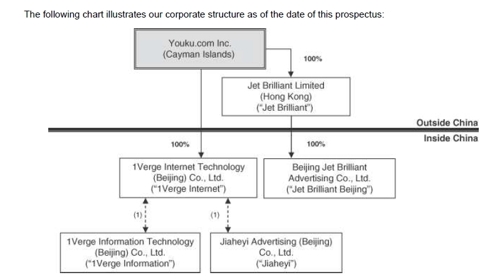 If things go bad, who is actually going to be held responsible?
Lately, news about some Chinese stock being halted or delisted has been coming out at a pace of approximately one every week or two. Based on the amount of money there is to be made by discovering frauds, and how many new players are trying to discover these frauds, it would seem reasonable that the pace of fraudulent discoveries will increase in the foreseeable future and that investors will start to avoid anything China related. What should be more worrisome for investors is the massive dot-com bubble valuation that is currently assigned to YOKU. There are many reasons why YOKU investors should be up late at night worried, as well. YOKU is attempting to do what Google (NASDAQ:GOOG) has not been able to accomplish.
In 2006, when Google bought out YouTube for $1.65 billion, it was the company's largest acquisition to date. Let's take a look and see how that worked out for Google:
YouTube may have brought Google some value beyond income. Also, YouTube is likely a more valuable website then YOKU. Even at double the purchase price of YouTube, the YOKU buyout price could be expected to fall in the $35-$40 price range. Taking a look at the financials, it is easy to see why a likely buyout price would be much lower than current valuation.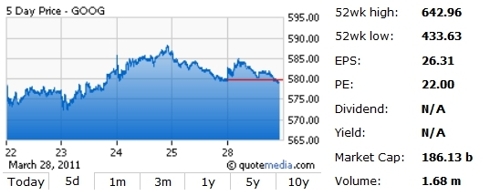 What is the PE ratio for YOKU? There isn't one, because first we need earnings. Last quarter the net loss was $5.7 million. While the company lost less money for the comparable prior year period, it does not necessarily put it on track to profitability. Google has not been able to make Youtube profitable in five years and some may argue that the management team is stronger at Google than can be expected at YOKU.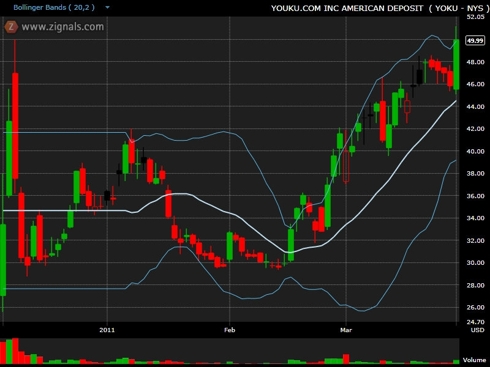 What is the book value per share? $2.74.
2010 revenue was reported as about $59 million and 2011 guidance puts the revenue at about 110% growth. Assuming that YOKU is able to reach that target, it still puts the price of the stock at about 80 times revenue.
If YOKU is able to double revenue to $120 million and produce a profit, here is what the PE ratios may look like with a $55 stock price (there is no point in buying it today if you don't think it can at least get to $55 after they report): 5% net profit of sales= $6 million in profit = 901 PE for 2011.
Even if YOKU produces $6 million in profit for 2011, investors are paying a PE multiple of over 900. With $1m in profit, the PE appears to be over 5400.
For 2012, if YOKU produces $60 million in profits which is greater than all the revenue in 2010, the PE ratio will still be OVER 90. At what point does logic start to become a part of the investing process for investors? Are there any track records showing that a company can be losing money, worth over $5 billion, and still provide a yield to investors to justify the risk? While it may be enjoyable to plug numbers in and see how 2012 could turn out, management has stated they don't know when the company will be able to turn a profit.
What should also be interesting is that the lockup period ends in about 70 days; it will be discussed more near the end of next month. Goldman Sachs (NYSE:GS) did the underwriting for the IPO. Goldman puts the value of the company to start out at less than $13 per share.
After the earnings came out for the last quarter, which also ended the fiscal year, Goldman Sachs had this to say:
Even as they trimmed their Q1 revenue forecast to the high end of guidance, Goldman raised 2011 EPS from ($0.20) to ($0.14); 2012E EPS moves from $0.01 to $0.08; and 2013E moves from $0.38 to $0.47. "We believe Yoku may break even by late 2011," the firm sated. Goldman raised their price target from $40 to $43.
I watch short interest in stocks for two reasons. First, I can see when 'smart money' believes a stock is over-valued. Second, I can look for potential short squeezes. Looking at short interest compared to the float, there is a very large amount of YOKU shares being traded short. The float is only about 16.3 million shares, yet about 5.8 million shares are being reported as shorted. There are over 105 million shares outstanding, so it is just a matter of time before the short interest as a percentage goes down, all else being equal, once the lockup period is over.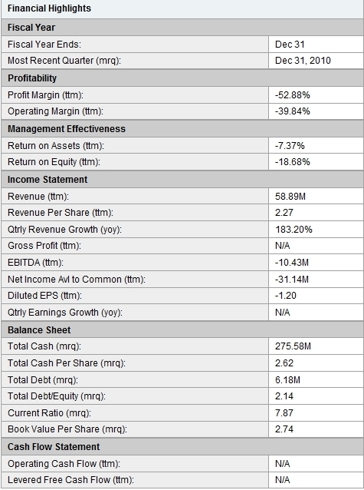 Of course, all of this assumes that all the numbers can be trusted and that there are no speed-bumps along the way. One such speed bump may be a lack of growth. While China may or may not be growing its internet user base, the numbers should be interesting to those who are invested - or thinking of investing - in YOKU. There have been a lot of investors lately with some serious battle scars after looking to the Middle Kingdom for riches. Using the theory that there will be a greater fool to sell to works great until it doesn't and valuations come back into line with reality.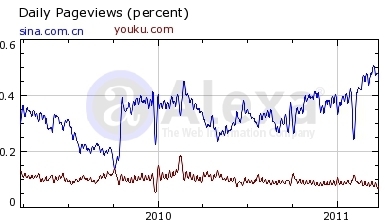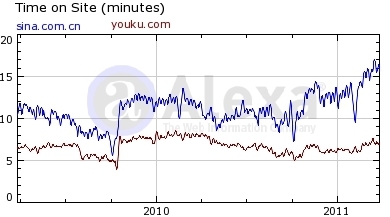 Source: Alexa
I use a proprietary mix of technical analysis, financial crowd behavior, and fundamentals in my short-term trades. While not exactly the same in longer swing trades to investments, the concepts used are similar. I believe the company and the company stock correlation have separated, thus leaving the stock to be over-priced relative to the performance of the company.
I believe Google offers a much better risk versus reward, or possibly BIDU, if an investor really wants some China exposure. I am currently short YOKU call options.
Disclosure: I am short YOKU.