Urbanists, as they like to call themselves, have been touting a "back to the city" movement for several years. While legitimate debate continues, loose, but more than anecdotal evidence exists to support the claim that many downtowns and metropolitan cores are experiencing a resurgence.

University of Toronto professor Richard Florida, author of the landmark book, The Creative Class, recently reviewed a Brookings Institution study showing signs that adults, 25 years of age and older with college degrees, favored urban cores between 2007 and 2009, whereas previously this group tended towards largely suburban sunbelt cities. Some metros have started to reverse out-migration, while others have actually seen migration losses morph into gains.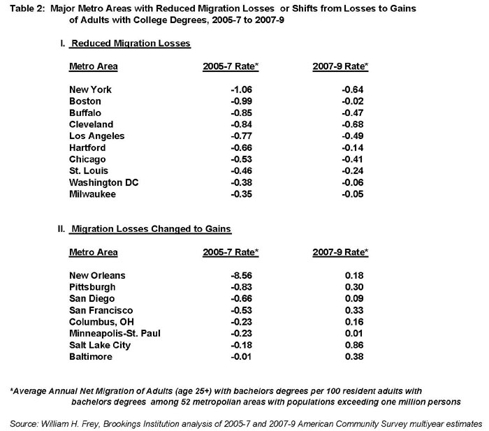 You can likely attribute some of this movement to college graduates taking high-tech jobs in places like San Francisco, creating a backlash among some residents thanks to the high cost of housing. While median rents in San Francisco dipped with the economic downturn, they remained relatively high and have bounced considerably off of their early-2010 lows. Because we have always known San Francisco for its strong, if not necessarily growing urban core, Los Angeles provides a better case study for downtown revitalization. And in regards to retail development, the national media has largely ignored the city. I believe downtown Los Angeles's burgeoning relationship with modern-day retail can offer clues to investors looking at the space.

When most people think of Los Angeles, Hollywood, sprawling suburbs, and car culture come to mind. For many, Downtown Los Angeles evokes images of little more than a desolate Skid Row, not an emerging organism on par with San Francisco's Union Square or even smaller, but thriving urban districts such as Portland's Pearl District. The truth about Downtown Los Angeles lays somewhere in between. The area experienced a virtual standstill in condominium building and sales during the height and aftermath of the housing crisis, but things are beginning to pick back up. Downtown Los Angeles now boasts more than 50,000 residents. While that might not sound like much, the critical mass acheived by those now living in and moving into the core, the thousands who work there, and the millions with relatively easy access to it triggers big retail's attention.

When Downtown Los Angeles scored a Ralphs (NYSE:KR) grocery store, it was big news. And, according to a story in Sunday's Los Angeles Times, other big retailers are preparing to follow Ralphs now that the dust from the economic downturn has apparently settled. The Times' Roger Vincent reports that Sprouts Farmers Market, the Fresh & Easy grocery store, Walgreens (WAG), and CVS (NYSE:CVS) all have eyes on Downtown Los Angeles. Clothing retailers Urban Outfitters (NASDAQ:URBN) and H&M (OTCPK:HMRZF) are scouting the area as well. This comes on the heels of Target's (NYSE:TGT) plans to open a store at the prime Downtown Los Angeles corner of 7th Street and Figueroa, just a couple blocks from Staples (NASDAQ:SPLS) Center, home of the Los Angeles Kings, Lakers, and Clippers, the Los Angeles Convention Center, and the potential site for a Downtown Los Angeles football stadium. And this list fails to mention the myriad bars and restaurants that have recently popped up Downtown.

If major retailers and large and small purveyors of food and drink think they can make money in Downtown Los Angeles this bodes well for both established and emerging city centers across America. Target, for instance, will test its smaller-scale urban format in 2012 not only in Downtown Los Angeles, but in Seattle, Chicago, and San Francisco. And of course, Walmart (NYSE:WMT) faces great resistance in its bid to enter the hearts of big cities, mainly from urban purists and labor unions. Curiously, Target faces relatively little, if any, resistance as it continues its urban push.

In the spirit of full disclosure, I fought ardently against Home Depot (NYSE:HD) when they attempted to open a store on the edge of San Francisco's Bernal Heights neighborhood. (The city approved the plan, but the store never opened). I have, however, since realized the hypocrisy of my ways. It's funny to watch many San Franciscans and other tony urbanites sanctimoniously reject Walmart on the basis of some moral superiority, yet have little problem motoring out to nearby Daly City in their Priuses to buy almost the same imported plastic goods from Target. It's funny and odd because, in recent years, you could make a valid argument that Walmart is actually greener and more "progressive" than sainted Whole Foods Market (WFMI) and Target.

The bottom line -- in terms of Target, Walmart, and any other chain retailer -- build it in the city and they will come, even if "they" is the college-educated, Birkenstock-wearing Berkeley liberal. If they have to, they'll put paper bags over their heads and shop with their talking points stuffed in their back pocket.

It's peculiar. Just about every trend -- from fixed gear bicycles to the coolest music to gang warfare -- has, historically, migrated from the city to the suburbs. And while much retail hipnesss left downtowns in favor of the space and post-WWII population boom in the suburbs, the inverse appears to be occurring going forward. Investors fare best when they make investment choices ahead of the curve, not after it happens.

At this early stage, we don't have many numbers to portend success in relation to Target, Walmart, and other typically-suburban retailers' foray into resurging downtowns like Los Angeles's or more established urban places, such as Seattle and San Francisco. What we do know is that many of the neighborhoods these outlets are targeting lack the specific services these and other stores provide. And the people who populate downtown high-rises tend to have money to spend on more than the necessities. While it's too early to estimate how many millions of dollars Targets and Walmarts smack dab in the middle of traditional urban neighborhoods could add to the respective bottom lines, it's not premature to make a play on the potential.

Target and Walmart stand to benefit most, but I also think more than enough room exists for upscale retailers who already have a significant urban presence, such as Whole Foods, to share in the profits. While Whole Foods already has stores in established enclaves such as San Francisco's Nob Hill, Portland's Pearl District, and several of Manhattan's hottest locations, it has yet to enter many emerging downtown markets like Los Angeles.

I would advocate one of three approaches to getting in ahead of Target and Walmart's anticipated urban boom and the strength of Whole Food's growing presence. Of course, you could buy shares of each stock outright. If access to immediate capital poses a problem, I believe all three, given their long-term growth prospects, represent solid dollar-cost-averaging candidates. Thirdly, you can lower the amount of capital necessary to partake in the direction of WMT, TGT, and WFMI's fortunes by purchasing call options in the companies.

All three stocks are optionable. All three also have LEAPS options available that, as of this writing, look out as far as January 2013. Spreading your position across in-the-money, at-the-money, and slightly out-of-the-money calls makes sense in all three cases, depending on your outlook. If you believe shares will appreciate considerably over the next 12 to 20 months, you might be more comfortable buying calls with slightly higher OTM strikes. You can also hedge against your long position by initiating a bull call spread, which involves purchasing a long call and, concurrently, selling a call with the same expiration date, but a higher strike price. Your net debit equals the difference between the two premiums and represents the most you can lose on the strategy.

While Whole Foods is in hyper-growth mode at the moment, both Walmart and Target shares have stumbled recently, making them attractive value plays with the obvious growth potential. One potential fly in the ointment for WMT and TGT -- Amazon.com's (NASDAQ:AMZN) impressive ability to take away some of the business large scale brick and mortar retailers thought they could count on. While I think this is significant, I don't think it's good reason to run away from WMT and TGT, particularly at these levels.

Disclosure: I have no positions in any stocks mentioned, and no plans to initiate any positions within the next 72 hours.