Everyone knows that Portuguese prime minister José Sócrates resigned and with that event, Portugal is no closer to solving its financial problems. I canvassed public opinion in the country by reading publications and speaking with family and friends, and I can only report that nothing has changed — I mean, the people. Despite the finger pointing and rejoicing about the prime minister's defeat, the population still doesn't get it. They see the economic disaster as a garden variety accident without recognizing that the social and economic structure is unsustainable.
The great majority of the people live in a state of denial, and soon enough everyone will realize that the potentially new chief in town, Pedro Passos Coelho, a social democrat with a center-left ideology, will not be able to solve the debt issue either. As a matter of fact, Mr. Coelho is already talking about increasing the VAT (sales tax) to 24% or 25%. That's the way to go, especially when GDP is –0.30%! Here's the truth: nobody wants to pay the piper and will not accept that public spending is simply out of control — which is a condition not exclusive to Portugal. In short, the $90 billion that Portugal will need, according to Bloomberg, is only a very expensive band-aid because reform is nowhere on the horizon.
Although I believe that the Euro is here to stay only because it's virtually impossible to break, there's talk of an emerging United States of Europe. Well, I thought the union was formed over 10 years ago, and to those who sincerely think that the Euro zone is at a point of no return, and will be forced into a U.S. type federation, I shall give them three words, followed by the word "conflict": Culture, culture and then more culture. I'm an American by choice, but not blind to the fact that the U.S. has plenty of flaws — political, social and economic — and can only hope that we learn from others in time, instead of trying to emulate their systems. As strange as it may sound, culture is not one of the flaws. For instance and unlike in the U.S., where one can relocate to another state to find a job and barely feel the cultural difference, that is not so in the Euro zone, where something as simple as language can present a relocation barrier. While the reallocation and balance of human resources is not an easy task, the event in itself raises protectionist walls whenever it's mentioned — as if Texans would stop Floridians from entering the state, and vice versa.
As another example of cultural differences, the Wall Street Journal's"A Nation of Dropouts Shakes Europe" brought to light that "just 28% of the Portuguese population between 25 and 64 has completed high school. The figure is 85% in Germany, 91% in the Czech Republic and 89% in the U.S." How do you think a German citizen will feel knowing that his/her tax money is being used to save Portugal? What if in general elections, in a United States of Europe utopia, the president elect is Greek? Will never happen! The current EU president is Portuguese but the position is ceremonial at best, for his powers are severely restricted and he was appointed by the European Council, not elected. All one has to do is to look at the populations of each country to determine the origin of a potential future President of the United States of Europe. If only betting on stocks would be so easy!
Then one reads the following excerpt, that should have been written over 10 years ago before the introduction of the Euro, although plenty of voices expressed the same sentiment at the time. It's Kindergarten Economics 101!
Rapid and painful budget-cutting, which is being enforced across the Continent, is the first step. But the second is far harder and will take far longer. The 17 countries linked via the Euro have vastly differing levels of economic performance. Unless the gulf is narrowed, the pressures that caused the weaker among them to pile up huge volumes of debt, and have trouble repaying it, will doubtless re-emerge.
Here are two more differences between the U.S. and Europe to address the United States of Europe theory. As bizarre as it may sound, because America is a "melting pot," an American advantage is what I call a "homogeneous synthetic ethnic group," where the majority of people accept diversity, are not accustomed to government handouts, and seek opportunities, not guaranties. An even more eccentric personal opinion is that the American two political party system is yet another advantage — and I know we wish we had more options — because for better or worse, decisions are made without running the risk of collapsing governments that depend on coalitions of minorities. Whether all those decisions are wise, that's an entirely different story! For example, Italy has switched governments over 60 times since the end of World War II — almost one per year — and the key word "coalition" is everywhere in European politics.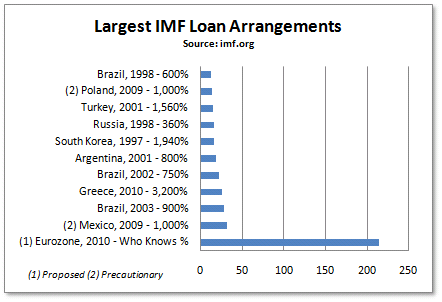 The chart above serves as a reminder of the gravity of the current situation, while the IMF rules state that a member can borrow up to 200 percent of its quota annually and 600 percent cumulatively, with the percentages on the chart indicating the actual borrowing as a quota multiple. As the Euro zone and the IMF have only bailed out Greece and Ireland thus far, and with Portugal almost a certainty, what happens when others come knocking on the door for cash?
But I want to address the purported inflation fight that the European Central Bank insists on broadcasting. I have written before that capital attraction is truly what is driving the talk of higher rates, and as Portugal hit the news, letting us know that the austerity plans — PEC IV, or the 4th austerity plan — had been defeated, a fact that was widely known before the vote took place, the ECB's balancing act kicked in again, with Reuters reporting.
"Observers appear to have correctly understood the ECB's intention when, in its public communication, it dropped its references to interest rates being 'appropriate'," heavyweight ECB Executive Board member Juergen Stark wrote in a guest column in the Wall Street Journal.
Then the Reuters article added that "Inflation in the 17-country bloc hit a 28-month high of 2.4 percent in February and oil prices at a 2-1/2 year high are boosting expectations that it could remain above the ECB's preferred target of just under 2 percent for an extended period." The fight to support the Euro, and thus attract much needed capital, was also captured by another Reuters article dated March 21, 2011, titled "European Finance Chiefs Unveil Debt-Fighting Tool in Face of ECB Criticism."
"We now have a comprehensive strategy to strengthen the foundations of the euro area and to restore confidence in euro- area sovereign bond markets," European Union Economic and Monetary Commissioner Olli Rehn told reporters after a meeting of EU finance ministers in Brussels yesterday.
It's about confidence and capital flows, not inflation, and the quote above reflects the true focus of the rate increase rhetoric. The same article included George Soros' opinion that the proposed reforms will create a two-speed economic zone, not something Mr. Soros had envisioned, and "this will generate resentments that will endanger the European Union's political cohesion," as if there was any "cohesion" and culture differences weren't enough.
I know that oil and food are contributing to temporary price inflation according to numerous sources. But where in Europe is inflation occurring, and how much? Well, the chart below shows the inflation rates in the GIPSI group — Greece, Ireland, Portugal, Spain, Italy — plus Germany and France.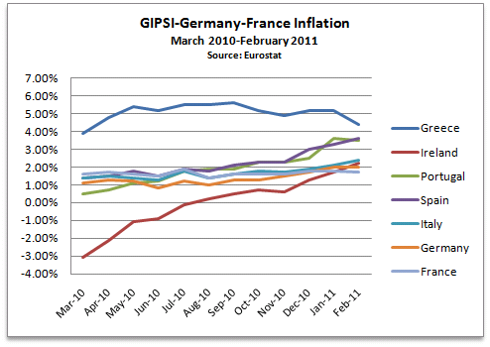 Click to enlarge
(Click charts to expand)
Certainly we do see inflation above 3% in Greece (4.4%), Portugal (3.5%), and Spain (3.6%), while Italy (2.4%) and Ireland (2.2%) are above 2%. But Germany and France are at 2% and 1.7% respectively, and with their economies being stronger than the GIPSI group, shouldn't inflation be higher because the economies would be overheating? What's wrong with this picture? Well, if one puts the data above in the context of future higher rates, those with the highest inflation rates, are those that cannot afford the interest rate increase! And the fallacy of a common currency and monetary union without a fiscal union surfaces once again. An across- the-board rise in interest rates will deliver inconsistent results, and that makes the Euro the misstep of the Century.
So I eagerly waited for the two day Summit to conclude, so I could get a glimpse of what they are planning. Bloomberg published "Merkel Forces European Leaders to Cut Startup Capital of 2013 Bailout Fund," and nothing unexpected surfaced, with Germany resisting contributing more to the cause.
As speculation swirled that Portugal will be the next victim of the crisis, the leaders bowed to German Chancellor Angela Merkel's call to pare the fund's paid-in capital as of 2013 to 16 billion euros ($23 billion), less than the 40 billion euros foreseen in a March 21 accord. "It was a difficult debate with Germany," Luxembourg Prime Minister Jean-Claude Juncker told reporters after the first session of an EU summit in Brussels early today. "Germany found that in the compromise agreed last Monday it would have to pay in too much. So we had to tackle that issue."
The political machines are also in play because of upcoming elections and solving economic issues is not necessarily top priority. The Bloomberg article above elaborated further. "With Merkel's party trailing an opposition bloc in the polls before a March 27 regional election, the sparring over the future emergency support system reflected domestic political pressure on leaders in Europe's wealthier north to limit aid to struggling southern economies." The above referenced German election yielded bad results for Merkel, and Reuters announced the outcome with the article "Merkel's party loses power in rich German state," although much credit was given to the nuclear issue. But Japan's nuclear disaster only took place two weeks ago, and I sincerely doubt that nuclear power safety concerns were the driving factor behind the election results.
In Baden-Wuerttemberg state, where anti-nuclear sentiment has been mobilized by Japan's nuclear breakdown, the Greens and Social Democrats (SPD) were set to win 47.3 percent, eclipsing the Christian Democrats who held power there for six decades. Merkel's CDU [Christian Democrats] and their Free Democrat coalition partners, big backers of nuclear power, won a combined 44.3 percent, according to projections at 1800 GMT in the state of 11 million people.
Then to add a little more perspective to the issue, Angela Merkel "has already lost her majority in the upper house of parliament, or Bundesrat, where the 16 states are represented, and further gains for the opposition mean her ability to pass some legislation will be severely limited." Why is this important? The Euro zone debt problem cannot be financed and is largely unsolvable without German support — at least with workable terms.
Furthermore, Reuters also pointed out that Finland has election problems in its article indicating that "EU delays decision on anti-crisis package details."
Although they agreed in principle earlier this month to boost the lending capacity of their temporary safety net -- the European Financial Stability Facility (EFSF) -- to 440 billion Euros from roughly 250 billion, they had to push this back until mid-year because of looming elections in Finland.
Gavan Nolan at Markit (pdf) delivered an accurate summary of what transpired at the two-day summit, an event designed to deliver solutions but that culminated in a "nothing happened" moment instead.
It was a quiet end to what was billed as a potentially momentous week. The two-day EU summit that began yesterday has now concluded, and the "grand deal" that was expected some weeks ago is conspicuous by its absence. The collapse of Portugal's government on Wednesday no doubt complicated matters but pessimism had been building regardless. No news on the funding of the EFSF or on the terms of the Irish bailout; little progress was made on arguably the two most important concerns of the markets. It is no secret why the first issue wasn't addressed. Both Finland and Germany – AAA-rated sovereigns that would be expected to increase their contributions – have elections coming up that will be difficult for the incumbent governments. Bailouts for less prudent countries are unpopular and the governing party doesn't want to give the opposition any further ammunition.
For Europe to become a United States, the group must act with the same conviction as if the U.S. Federal government had to help Nevada with Arkansas tax money — because that is how it works in a union. But that's a dream that will not come true unless the wealthier European countries have something to gain, and a common currency is hardly a financial cupid.
If I wanted to invest in Europe, which is not at the top of my list, I would only consider two ETFs: iShares MSCI Germany Index Fund (NYSEARCA:EWG), and the iShares MSCI Switzerland Index Fund (NYSEARCA:EWL), only because Germany is the strongest within the Euro zone and will benefit from a lower Euro, and Switzerland is not part of the common currency and is not facing austerity measures. But I would hold off until mid-June because that is the "euro debt solution" time frame now on the table, and the fallout is unpredictable and "debt relief" by one member may happen by then.
Having said that, most major markets track the S&P 500 (NYSEARCA:SPY) — for better or worse — as shown by the weekly chart below depicting 3 years of market performance for the ETFs mentioned above, plus the SPY, iShares MSCI France Index Fund (NYSEARCA:EWQ), iShares MSCI UK Index Fund (NYSEARCA:EWU), iShares MSCI Japan Index Fund (NYSEARCA:EWJ), and iShares FTSE/Xinhua China 25 Index Fund (NYSEARCA:FXI), raising questions about the international diversification strategy, especially as a risk management tool.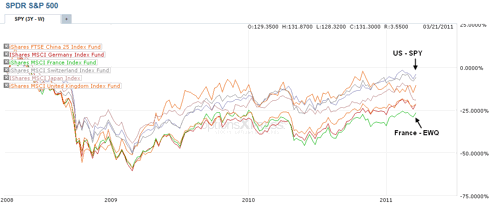 Click to enlarge
The chart below depicts European Consumer Confidence between 1985 and 2011, and I point out that zero is neutral in this data series, giving us a macro indication of how people truly feel in the Old Continent. This is the one piece of evidence that I present to anyone offering a counter argument regarding the European system — and the data is provided by the Eurostat, not some outsider with an agenda. "Please explain the people's sentiment, and do not deviate from the subject," I shall ask.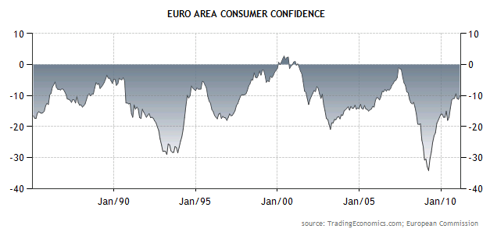 Click to enlarge
Apart from a positive blip around the introduction of the Euro, it appears that reality kicked in, and confidence quickly returned to business as usual. It's only fair to point out that certain countries, such as Germany, are far better. But what could explain the underlying motives that have kept European citizens' mood, as a group, in a such distressed state for the last 26 years? You decide!
The Guardian had an article Monday that read "Europe needs debt relief, not decades of austerity." Sure, why not! Let's walk away from our bills and responsibilities, keep the unworkable status quo, and don't examine the root cause of the problem. Around my house, debt relief is called "bankruptcy," as in, "the past model didn't work."
From Donegal to the Algarve, to the streets of Athens, voters on Europe's "periphery", as economists dismissively call it, are slowly waking up to a sobering truth – they face years of austerity, yet wage cuts, job losses and crumbling public services will not extricate them from financial crisis. In fact, by driving their economies into an ever deeper slump, it may even make things worse. The pain could just bring more pain.
Paul Krugman, the US Nobel prize-winning economist, calls it "the austerity delusion."
And the mesmerizing arguments don't stop there. "In Greece, Costas Lapavitsas, the London-based economist who is involved in the debt audit campaign, says part of its task would be to identify whether some of Athens' debt is actually illegitimate. He insists that, as in developing countries, there are moral as well as economic issues at stake. 'Is it morally or economically acceptable to destroy the welfare state, and to destroy schools and destroy hospitals to pay off these debts?'" Illegitimate debt? I am not sure I understand. Money was borrowed and money was spent.
I understand Mr. Krugman's point, but that is the cost of mismanagement, and soon enough we may see the side effects right here at home. But please take note, because the European people's confidence is stating that it's time for something different, and the common currency event coupled with "socially responsible" governments failed to perk up their spirits!

Disclosure: I have no positions in any stocks mentioned, and no plans to initiate any positions within the next 72 hours.