Summary
From 1950 to 1985, odd lot, specialist and total public short sale ratios were the quintessential contrary opinion indicators, invariably producing nearly perfect buy signals with few failures. They were a technician's dream. Then, derivatives and new trading rules rendered them obsolete. Because of this, market technicians are always on the lookout for new indicators to replace these classic old ones.
Carl Swenlin of DecisionPoint.com has created a very successful indicator which compares how much money is going into the bull and bear funds of the Rydex family. The ratios produced very good results and I have used this indicator successfully for over ten years.
With that in mind as a model, I had high hopes of creating a new set of indicators using data based on the long and short ProShares Ultra Funds. The final results, however, were the complete opposite of what I expected. They indicated that ProShares Ultra traders were in fact very sophisticated traders - more apt to be right than wrong when taking a position. Even though the results were opposite of my expectations, they still produced a very good indicator of major buying points in the market.
Basic ProShares Data
The total shares outstanding of an ETF vary as shares are created and destroyed as investors buy in and out of that ETF on a daily basis. The number of outstanding shares is published daily and one can calculate money flows in or out of an ETF from this data. For example, if the shares outstanding of an ETF decline by 120,000 shares and a share is priced at $78, we can say that $9,360,000 dollars came out of that fund. On the other hand, if the number of shares increases, money is flowing into that fund.
The ProShares Ultra Funds are very popular double ETF funds of the S&P 500, Nasdaq and Dow Indexes (along with other sub-indexes). Double means that the funds try for twice the up and down volatility of the basic index. It is somewhat the equivalent of using margins when buying the SPY or the DIA. These funds came out in 2006 and have become very popular over time. One fund now has over a hundred million shares outstanding. ProShares has also come out with triple funds – 3x indexes – but these have not risen to the same popularity.
The Ultra Indicators
What I did was a simple cash flow calculation for each fund. Over ten days, how much money moved in or out of each one of the Ultra funds? It was a bullish cash flow if the shares outstanding of a bullish ETF grew, and also if the number of outstanding shares of a bear fund shrank. It was a bearish cash flow if the bull fund shrank, and also if a bear fund grew. The bullish and bearish ETFs were paired up (SPY, QQQ and DIA) and the total bullish or bearish cash flow was averaged over ten days, then divided by the total money in both funds (to get a percent).
The data started around mid-2006 but it took a while for investors to begin to build up positions in the Ultra funds. Because of that, while I show the data from the starting dates, I don't think it is very reliable in the first year – too much noise as new shareholders accounted for an extraordinary large percent of any money flows compared to the existing shareholders. I think that's one of the reasons why there are such extreme readings before the 2009 bottom and fewer afterward, as you will see.
Like the Rydex fund index, I expected that cash flow would be in the bearish direction near a major market bottom (out of the bull funds into the bear funds), acting as a contrary opinion indicator. Was I surprised when the following three charts came out of the calculations?
All three show the same thing; they show the opposite to that - that money flows in the bullish direction at major market bottoms. Historically, investors are consistently leaving the bearish funds and buying the bullish funds as the market hits a major bottom.
click to enlarge images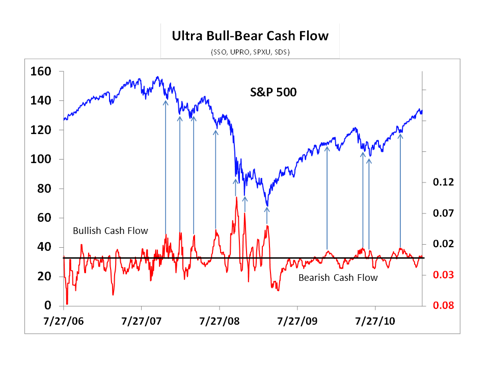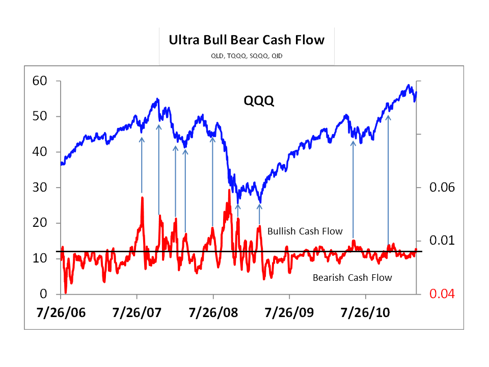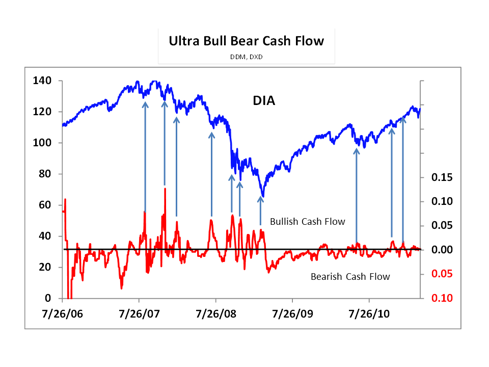 One gets these surprises every once in a while. I no longer question it; I just accept it. To me, this is similar to how the puts to calls ratio works as a contrary opinion indicator. It works well as a contrary opinion indicator when taking the puts to calls ratio of equities, but not when taking the ratio of the OEX. The OEX shows correct investor action - put buying at the top and call buying at the bottom, much like the Ultra data.
In any event, the data is still valuable; it can still be used to help locate major buying opportunities or to confirm contrary opinion indicators. I'll publish it from time to time in the future at what appear to be critical market junctures.
Disclosure: I have no positions in any stocks mentioned, and no plans to initiate any positions within the next 72 hours.