We have done a few articles on the value of an oil refinery, and the value of some oil-refining stocks. In the process of trying to understand what the earnings outlook for these guys might be, we came across the most recent management presentation from Valero (NYSE:VLO), in which it presented the following slide: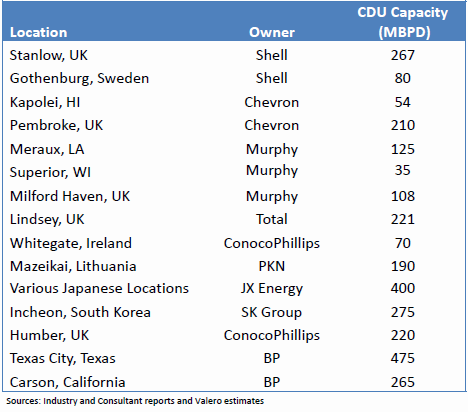 This is a list of refineries around the world that are in a state of "strategic evaluation"; that is, either sale or closure for a variety of reasons.
VLO further includes the following graph, which if nothing else reflects just how unusual the conditions of 2007 and early 2008 were in this industry:
[Click to enlarge]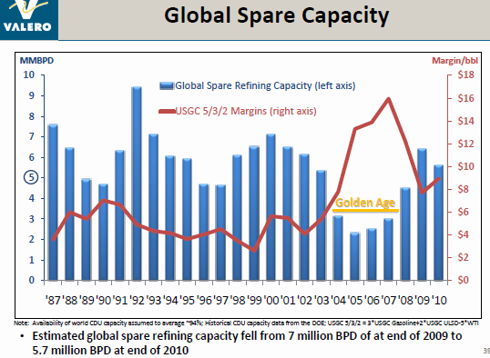 The message from this graph is that during the "golden age," because of high demand and high refining margins, there was a rare opportunity for people to make money in this business; since then, the industry has actually had excess capacity globally, including in North America, where we are currently running at about 84 percent of capacity and have not consistently been above reinvestment economics for some time. Temporarily, for whatever reason, we are currently enjoying unusually high refining margins.
The end result of this is that a lot of these companies are now on the hunt to restructure their operations, take advantage of short-term high margins, and position themselves for a more typical operating regime. Tesoro (NYSE:TSO) has also openly stated its desire to acquire refining assets, and we did just see the merger between Holly Corp. (HOC) and Frontier Oil (NYSE:FTO).
We have a couple of articles on the general topic of what a refinery and/or a refining company is worth (see here and here), and like all old engineers who like more data points, we are delighted to have found the following refinery transactions that have occurred within the last couple of months:
Transaction
Type
BPD
Cost
$ per BPD
Valero Pembroke
Purchase
220,000

$

730,000,000
3318
Valero Paulsboro
Sale
210,000

$

707,000,000
3367
Tesoro Mandan
Expansion
10,000

$

35,000,000
3500
Sunoco (NYSE:SUN) Toledo
Sale
160,000

$

400,000,000
2500
Average
3171
When we examined the Frontier/Holly Corp. transaction, we noted that the transaction cost was in excess of $15,000 per BPD capacity. An article I did last July found that to go into the marketplace at that time, buying refining capacity was much cheaper. Here, for example, is the current calculation for Valero:
| | | |
| --- | --- | --- |
| Valero | | |
| Market Cap | $16 | Billion |
| Long Term Debt | $8 | Billion |
| Total | $24 | Billion |
| Refining Capacity | 2,800,000 | bpd |
| $ per BPD | 8571 | $ per BPD |
In July, when the stock price was 17, the refining capacity could be bought for 6321 per barrel.
There is one additional piece of information. There is in the marketplace right now a change agent named O'Malley. He has been around long enough to have gone through a couple of these cycles, and is in the business for buying refineries cheaply, putting enough money and TLC into them to make them viable, and then selling them at the point at which they are at maximum value.
We now have all of the pieces and we can start to see the complete picture, and maybe make a few predictions about the future:
1. The available North American refineries, and their apparent market prices based on the most recent transactions, are as follows:
| | | |
| --- | --- | --- |
| | Capacity | Value |
| BP Texas City | 475,000 | 1,506,325,758 |
| BP Carson | 265,000 | 840,371,212 |
| Murphy Meraux | 120,000 | 380,545,455 |
| Murphy Superior | 34,300 | 108,772,576 |
| Total | 894,300 | $2,836,015,000 |
If some overachiever wanted to, he or she could assemble the second-biggest independent refinery company in North America this way. With about 1 mbpd capacity, you'd be smaller than Valero but bigger than Tesoro.
2. If any deal happens, it will be in this way: Assembly of individual refineries that you buy from someone, because it is more expensive to buy the companies in the form of stock, per today's calculation on Valero.
3. There is a window of time in which this could happen, with the refining margins where they are (high), despite the current overcapacity situation.
4. You can pretty easily see where this is going: If our overachiever can assemble a refining company for $3200 per BPD and do an IPO -- which would have the same value per barrel as Valero at $8500 per BPD -- it would be really tempting to do so, even if you had to put an additional sum of money into the project to improve the reliability and get the product mix you want. Of course, there are a lot of "what ifs": What if refining margins get back to where they should be? What if you can't negotiate a good enough price from BP and Murphy for their assets? How much will the additional investments to produce ULSD (which has the biggest profit margin) cost you? All of these calculations can pretty easily be done, and we will do them some other day.
5. Could someone else be the change driver? If you are Valero, for example, would you be tempted to buy Texas City? It depends on the price. The price of your internal capacity is $8500 per BPD; there may be de-bottlenecking projects in your own place, which would allow you to add some incremental capacity for less than that.
If you are Tesoro?
| | | |
| --- | --- | --- |
| Tesoro | | |
| Market Cap | $4 | Billion |
| Debt | $2 | Billion |
| Total | $6 | Billion |
| Refining Capacity | 664,000 | bpd |
| Refining Value | 9036 | $ per BPD |
Note that a couple billion dollars would be a relatively small price to pay to make yourself approximately equal in size to Valero, if you wanted to.
6. None of this completely explains the recent HOC/FTO deal, which took place at $15,000 per BPD capacity. I am still scratching my head on that one.
7. The transaction cost of a lot of this is much more expensive than it was last July, with the refining margins low and the business going nowhere. If the refining margins return to some level approaching their historical norm, all of these valuations are completely different. We can save that calculation for another day.
8. What does this mean for the little guys, Western Refining (NYSE:WNR) and HOC? WNR is much too expensive right now to be a buyout target; presumably so is HOC in light of its recent deal.
9. Are the oil refiners stock prices cheap? Let's put it this way: Last summer, the cost of refining capacity was about the same whether it was done via transaction or via stock purchase. At this point, it's much more expensive to buy the stock.
The fun is just beginning. Of course, as we are so fond of saying, the world is chaotic, and there are no guarantees on anything. If and when the IPO happens, the calculation will be: What was the cost of the refining capacity vs. any potential market capitalization plus debt? Use that calculation to decide if you want in on the party.
Disclosure: I have no positions in any stocks mentioned.