The price of crude oil today is about the same as it was on September 28, 2008. The price for West Texas Intermediate (WTI) crude oil back then was $107 a barrel and it is about $105 per barrel today. The average price at the pump was $2.57 a gallon then compared with the average $3.58 per gallon for regular unleaded gasoline today. The following chart shows the average price for the period from March 24, 2009 through March 24, 2011: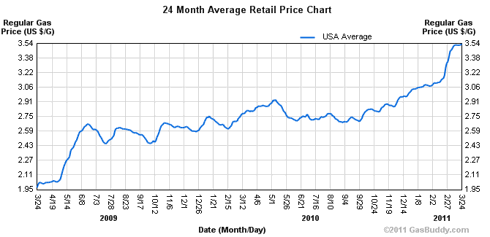 Click to enlarge
click to enlarge
The reasons for the difference in the pricing of gasoline is exactly the opposite of why they were back on September 28, 2008, a time when the US economy went into a tailspin, with fuel prices decreasing faster than crude oil prices. They eventually caught up with each other in early 2009 and have been increasing in-sync ever since.
Today's fuel prices are keyed more to the Brent crude oil price posting on the Intercontinental Exchange (ICE) in London instead of the WTI crude oil posting, which has become somewhat inconsequential since it is landlocked. WTI crude oil is held in Cushing, Oklahoma from where it is shipped by pipeline to various US Midwest and Gulf Coast refineries.
The Brent crude oil inventories are held at a harbor in Belgium easily reached by any ship able to carry large amounts of crude oil in to and out of that location.
The Middle East and North African revolutions have now been added to the equation, making crude oil a commodity speculators dream to come true.
Trouble brewing in Saudi Arabia will keep both crude oil and fuel prices on an ever increasing path until the unrest settles down.
On March 26, 2011 Iranian Oil Minister Massoud Mirkazemi, who currently holds the OPEC rotating presidency, said:
There is no need for an OPEC emergency meeting in the current situation as the oil market is well balanced. OPEC is only able to pump about 30 million barrels of oil to the world markets per day, which is nearly a third of the global oil production.
This was reported by the local English language satellite Press TV in Tehran, Iran report on Sunday, March 28, 2010. The full article can be found here.
OPEC will cut oil shipments to its lowest level since October as civil war halted exports of crude oil from Libya. OPEC oil exports are due to fall to 23 million barrels a day in the four weeks to 9th April, down 1.8 percent from 23.5 million in the period to 12th March.
Oil producers typically respond to strong price signals and are able afford to wait until OPEC's regular meeting in the middle of June before deciding whether to raise crude oil output. It will be too little too late to prevent higher oil prices.
Crude oil prices are determined on a "futures" market at the New York Mercantile Exchange (Nymex) or ICE. The prices at which crude oil are traded today determine the prices posted on the gas pump tomorrow. Thus, if the speculators see there are greater inventories of crude oil to be delivered in the future, the prices decline today. If current inventories are sufficient to cover demand until futures contracts are delivered, the downward price happens almost immediately.
Part of the pricing increase we are seeing now is a result of the hostility of this administration towards domestic exploration and production. They are veering away from the issuing of drilling permits, granting access to drilling sites and letting current federal leases be used for exploration in exchange for higher fuel prices, which justifies the cost of alternative fuel production.
The administration loosening up these restraints could see gasoline drop back to $3 per gallon or less. If not, $4 per gallon gasoline will be a just a memory a year from now.
The lyrics in John Lennon's song Revolution: "You say you want a revolution? Well you know we'd all want to change the world. But if you want money for people with minds that hate, all I can tell you is brother you'll have to wait." They are as applicable today as when they were written in response to political anti-war protests in 1968.
Disclosure: I have no positions in any stocks mentioned, and no plans to initiate any positions within the next 72 hours.