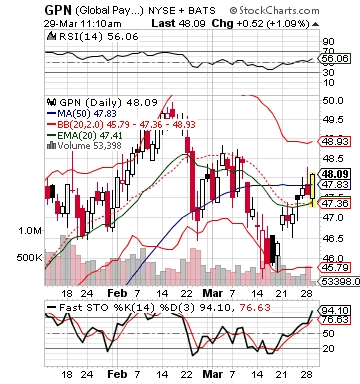 Analysis: Moving into the end of the week, Global Payments (NYSE:GPN) may be the stock ready to make a nice move. The company is looking to report solid earnings on Thursday morning with an improvement YoY from 0.58 EPS to 0.64. The company is also looking to see 11% growth in sales. The stock is at a great buying place right now in between a support and resistance line as it has bottom support, and with rising demand as investors want to get involved before earnings can push past an upper resistance line.
The company is in the growing sector of the business services for processing transactions. As retailers and economies continue to make their way back up from the rubble of the recession, companies like GPN and Verifone (NYSE:PAY) are making their way back up. Now, GPN is ready to announce its latest three month results, and it should attract some nice attention. The company has beaten 3/4 earnings reports in the past year.
The company is near a 52-week high, and it has made some nice gains as of late, but the company has a tremendous resistance line at 48.25. If the company can break through there, this stock should really breakout. Will that come before earnings? We believe so. The market is in a great rally mode, and it cannot be broken it appears. On top of that, the company is in a growing earnings mode. The company's P/E will dip down to the 18-area on this earnings increase...which is well below its competitors. This is a high-growth market that GPN is, and it is a laggard. That 52-week high is not something that threatens this stock because it lags its competitors.
GPN looks solid to make moves to the upside, and it should get enough support to break that resistance line.
Get involved!
Entry: We are looking to get involved at 47.90 - 48.35.

Exit: We are looking to exit the first half for a 2% gain. We are looking exit the second half for more than 2%.

Stop Loss: 2% on bottom.

Timeline: Midterm Trade.

Oxen Entry: 48.00.

Disclosure: I am long GPN.