The old adage on The Street is "Trees don't grow to the sky." Lately, OpenTable's shares seem exempt from that time-tested principle.
After OpenTable (
OPEN
) lurched over $100/share for the first time on Friday, is it time to take profits off the table? Or is there still more upside?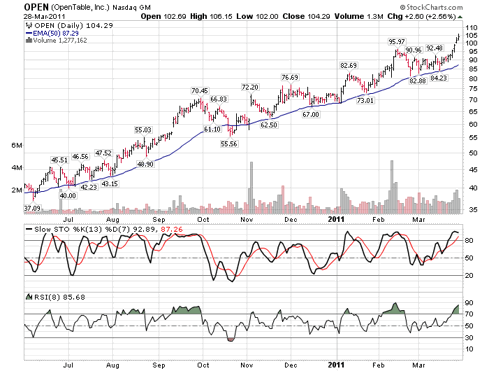 (Click charts to enlarge)
San Francisco-based OpenTable is a leading online restaurant reservation company that has seen a meteoric rise from obscurity to "dot.com-like" bubble valuations in just over a year. As of Monday's close, OpenTable shares trade hands at a breathtaking price earnings ratio of 179 – reminiscent of the Year 2000 stock market bubble.
So it's no wonder that there's a heated debate between shorts and longs as to whether OpenTable's shares will continue to the moon or are destined for a surprise plunge back to earth.
To evaluate the fundamental analysis and technical analysis sides of the debate, we take a closer look at the following:
Fundamental Analysis: Is a Rich "Dot-Com" Valuation Justified?
Technical Analysis: Moonshot or Parabolic Blowoff Top?
Prudent investors utilize all information available to them, so it's often wise to evaluate a company's fundamentals first to see if the company is a long or short candidate. Then use technical analysis to time your entries in to a position. The key is to have both fundamentals and technicals line up in favor of your view of the company and then act.
1. FUNDAMENTAL ANALYSIS: Is a Rich "Dot-Com" Valuation Justified for OPEN?
For comparison here are price earnings (PE) ratios of other online reservation companies as of Monday March 28, 2011:
| | | |
| --- | --- | --- |
| Company | Ticker | Price Earnings Ratio |
| Expedia | EXPE | 15 |
| Ctrip.com International | CTRP | 37 |
| Priceline.com | PCLN | 47 |
| Travelzoo | TZOO | 81 |
| OpenTable | OPEN | 179 |
Why is the market assigning OpenTable a much richer valuation than these well-known online reservation companies?
One reason for the "dot.com valuation"of OpenTable is the perception that OpenTable is in the early stages of growth in a huge untapped market.
ADDRESSABLE MARKET SATURATION IN 2012?
To counter the "huge untapped market" theory for restaurant reservations, most OpenTable investors seem to be giddy about gains in their OpenTable shareholdings that they willingly ignore a major show-stopper: Forthcoming Market Saturation.
Follow through this analysis and you'll begin to see the harsh reality. Even though there are about 960,000 restaurant establishments in the US, OpenTable's addressable market is primarily limited to the "White-Tablecloth Restaurants" – mostly high-end restaurants and those that take reservations.
And of the restaurants that take reservations, not all of them have the technology setup to pipe online reservation info to their staff in charge of "greeting & seating" incoming diners at the entrance to the restaurant.
In reality, the total addressable market available for OpenTable to target for online reservations is only about 30,000 restaurants per OpenTable's
own admission
In its Q4 2010 earnings report, it said:
-And the company's installed restaurant base as of December 31, 2010, totaled 13,795, a 27% increase over December 31, 2009
Let's be generous and assume no slowing of growth and that OpenTable continues to add to the base of restaurant clients at the recent 27% rate. If that were to be the case, then by 12/31/11, the installed base would grow from 13,795 restaurants to 17,519 and then to 22,250 restaurants by 12/31/12 and so on...
| | |
| --- | --- |
| Year | Installed Restaurant Base |
| 12/31/2011 | 13,795 |
| 12/31/2012 | 17,520 |
| 12/31/2013 | 22,250 |
| 12/31/2014 | 28,257 |
If we anticipate that there will be more competition and some of those 30,000 reservation-style restaurants will simply not be interested in on-line reservations, then let's assume OpenTable can ultimately capture about 20,000 of the addressable 30,000 restaurant market.
This is entirely reasonable given that most early-adopters are already using OpenTable and the low-hanging fruit has probably already been picked. Additionally, a survey of 125-150 independent restaurants by Brad Safalow of PAA Research indicated that most have little interest in routing their reservations through OpenTable's ERB system.
As you can see from the foregoing projection of market saturation (see table above), OpenTable's installed base growth could hit a brick wall in about mid-2012. Literally. Their niche market will be saturated.
Note that the above analysis showing OpenTable's growth rate hitting a brick wall in mid-2012 assumes OpenTable's growth rate can continue at the current year-over-year subscriber rate of 27%. Never mind the fact that oil prices are increasing and
Friday's consumer confidence report
plummeted 10 points since February alone. Restaurant attendance is indeed correlated to consumer confidence.
On Monday, hotel stocks were down on Marriot's (NYSE: MAR) dismal room revenue growth warning and restaurant stocks were down as well.
Finally, note the company has cautioned about growth rates possibly slowing as we go forward. In the last earnings report, OpenTable did not give earnings & revenue guidance for Q1 and indicated that Q1 would not have as favorable year-over-year growth comparisons.
ANALYST OPTIMISM BLYTHELY OVERLOOKS SATURATION & COMPETITION.
The foregoing Market Saturation Analysis makes an absolute mockery of
Citicorp's recent pumping
of the stock on March 16, 2011, saying it thinks OPEN can earn $7-$8/share in 2015! Yes, Citi is looking out to 2015 to justify current valuations!
Whenever an analyst has to stretch earnings projections out farther than the front year, one has to wonder what they think about the current year's prospects, not 4 years in the future.
Why is Citicorp focusing on Year 2015 when OpenTable's core reservations business will most likely be saturated and essentially stop growing in about 15 months from now?
Citicorp analysts seem to be hanging their bets on the notion that OpenTable can successfully transition into Groupon's local deals market with OpenTable's "Spotlight" service. But the real question is if Groupon will be moving into the reservations business too and compete with OpenTable. With the muscle of Groupon's 70 million subscribers and a purportedly $15-25 Billion IPO forthcoming to raise capital, Groupon is in a strong position to give OpenTable a run for the money. Full restaurant reservations would be a natural fit for Groupon.
"GROUPON NOW" - Starting to Invade OpenTable's Turf
In fact, Groupon's new innovative "Groupon Now" service -- which helps restaurants fill empty-tables with flash realtime deal offerings -- is a heartbeat away from OpenTable's reservation model. The realtime connection with the restaurants are already in place, so all they need to do is add full reservation capability for normal, non-discounted reservations. More info here.
The investment banker running the forthcoming IPO for Groupon would be prudent to advise Groupon to announce plans for a complete restaurant reservation offering before the IPO to generate a buzz for the stock (and higher IPO pricing for Groupon).
As one can imagine, such an announcement from Groupon would be devastating to shares of OpenTable.
In the end, Groupon may very well become "the Google of the Deals & Reservations Niche" and OpenTable could become just another "Yahoo, Altavista, Lycos, or Inktomi."
CASTING AROUND FOR GROWTH
Saturating its niche may explain why OpenTable is casting about, looking for other sources of revenue in the "local deals market" with its Spotlight venture, which is in direct competition with Groupon in an increasingly-crowded market. To confirm the crowding in this niche and perhaps the preponderance of positive P.R. that Groupon gets, Benchmark Company
stated last Thursday
, "Q1 analysis indicates Spotlight momentum has slowed a bit."
There's no denying OpenTable's year-over-year earnings growth metrics have been fantastic. But then again, when you're starting from very small numbers, it's easy to show a huge growth rate: ($14M 2010 Net Income ) / ($5M 2009 Net Income) = 180% growth rate.
The recent headline earnings growth rate seems to be the only fundamental most investors and mutual funds focus on without regard to more difficult comparisons in the quarters ahead and inevitable market saturation. Going forward, the year-over-year growth comparisons won't be as easy because the year-ago 2010 quarterly earnings are bigger numbers to compare against than the 2009 numbers.
OpenTable Adds Considerable Overhead Costs to Restaurant Business
OpenTable's added costs are essentially viewed by some restaurant owners as a cost of doing business. With the restaurant paying $1.00 per seated diner and $0.25 for reservations made through the restaurant's website, OpenTable's service has a significant impact on profitability in the restaurant business where profit margins are notoriously slim (5-7%). In addition, there is a $600-700 setup fee and $199 per month service fee just to run OpenTable's Electronic Reservation Book (NYSEMKT:
ERB
) system.
OpenTable's business model results in the restaurant customer being owned by OpenTable, NOT the restaurant. The irony is most other internet based companies are successful because they LOWER costs for their clients. But OpenTable is a rare one that actually increases restaurant overhead considerably. Restaurants join OpenTable often because they fear if they're not listed, they'll lose traffic. Some resent OpenTable's high pricing as if it is an unnecessary tax on their business (see below).
A Candid Review By a High-End Restaurant Owner
Here's
one high-end restaurateur's compelling analysis of OpenTable
well-worth reading. The "Incanto Italian Restaurant" in San Francisco, was about to become one of OpenTable's early customers 9 years ago, but decided against it. Here is a key quote that puts the sheer lunacy of OpenTable's market valuation into very clear perspective:
Well, OpenTable went public in 2009 (NASDAQ: OPEN) and as of September 30, 2010 it was priced at more than $1.5 billion. That translates to more than $100,000 for each contract it holds with the approximately 14,000 restaurants listed on OpenTable.com. Sadly, many small neighborhood restaurants may themselves not be worth as much as the value that has been placed on their future business with OpenTable.
OpenTable's Market Cap Is Now $170K Per Restaurant Contract!
The foregoing analysis by Incanto Italian Restaurant was as of September 2010 when the stock was trading at about $65/share. If we updated those numbers as of Monday's $104.29 close, it would be: ($2.45 Billion Market Cap) / (14,000 restaurant contracts) = $175,000 for each OpenTable restaurant customer!
COMPETITION (including a Twitter application)
As consensus builds among restaurant owners that OpenTable's business model exacts unnecessary friction on a restaurant's profitability, it's a matter of time before less-costly (or free) competitors take market share from OpenTable – or even render its pay-for-diners business model obsolete. There are competitors such as RezBook, DinnerBroker.com, Livebookings.com, RestaurantRow.com, and the potential of Groupon reservations as mentioned above.
TWITTER offers a smartphone app called Tweservation.
And finally, it has also been suggested
here
and on various stock message boards that the National Restaurant Association (NRA) could engage in some type of project to facilitate restaurant reservations for its nearly half a million member restaurants. And they had recently hired Hans Lindh from Livebookings.com (an OpenTable competitor), so the logic behind the theory was rational.
The NRA has reportedly denied "developing" a competing system:
Per your inquiry, we are always looking for opportunities to better serve our members and help them streamline their operations, reduce costs and increase customer satisfaction. The National Restaurant Association is not currently exploring the development of a proprietary online reservation system, but is evaluating the needs of our members in this space, including all options currently on the market.
But just because the organization claims to be "not developing" as system of its own, doesn't preclude it from striking a partnership with other lower-cost reservation providers to help improve member restaurant profitability. Nor does it preclude it from "leveling the playing field" in the online-reservations business by providing member restaurant data to all online reservation companies equally and at a cost much lower than that offered by OpenTable.
Think of it: Because the NRA is an advocate for all of its member restaurants, the NRA has every reason to try to bring down the current high cost-per-diner seated via OpenTable.
RETURN ON INVESTMENT
OK, suppose you are undaunted by the foregoing classic fundamental red flags for investors and you want to dabble in the OpenTable story...
Consider the fact that you are buying the company's $14 million per year of earnings, but the company costs $2,390,000,00 ($2.39 Billion market capitalization). What is your earnings yield for your investment?
It's 0.00000058%. That's a tiny fraction of a safe CD yield -- and a CD would be without the potential downside of losing your cash you've invested in the OpenTable's shares should the company's valuations return back to earth.
Proper OpenTable Share Valuation
Analyst estimates
are for a growth rate of 26% this year and 51% next with a 38% 5-year growth rate. The average of 26% and 51% happens to be 38.5%. Since price earnings ratio, or PE = (Stock Price)/(Earnings), it is customary to use an assumed earnings growth rate in the formula in the place of PE when using that same formula to determine price targets, given earnings and growth rate.
Thus we have: Stock Price = (Growth Rate) X (Earnings).
With OpenTable's trailing 12-month earnings of $0.85/share, we would have (38 growth rate) X ($0.85) = $32.30/share.
So in conventional equity valuation analysis, based on OpenTable's and growth rate, $32.30 per share would be a "fair" valuation. Given that the stock is trading at $104/share, it's almost embarrassing to present this analysis, but that is realistically how analysts should value the stock. The difference between the $32.30 calculated fair valuation of OpenTable's shares and the current $104 price can be attributed to speculation and pure sentiment alone.
FUNDAMENTAL ANALYSIS SUMMARY: If OpenTable did indeed have an addressable market of 900,000 restaurants in a niche that had high barriers to entry and there was no competition in tandem with a rapid client uptake rate, then, yes, perhaps a price earnings valuation of 179 might be acceptable.
But there are low barriers to entry for setting up a restaurant reservation website and the addressable market is only 30,000 in the US. Due to competition and the relatively high cost of the service, OpenTable may experience difficulty absorbing all 30,000 restaurants into the installed base.
The company may be nearing saturation point in its "addressable market" of reservation-friendly restaurants perhaps in mid-2012, after which point signing up new restaurants will be harder and harder and growth will slow.
Finally, calculations presented based on earnings and growth rate indicate a fair value solely based on fundamentals for the stock would be $32.30. Of course, market sentiment and short squeeze rallies may explain the apparent excess in current valuations over fair valuation. Sentiment and short squeezes are quite ephemeral. Company fundamentals are not.
2. TECHNICAL ANALYSIS:
In a matter of 13 months, the stock has gone up 400% from about $25/share to over $100/share, topped off by a 24% parabolic spike in the last 10 trading days: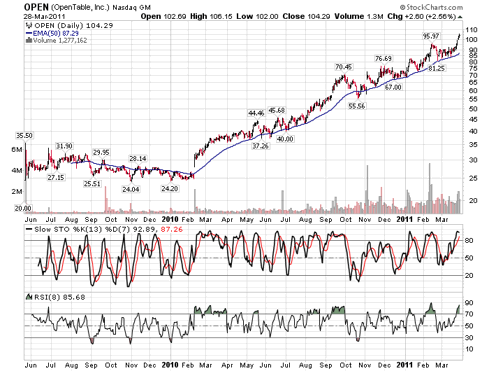 On Friday (March 25, 2011), the stock vaulted over $100/share and didn't look back until about noon and then it gave back $2 from its intraday high to close at $101.69. On Monday, the stock breached $106 before giving back another $2 to close at $104.29.
Some pundits are saying short-covering accounts for much of the "buying" and others say it may simply be "window-dressing" by fund managers for the March quarter end. In any case, when these two types of "buying" dry up, stocks usually fall on their own weight in subsequent days. So to play the "window-dressing" phenomenon, one would initiate a short position or buy puts in the last few days of March as this artificial action may have lifted the stock to a great short entry point.
SHORT SQUEEZE WASHOUTS OFTEN IMPLODE
Given the high short interest in the stock, it's likely that Friday and Monday were the days in which shorts got "washed out" of the stock as many shorts scrambled to cover short positions above the psychologically critical $100 price level.
Often, when shorts are squeezed out of a stock on a parabolic rise, the stock implodes as the available supply of short-buy-to-cover demand for shares vanishes and there are few longs buying at nosebleed prices after such a runup. It remains to be seen whether this will be an "Exhaustion Gap Blowoff Top," but the OpenTable chart is beginning to look primed for an Exhaustion Gap trade.
Here's a chart example of an Exhaustion Gap: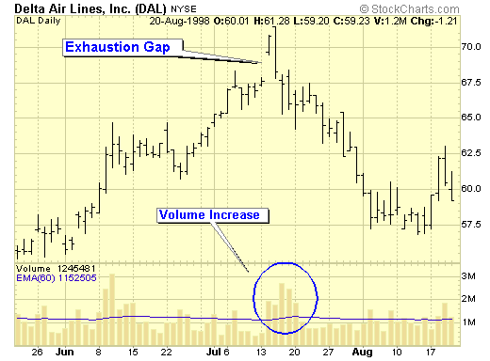 STOCHASTIC INDICATORS SHOW OVERBOUGHT CONDITION
The OpenTable chart also shows it is overbought from a stochastics standpoint. Stochastics are technical analysis metrics that help determine when a stock is likely to reverse course in a trend.
In addition, with the recent 10-day, 24% runup, OpenTable's shares are trading at more than one standard deviation from the 50-day exponential moving average. If you look at the chart, you'll see that it historically reverts back toward the 50-day moving average once it gets this high above it.
TECHNICAL ANALYSIS CONCLUSION: OpenTable's shares are primed for a retracement of their recent rise to stochastically overbought conditions. A healthy move would be to retrace the recent parabolic upward spike and consolidate nearer it's 50-day EMA line which is below $90.
CLASSIC ANALYST PUMP & DUMP
Friday's sprint over $100 was due in part to an upgrade by a little-known firm called Sidoti – but an upgrade nonetheless. It slapped a generous price target of $150 on the stock after it had already staged a 20% gain in just the past 9 trading days on no significant company news. Late to the party? We'll see this week.
It makes one wonder, where was the analyst when the stock was trading lower and why is he upgrading at the top of a recent parabolic rise. After all, isn't the Street adage: "Buy low, sell high?"
What makes Sidoti's report suspect is when the stock was trading in the $60s in September 2010, the same firm trotted out
these cautionary comments
about OpenTable:
Sidoti's Cakmak has a neutral rating. He says he doubts the extent of OpenTable's growth prospects in smaller U.S. cities. Reservations aren't as necessary to dine out in less dense cities, he says, compared with such places as New York, Chicago, or Los Angeles, where OpenTable is a strong presence.

His main concern, however, is the company's expensive valuation.

Even such a pricey stock can generate returns, Cakmak says, but only if it grows very quickly. "Given the lofty expectations of sell-side [analysts] and investors, we see little room for error," he says.
If you analyze Sidoti's September remarks, the analyst had three concerns:
OpenTable's poor growth potential in small cities
High valuation (Price Earnings ratio)
Little room for error.
That was when the stock was at $60.
So now, at $100/share 6 months later, is Sidoti asking us to believe that those three concerns have vanished and he's thrown caution to the wind? Never mind that there are still small cities where OpenTable probably won't make inroads. Ignore the fact that OpenTable's PE has soared to 179 from about 120 since then (based on 50c trailing 12 months earnings at $60/share). Finally, note that perhaps the analyst now thinks there's plenty of room for error because the "Little room for error" comment was absent this time.
Then on Monday, James Cramer was again pounding the table for OpenTable, but Cramer's stock picking record is not something to write home about. A 2007 Barron's review found the only way to profit from Cramer's stock recommendations was to short them.
Some wise market participants often state that a Cramer endorsement is "the kiss of death" for a stock because his gesticulations often come at the top of a rise and then he offers scant apologies to the folks who bought on his word only to find they bought at or near the top.
The foregoing explains the common adage on the Street that if you do the OPPOSITE of what analysts tell you, you'll make money. This reeks of one of those times.
CONCLUSION
There are enough IED's along the road ahead for OpenTable to raise red flags for longs and a flashing green light for shorts.
Thus it makes sense for longs to take profits on OpenTable after its recent run-up and wait for a consolidation at lower prices if you are still inclined to invest in the company against most classic fundamental and technical analysis common sense.
For shorts, short-covering and window-dressing may have provided an excellent entry point above $100. Never a dull moment.
Disclosure: I am short OPEN.

Additional disclosure: Disclaimer: The author makes no warrant for the accuracy of the content herein other than the links provided to traditional online sources of information for verification purposes. Additionally, investors shall not take any comments stated herein as advice to buy or sell any equities and if investors do so, they acknowledge that they have done their own proper due diligence and proceed at their own risk.