Since its breakout in September of last year Silver has been on a tear - more than doubling from $18 per ounce to more than $37. In the last few weeks Silver has run into some headwinds, stalling its progress.
As you can see from the chart below silver bullion is trading near the top of its range with prices breaking out to new highs, moving over $37 per ounce.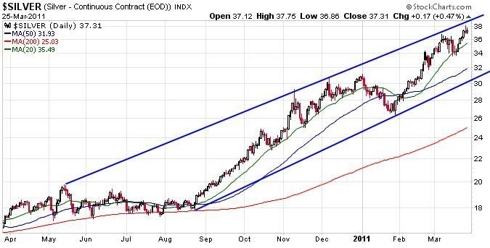 Click to enlarge
(Click chart to expand)
The top trend line is near the $38 per ounce area leaving little value for investors. Investors looking to go long silver bullion through ETFs should use caution at these levels. We may see a push through to $40 before a pullback takes place but long-term investors would be advised to exercise caution here as gold looks more attractive over the short-term time horizon.
Add in the fall of the Canadian government and the Toronto Stock Exchange will likely be distracted with election newsflow until early May.
Toronto is where many silver stocks trade as their primary exchange so newsflow coming from Canada often drives the stock prices of silver producers.
In terms of producers, Silver Wheaton (NYSE:SLW) is the top stock in the sector. Silver Wheaton has a unique business model where it purchases silver byproduct from mines and resells it on the open market. This model has created a company with very low fixed costs and no development, environmental or exploration risk. Silver Wheaton trades at a premium to the mining stocks for these reasons.
The technical indicators are a bit confusing for Silver Wheaton. There is a divergence between numerous technical indicators and visually we appear to be putting in a double top. The on balance volume is not confirming the retest of the old highs, leading me to believe that we may see a pullback over the next few weeks. Investors would be well advised to wait until this clears itself to either the upside on strong volume or look for an attractive entry point on a pullback.
Silver Standard (NASDAQ:SSRI) is busy on a number of fronts. Production issues with the Pirquitas mine in Argentina, moving forward with San Luis in Peru, and working on how quickly production can be started on San Agustin in Mexico.
Last Thursday, Silver Standard filed a registration document with the SEC to sell part of its position in Pretium Resources (PXZRF.PK). Silver Standard owns approximately 45.8% of Pretium and in the filing gave no indication about the amount of shares to be sold. It is likely that only a portion of the position will be sold since the underwriters have a 15% overallotment option. No new shares of Pretium are being sold and all proceeds from the sale will go to Silver Standard.
No mention was made of the use for the sale proceeds but one can speculate that Silver Standard will put the proceeds toward San Luis and San Agustin.
The stock price has moved with Silver Wheaton and both stocks sit in very similar technical positions. Silver Standard appears to be finishing the right shoulder of a very rough reverse head and shoulders pattern and looks ready for a breakout. I would look to buy on either a breakout on strong volume to new highs or during a pullback.
Pan American Silver (NASDAQ:PAAS) is quietly moving ahead with production. In this business, quiet is sometimes the best strategy and the first quarter has been quiet for Pan American Silver.
Production is expected to be flat for 2011 so investors will be looking with a keen eye at Pan American's ability to keep a cost growth under control.
Pan American Silver looks to have broken down, technically unable to retest the highs made late last year and in February of this year. Pan American Silver's technical indicators are calling for a rally but the price action over the past few days indicates a possible pullback. Investors would be well advised to wait and see how the stock acts on a pullback to the 50 day moving average before adding or entering into a position.
Hecla (NYSE:HL) has been beaten up in March due to concerns surrounding the environmental matter at its Coeur property in Idaho. Once this overhang gets removed look for Hecla to move higher as the fundamentals surrounding its two properties are extremely attractive producing silver at a cash cost of close to $0 per ounce, net of byproducts.
That would allow Hecla to move forward with acquisitions to grow its production base.
Technically the stock is not in an attractive position making lower highs and lower lows. We are at an important inflection point where the closing price has pulled back from the 50 day moving average. A move above the 50 day would put Hecla on a path to test the $11 double top made in February, where a move down would mean a retest of the $8 level.
The broader market looks overextended and we have a number of headwinds in the coming weeks with futures expiration, the close of the first quarter, Canadian elections, and questions surrounding first quarter earnings in the wake of the Japanese earthquake and tsunami. The problems in Japan should not affect silver and silver equities first quarter earnings but a selloff in the broader market may spill over, providing a short-term buying opportunity.
Long-term fundamentals remain in place with increasing investor awareness and subsequent demand, depreciating currencies, and increasing global uncertainties. Nothing here has changed or is likely to change over coming months.
The divergence between the spot price and the individual equities concerns me. This may be a sign that the market is still overextended and consolidating before the next move up.
Investors should not be deterred from taking positions in silver or silver equities but investors should be cautious in their capital allocations and timing.
The long-term fundamentals remain in place for silver and investors would be well advised to look for pullbacks in their favorite stocks and add to positions.
Disclaimer: Communications are intended solely for informational purposes. Statements made should not be construed as an endorsement, either expressed or implied. This article and the author is not responsible for typographic errors or other inaccuracies in the content. This article may not be reproduced without credit or permission from the author. We believe the information contained herein to be accurate and reliable. However, errors may occasionally occur. Therefore, all information and materials are provided "AS IS" without any warranty of any kind. Past results are not indicative of future results.
PAST RESULTS ARE NOT INDICATIVE OF FUTURE RESULTS. THERE IS RISK OF LOSS AS WELL AS THE OPPORTUNITY FOR GAIN WHEN INVESTING IN THE STOCK, BOND, AND DERIVATIVE MARKETS. WHEN CONSIDERING ANY TYPE OF INVESTMENT, INCLUDING HEDGE FUNDS, YOU SHOULD CONSIDER VARIOUS RISKS INCLUDING THE FACT THAT SOME PRODUCTS: OFTEN ENGAGE IN LEVERAGING AND OTHER SPECULATIVE INVESTMENT PRACTICES THAT MAY INCREASE THE RISK OF INVESTMENT LOSS, CAN BE ILLIQUID, ARE NOT REQUIRED TO PROVIDE PERIODIC PRICING OR VALUATION INFORMATION TO INVESTORS, MAY INVOLVE COMPLEX TAX STRUCTURES AND DELAYS IN DISTRIBUTING IMPORTANT TAX INFORMATION, ARE NOT SUBJECT TO THE SAME REGULATORY REQUIREMENTS AS MUTUAL FUNDS, OFTEN CHARGE HIGH FEES, AND IN MANY CASES THE UNDERLYING INVESTMENTS ARE NOT TRANSPARENT AND ARE KNOWN ONLY TO THE INVESTMENT MANAGER.
Before making any type of investment, one should consult with an investment professional to consider whether the investment is appropriate for the individuals risk profile. This is not intended to be investment advice or a solicitation to purchase any of the securities listed here. I will not be held liable or responsible for any losses or damages, monetary or otherwise that result from the content of this article.