While hardware, software, and wireless companies do not compete directly in the satellite space, they still maintain a significant advantage over Sirius XM (NASDAQ:SIRI) when it comes to content delivery. SIRI counts 20.2 million subscribers versus 100 million smart phone users. In terms of economies of scale and corporate spending power, the smart phone industry holds an enormous competitive advantage over Sirius.

One point that is quickly brought up by SIRI investing fanatics is that SIRI has unique content, such as Howard Stern's show. There is no question that Howard Stern brings in huge amounts of dollars in subscription and ad revenue to SIRI, but that revenue also comes at a price. If Howard Stern makes $500 million and brings in approximately 1,000,000 subscribers who would otherwise leave, it is clear that with subscription fees and advertising revenue, SIRI is doing well on the deal.
This brings up two important considerations. First, why would Howard Stern look to renew his contract in five years if he can make more money somewhere else, which may include his own service or another (such as Sony (NYSE:SNE) which loves to own content, or Apple (NASDAQ:AAPL) which has been making inroads with content recently). Further, why would he renew if SIRI is not in a position to pay to renew the contract again, which may be the case.
The second consideration: Removing Howard Stern from the equation of approximately 1,000,000 subscribers leaves approximately 19,000,000 subscribers that presumably are paying for a SIRI subscription for music, sports, comedy, and other content. It appears to be very conservative in favor of SIRI to assume that 10 million out of the remaining 19 million subscribers are paying for content that is unavailable anywhere else. Even so, that leaves approximately 9,000,000 subscribers that are paying a subscription for something they could get for free through their smart phones.
Equally important is that much of the free content is considerably superior, taking into account factors such as personalization and the range of choices available. Using the raw numbers of a population size of 300 million and 100 million smart phones, we can estimate that one-third of the population has a smartphone. However, we cannot assume that one-third of SIRI subscribers have a smart phone, because we need to remove parts of the population that can be expected to have neither.
Removing non-drivers from our sample (like children and elderly) likely brings the number up from one-third to what I would estimate to be greater than 40%, if I am to be ultraconservative (I believe over 45%, but for this purpose, 40% will work). Forty percent of 9 million subscribers is 3.6 million subscribers that could receive through their smart phones what they get from SIRI satellite radio. The implication is pretty clear, and even though some will want both, I would expect the churn rate and initial sign-up rate to increase.
The automobile factor
SIRI gets most of the new subscribers from customers buying either a new vehicle or a used vehicle with satellite radio built-in. The same new vehicles that people are buying, from which SIRI hopes to gain new subscribers, are also increasingly being produced with bluetooth, an auxiliary jack, USB connection, and high definition radio. That means they are using a digital signal that produces audio of a higher quality than standard FM and comparable to satellite. My wife drives a Toyota Sienna "grocery getter" all-wheel drive minivan which has an auxiliary jack so that I may connect my smart phone into the van stereo system and listen to Pandora or any other Internet radio station I wish. I requested information from Toyota (NYSE:TM) about current and future vehicle radio technology and received a reply that reads in part:
All of our models have both a 1/8th-inch audio jack and a USB connection on all our models except Yaris. Bluetooth hands-free is either standard or optional on all models. XM radio is available on all models. Our new Entune multimedia system, which includes Pandora and iheartradio, will launch later this year on the all new Prius V and will also be offered on a new other models.
Click to enlarge: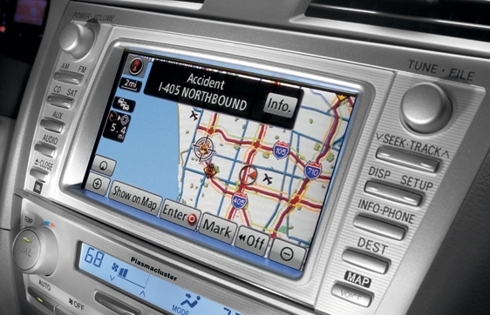 My inquiries to other automotive companies produced the same results. The ability of either being able to connect a smart phone into the vehicle sound system or having a sound system that offers HD radio and or internet radio is here. The limited choice between your father's FM radio station and SIRI radio is gone, and in its place is customizable internet radio that plays what you want it to, not what it wants to play to you.
I did a search on March 26 using the term "car stereo" on Amazon.com, and not one of the top 10 results included satellite radio feature in the title. Conversely, all of them included MP3 or iPod direct in the title, and most included the term USB. All the products included a 3.5 mm jack, and some included the ability to play satellite radio. What is important is that based on titles, most people are not searching to replace their car stereos so that they can add satellite radio, but rather they are searching for a replacement car stereo into which they can connect an MP3/smartphone. Looking through the recently received Crutchfield magazine, the results were similar, with a notable exception in terms. Many of the car replacement stereos advertised Pandora-ability two or three times within their descriptions.
According to the latest conference call, approximately 46% of new car buyers who purchase vehicles with satellite radio available convert into subscribers. Using the numbers from above of the approximate number of people that currently have a smart phone and are planning to buy satellite-ready vehicles, it seems reasonable that the conversion rate will come under increasing pressure.
On page 34 of Sirius' last 10–K, it appears that about 7,769,000 new subscribers signed up. If 40% of the new subscribers have a smart phone, that would result in 3,107,600 new satellite-enabled car buyers who will increasingly have greater choices in the delivery of audio content. If 30% of the smart phone owners that would have otherwise signed up for satellite service decide that they will just simply use their phone and connect it into the existing stereo system and/or use the high definition radio that is now available for Pandora radio or Internet radio, it would result in a decline of 1,025,500 compared to the current level of subscriber additions.
Currently, SIRI reports its churn rate at approximately 1.9% per month, which to me sounds a whole lot better than reporting that almost 25% of its customers every year decide SIRI is not a value for them anymore. If we calculate a possible higher churn rate due to customer conversion to free Internet radio, along with lower subscriber additions, the numbers do not need to change much before SIRI is unable to grow its subscriber base.
If the churn rate of paying customers moves up by half of a percent of the current number of paying customers, it appears that SIRI starts to lose its customer base, even if the company is able to continue adding new customers at the rate it is currently doing so. The following matrix is a possible example of the net self-pay subscriber increases or decreases based on the monthly churn rate, combined with changes in the percentage of new self-pay subscribers, based on the 2010 number of 982,867 new self-pay subscribers.
Click to enlarge:

Financials
While my main focus of this article is that a change in technology will be the largest headwind facing SIRI, it would be incomplete without at least a review of the financials of SIRI. Anytime a stock is under five dollars a share, I generally consider it a bankruptcy candidate. I believe history demonstrates this very clearly. SIRI has been revived from near-death more than once, and therefore, is not exactly what one would call a financially healthy company. This has so many problems from a potential investor point of view; it is difficult to know where to even begin to describe the financial reasons for avoiding what appears to be more of a lottery ticket than an investment.
Undoubtedly, the approximately 1,000,000 shareholders, many of whom have unrealized gains and have watched the stock steadily climb, believe that there will be a never-ending stream of new investors putting ever-increasing amounts of money into this company, driving the price higher. This appears to be a difficult proposition at best. According to Yahoo finance, the PE ratio is a mind-bending, blistering 172. While a number like that may be somewhat acceptable for a high-growth, lower-debt company with great prospects, I do not think SIRI qualifies. Even the forward PE ratio is over 34:
Book Value per share $0.05


Revenue Per Share $0.76


Levered Free Cash Flow $270 million
Here are some more numbers worth looking at to start a full due diligence of SIRI: (Click to enlarge)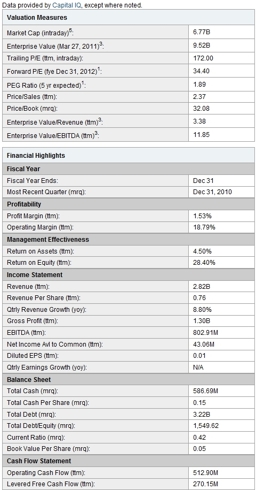 The Howard Stern factor

These are just a few examples of the headwinds that are putting downward price pressure on SIRI shares- beyond simply an exodus of subscribers.
The latest news is that Howard Stern is suing SIRI. This is significant, considering how much Howard Stern has brought to the table for SIRI, and having very well been the difference between SIRI being here today and not being here today. This lawsuit has more than one dimension to it. It is possible that this lawsuit could end up diluting current shareholders, at least the ones without the name Liberty Media (LINTA), as the best I can tell, they will own approximately 40% regardless.
The other issue is that this lawsuit, in my opinion, effectively caps a lid on the share price to under $1.90. SIRI issued bonds with a 7% interest coupon that can be converted into equity with a cost basis of a $1.87 per share. Bondholders cannot be expected to convert any price under approximately $2.50 as things stand now, or possibly lower if the financials and prospects of SIRI are much better than I believe they are. In the meantime, SIRI can be expected to have to continue paying 7% on the notes. As important as Howard Stern is to SIRI, even if the stock price were to appreciate, I find it highly unlikely that bond holders would take a risk of stockholder dilution.
During the latest company conference call held in February, a better view of what may lay ahead is provided.
Barton Crockett - Lazard Capital Markets LLC:

And then switching gears a little bit, given that we are right here on the cusp of Pandora's IPO filing, I was wondering if you could talk a little bit about your ability to include a Pandora style feature in satellite radio? There have been some discussions from various sources about patents. Is this a feature that -- the ability to select personalized music stream online, is that something you could include within satellite radio? Is that something that you think makes sense? Is it technologically feasible to do?

Mel Karmazin:

Certainly, without speaking to specifically to Pandora, there is an awful lot of IP audio content that's out there and virtually all of them have a music recommendation engine or algorithms that enable you to sort of target a little bit more your channels. Most of those companies today, when you pick a channel that you want, are limited by the number of plays you have from a single artist because of the digital royalty act. So, we think that our channels, curated channels, are something that is very desirable to the consumer if you take a look at our time spent listening, which we do and we compare it to the time spent listening of a lot of the IP channels, we see a greater satisfaction from our content. But having said that, certainly, there is nothing that would preclude us from doing what you said, in an IP part of the distribution that we do to consumers. Clearly, if, in fact it was something that we believed that our subscribers would want, we would absolutely do that. We think that there is an awful lot of people who like the, Slacker, Pandora, Last.fm, iheart services, because it's free. Nothing is really free because the way they make their money is they make you listen to commercials and a lot of that IP content as they get and try to get more and more revenue are going to be running more and more commercials. And again, we like our business model, which is principally subscription driven as compared to the model of where you're offering service for free and running commercials, that sounds an awful lot like Terrestrial Radio.

Unidentified Analyst:

Looking at your guidance Mel, it suggests that there's certainly no ARPU growth in 2011 based on your revenue expectations there, at least for the moment. Can you just talk about long term, you've never really have had any rate increases on the platform, and you added a lot more content over the years. And the price gap potentially sort of goes away hopefully this year. Can you talk about long-term pricing in general, please?

Mel Karmazin:

Certainly, we believe that our original price point of $12.95 when we started was attractive. We priced it that way because we wanted to grow our subscribers as rapidly as we could. We believe that we would get more subscribers at $12.95 than we would at $16.95 or at a higher price. So that was the determination then. Since the price was put in 2002, we added a great deal of content. Howard Stern was added, the NFL was added, we added NASCAR. So we believe that we offer great value to our subscribers. We are constantly looking at ways of continuing our growth and not pricing ourselves at a point that would really hamper our growth. But I think like all businesses, you should assume that the company is going to increase prices in the future. You just need to do that to remain profitable and to continue to invest in content. We have not certainly announced anything at this point in the way of increased prices. But the reality of it is that it's something that you should expect will happen in the future.
Risks from the company's point of view
Some may believe that Internet radio delivery does not pose a risk, and for them, I would like to reference several different places within the last annual statement that describes from the company's point of view the risks that they may face.

From the 10-K filed 2/16/11:

Page 1:
Among the significant factors that could cause our actual results to differ materially from those expressed in the forward-looking statements are:....our competitive position versus other forms of audio and video entertainment including terrestrial radio, HD radio, Internet radio, mobile phones, iPods and other MP3 devices, and emerging next-generation networks and technologies.

Subscribers can also receive certain of our music and other channels over the Internet, including through applications for Apple, Blackberry and Android powered mobile devices.
Page 8:
To the extent that traditional AM/FM radio stations adopt digital transmission technology and listeners adopt digital receivers, any competitive advantage that we enjoy over traditional radio because of our clearer digital signal would be lessened. Traditional AM/FM broadcasters are also aggressively pursuing Internet radio and wireless Internet-based distribution arrangements. Several automakers install HD Radio equipment as factory standard equipment in select models, including Ford, Volkswagen, BMW, Mercedes-Benz, Kia and Hyundai.

- Internet Radio and Internet-Enabled Smartphones:

Internet radio broadcasts often have no geographic limitations and can provide listeners with radio programming from across the country and around the world. Major media companies and online-only providers, including Clear Channel, CBS and Pandora, make high fidelity digital streams available through the Internet for free or, in some cases, for a fraction of the cost of a satellite radio subscription. These services compete directly with our services, at home, in the automobile, and wherever audio entertainment is consumed.

Mobile Internet-enabled smartphones, most of which have the capability of interfacing with vehicles, have become popular. These smartphones can typically play recorded or cached content and access live Internet radio via dedicated applications or browsers. These applications are often free to the user and offer music and talk content as long as the user is subscribed to a sufficiently large mobile data plan. Leading audio smartphone applications include Pandora, last.FM, Slacker, iheartradio and Stitcher. Certain of these applications also include advanced functionality,
such as personalization and song skipping, and allow the user to access large libraries of content and podcasts on demand.

Third generation mobile networks have enabled a steady increase in the audio quality and reliability of mobile Internet radio streaming, and this is expected to further increase as fourth generation networks become the standard.

We expect that improvements from higher bandwidths, wider programming selection, and advancements in functionality are likely to continue making Internet radio and smartphone applications an increasingly significant competitor, particularly in vehicles.
Page 9:
- Internet-based audio formats are becoming increasingly competitive as quality improves and costs are reduced. In addition, many current generation portable audio devices, such as the iPod touch, also contain WiFi connections enabling direct Internet connections for purchasing additional music or streaming music that is not stored on the local device.

These risk factors are listed for a good reason. (Click to enlarge)


Sirius is already struggling from the burden of a substantial debt, a negative retained earnings growth at -0.42%, and a reported book value of $0.05. Needless to say, its outlook is risky to begin with, and Apple's new move into Sirius' business sector is only going to make the road ahead more perilous.
Sirius has moved up strongly from a year ago, but it looks like the company will have trouble providing an alpha-sized return in the face of a changing competitive market place where only the industry's heavy hitters are likely to survive. Satellite radio was a great idea before wireless high speed internet became so widely available. That does not make it a good investment, and I do not believe it is a good investment at the current stock price relative to the value of the company.

SIRI is a cheap stock, and while it may appear to offer huge upside simply based on price, it should not be forgotten there is a reason that the price is so low. I am looking at the Jan 2012 $2 and $2.50 call options as the best options for me to short. I do not believe the stock will move higher than $2 by the expiration date, and I will be able to collect time decay as we move closer to expiration. Shorting the calls is a lower risk strategy than shorting the stock outright, and I believe that is important for me as well.
This strategy is not for most, and my article should only be the beginning of research with SIRI, not a complete examination of the company. I am without question that many will follow up my article with comments of why I am wrong. Before you comment about how great SIRI is please keep in mind that this article is about the ability for SIRI to produce a profit for investors.
Read: The Smart Phone Threat to Sirius: Part I, here.
Disclosure: I am long S, HPQ.

Additional disclosure: I am not short SIRI