Investors of SiriusXM (NASDAQ:SIRI) - and the company itself for that matter - were shocked to learn last week that the king of all shock-jocks, Howard Stern, had filed suit against SiriusXM for failing to pay out bonuses in accordance with his original contract.
That contract was worth half a billion dollars, for those keeping score at home.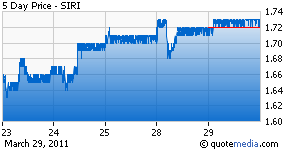 The filing of the lawsuit is surprising in the sense that not only did Stern just months ago decide to re-up his contract for another five years, but the company seems to have known nothing ahead of time of the suit being filed, or of the complaints contained within; although that could just be the company posturing itself for an upcoming PR war.
According to statements made since the filing, SiriusXM claims to have paid Stern all due bonuses.
It would seem that one of the issues at hand relate to whether or not the subscribers carried over from the merger with XM should count towards Stern's bonus numbers. In the filing the number of subscribers is listed as over 20 million, indicating that Stern and his legal team feel that he is entitled to a bonus cut of that number.
If that truly is the issue at hand and one of the drivers behind the lawsuit, then the simple answer should be that no, Stern is not entitled to count the XM subscribers.
Not just NO, HECK NO.

The bonus money paid to Stern was intended to reward him for attracting new listeners to Sirius at a time when XM was dominating the satellite radio airwaves, and he did just that. He did not, however, attract those listeners that joined XM and only became subscribers to Sirius after the merger took place.
It's almost ridiculous to believe that Stern would argue that point, seeing as how those subscribers were unimpressed enough with his radio talents to join a competing service.
So what gives?
Is half a billion dollars (and who knows how much from the recent deal) not enough for this guy?

Has Howard Stern become greedy enough to where his vast fortune isn't quite as large as his ego, and therefore needs a boost in revenue at a time when average families are struggling to make ends meet around the nation?
And is it smart to attack the company that signs your paychecks over a seemingly weak argument?
Stern claims that he waiting until the company was on sound financial footing before bringing his gripe to the Supreme Court of New York State, but while SiriusXM is certainly a company on the rebound after having reached a share price low of just over a nickel a couple of years ago, the company is not completely out of the water just yet.
There's still a whole lot of debt coming due over the next couple of years, although the company has been using free cash flow to pay down that debt early.
So is this another PR ploy by the master of PR ploys?

Could be, but if that's the case, then why make it that official with a Supreme Court filing?
If it's a PR battle he wants, he'll probably win since he has a wide audience and the luxury to air his concerns over the airwaves on a daily basis.
On the other hand, this could all backfire on Stern as people will start viewing Stern as just another out of touch, too-rich near-billionaire whining over a few more million when the average Joe is stealing from the kids' college fund to fill up the car with gasoline to get to work - if that average Joe is lucky enough to have kept his job through the economic crisis.
I don't believe this is a PR stunt on Stern's part, I think he's for real, and that's a shame.
It's almost like the baseball players and the owners going at each other - let the super-rich battle the super-rich. I think both sides lose out when that happens, at least in terms of PR.
Stern's a crafty guy, so there has got to be a method behind his madness, aside from just greed.
That said, I can't believe he's "serious" about this suit.

Disclosure: I have no positions in any stocks mentioned, and no plans to initiate any positions within the next 72 hours.