Earlier this month, Wal-Mart (NYSE:WMT) declared that it would be opening hundreds of new "Express" stores, operations built at a fractional footprint that would focus on day-to-day items. It was the latest salvo in the big-box retail wars, confirming two trends -- smaller venues and "category drift."
Smaller Venues: Caught with too much space during the recession, the big box retailers are now expanding via smaller venues, hoping to leverage higher profits with a smaller footprint. The new trend has been called "convenience retail." Surgically placed to avoid cannibalization of the neighboring superstore, the smaller venue attacks the most inefficient strata of its competition, the mom-and-pops and the convenience stores. In the office retail sector, Office Depot (NYSE:ODP) has aggressively initiated this process, with tiny stores that stock only those items most responsible for profits and pushing the purchases of low-margin "space hogs" online.
Category Drift: Just as Duane Reade has added a full supermarket to its new two-floor store format, Walgreen (WAG) has started selling ink cartridges and office supplies. With Express, Wal-Mart is pushing beyond the supermarket and drug arenas into granular-level convenience. The format clearly creates more competition for the office retailers. It will offer printer inks and stationery, both high-margin "necessities" that traditionally drove foot traffic.
Of course, more competition is the last thing the U.S. office supply industry needs at the moment. The big three --Staples (NASDAQ:SPLS), OfficeMax (NYSE:OMX) and Office Depot --have been battling it out for years, even as the turf itself has been nibbled at by the online and mass merchandisers.
As we enter into the "late cyclical" period of the economic recovery, these three companies are not seeing the traction you would expect. OfficeMax saw both 4Q and full year revenue declines for 2010. Office Depot recently reported a 3.4% drop in sales. Staples saw its 4Q top-line drift up somewhat, but its EPS and gross margins were below analyst expectations.
Terrible weather in January kept Staples' quarter from becoming an outright indictment of the industry, but clearly the sector seems stuck in neutral. Next quarter will be a real test of the "recovery hypothesis," with high gas prices and Japan's ills replacing heavy snow as the new headwind.
Where will sector growth come from? Office supply is a mature industry, with the S+P forecasting a growth rate of 2-3% for the next five years. The one saving grace is that the industry is still quite fragmented. The big three –SPLS, OMX, ODP-- made up only 11% of total sales in 2009. School and office products amounted to a $309 billion market in 2009 and, if document services are included, that number goes to $382 billion. So technically, market share gains are possible, despite the maturity of the business. It's just a contested landscape.
So, with Wal-Mart now rolling in at the "nano-level," which of the big three is best positioned to cope with the intensified competition?
Clearly, Staples is the dominant player. Its $14.7 billion market cap is a full 13 times its nearest rival. Its annual revenues are typically three times larger than those of OMX. It even tried buying rival Office Depot in the 90s but was stopped by U.S. anti-trust intervention.
Judging by its net margins over the past decade, Staples saw improved profitability during the boom years and coped with the recent recession with genuine aplomb. In contrast, both of its rivals, OMX and ODP, never saw widening margins in the 2002-2007 period, and actually experienced a full-scale collapse in net margins during the downturn. SPLS was the only company of the big three that showed true resilience in the face of a difficult decade.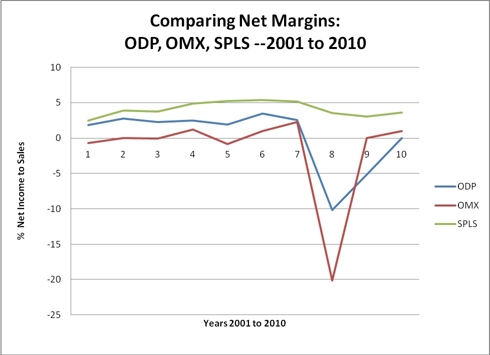 SPLS: Top Dog for a Reason
From an operational standpoint, Staples runs on three cylinders–its North American Retail, North American Delivery (direct sales to businesses), and its international presence. Looking at last year's revenue, 39% came from US / Canadian retail sales, 40% from its US / Canadian delivery business, and about 21% of total sales from the 26 countries that make up their foreign exposure.
Staples operates nearly 2,300 retail stores. Of these, it has exactly 1,900 stores in the U.S. and Canada and 381 stores internationally.
Staples' international exposure should help it weather further competition in the U.S. retail arena, though Europe has been a source of real weakness for the company over the past two years. If the continent can put the euro crisis behind itself this year, SPLS should avoid the steep sales deceleration that has hurt its numbers in 2010. But the recent WSJ headline –"New Phase in Europe Crisis"—suggests this might be a long shot.
Buying Dutch rival Corporate Express back in July 2008, Staples has created a robust "direct sales to business" division. The acquisition is considered a success, though it appears to have expanded Staples' pension liabilities and exposure to Europe's PIG periphery. The deal is still providing cost-cutting opportunities. Management has suggested the merger will be completed this coming year, and that distribution center consolidation will realize about $60 million in savings for 2011.
Staples has been proactive in other areas. The company has a strong web presence and a decent private label. It has also cultivated a smart strategy of supplying other venues –most prominently the "Stop and Shop" supermarkets-- with all its stationery-related products as a way to stymie Wal-Mart and Target. And in a promising reach for growth, SPLS is planning to sell i-tablets and phones, in addition to its laptop business. Though low margin, these items will drive foot traffic.
The Motorola (MOT) Xoom and Research in Motion's (RIMM) Playbook both roll out this coming week at Staples. If handled correctly, I believe the coming "commoditization" of the ipad / tablet is a real plus for the company. SPLS is the most tech-savvy of the office retailers. And as the device becomes ubiquitous for the sales teams of businesses worldwide, Staples might leverage its direct contract muscle, smiting both Best Buy (NYSE:BBY) and Radio Shack (NYSE:RSH) in the process.
OMX: Cost-Cutting and Solid Execution Make for a better 2010
In contrast to SPLS, OfficeMax operates two divisions –retail and direct business contract – each responsible for 49% and 51% of last year's total sales, respectively.
OfficeMax is more focused on the American market. Only 6.97% of its total sales came from foreign markets. The retail division has a total of 997 stores in the U.S. Its foreign 55 stores are located in just three countries --Canada (30), Australia (3), and New Zealand (18), operating under Office Max Contract.
Looking at OMX's profitability ratios, it is clear that the company saw an impressive turnaround last year. Though sales decreased .9%, net margins are positive for the first time in years and ROE is up a scorching 13.34%. Last year's FCF Margins and P/Cash Flow numbers shout out an impressive return to a profitable operation.
Click to enlarge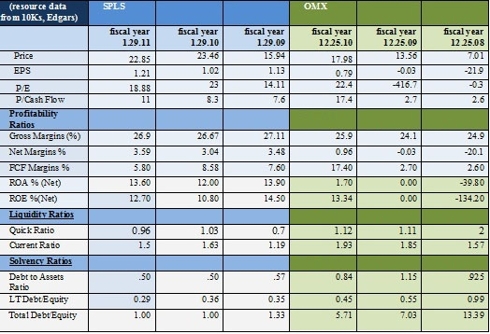 Though both its P/E and P/CF are higher than those of SPLS, giving Staples an edge on valuation, OMX's price-to-cash-flow does suggest that in the future OMX may see more earnings and a lower P/E. Costs were trimmed and gross margins were enhanced. The result was real gains in both operating and net income.
Yes, OfficeMax has a high debt-to-equity, though the ratio has dropped steadily over the past three years from 13 to 5.7. Its LT debt to equity has improved and its high quick and current ratios suggest that OMX stands in a good position to pay off its more immediate obligations.
Comparing SPLS and OMX:
Compared to OMX's "back from the dead" adrenaline shot to the heart, SPLS's consistency in 2010 looks downright staid. But its numbers confirm a strong and steady company that is increasing its ROA and ROE from an already high standard. Expenses were cut and both operating income and net income jumped year over year.
Staples has maintained its healthy balance sheet. It reduced its LT debt from 18.2% to 14.5%. Total current assets inched up. Receivables are up 1% year over year, and more expenses have been pre-paid. The percentage of Total Liabilities to Shareholder Equity is steady at 50/50. One fly in the ointment: "Debt maturing in one year" went from .5% to 4.2%.
In contrast, OMX has some serious red flags on its balance sheet.
Cash is down 1%; Inventories are up 2%.
Its accounts payable is up to 65.7%.
Income Tax payable has jumped from .3 to 1.1%.
Non-recourse debt makes up 36% of total liabilities.
The percentage of Total Liabilities to Shareholder Equity is a very extreme 85% to 15%.
Certain compensation costs and "other long-term liabilities" have been reduced, but there is still a lot of debt. Despite its new-found cash flow, this will likely keep OfficeMax from being a LBO candidate.
Looking over the footnotes of its recent 10K, another issue popped out. OfficeMax sponsors a non-contributory defined benefit pension plan for various vested and retired employees, primarily in Contract. As of December 25, 2010, the accumulated benefit obligations for all its plans were $1.297 billion.
Its long history as a manufacturing company (from 1913 as Boise Payette Lumber and then as Boise Cascade in 1957) may be the reason these high pension obligations. OMX's 2011 assumptions for the plan are:
A discount rate of 5.64%
A plan rate of return of 8.20%
Every .1% drop in its discount rate will cost the company $1 million.
In comparison, SPLS, a far larger company in terms of market cap and sales, carries total benefit obligations of $919.2 million. Its international plan, comprising $885 million of the total, is well-funded and appears to have come mostly from its acquisition of Corporate Express.
The "Easy Button"?
So, having assessed their histories, what to make of the two companies from an investment standpoint?
In January Morgan Stanley recommended buying three-month calls on OMX on the possibility of a buyout. They suggested SPLS or ODP as suitors. This reiterated a position made by J.P. Morgan in October, which looked at the restructuring possible at OMX and suggested a takeover price of $28.The stock presently sells at $12.70.
Analysts and dealmakers are clearly irked by just how enduring this cramped office supply environment remains. The Street believes that the status quo is unsustainable, much as it did four years ago.
Though I see the logic of a LBO, and the speculative attraction of OMX as a short-term trade, I typically shy away from a company with so much debt in a fragile economy. I'm more likely to recommend SPLS --particularly if you can buy it below 19.00 a share.
On March 15, Staples broke through an important resistance level of 20.22, and fell as low as 19.33 the next day. Staples is presently trading at 20.02, having scrambled back up from last week's clearly near-term "oversold" territory.
The stock may go higher this week in an effort to breach a new 20.18 resistance level, but, its long-term technical indicators remain weak. I find it a confirmation of this downward trend that, though Citigroup Inc. kept its rating on the office-supplies retailer at buy yesterday, the stock still bounced off this resistance line and ended down 1%.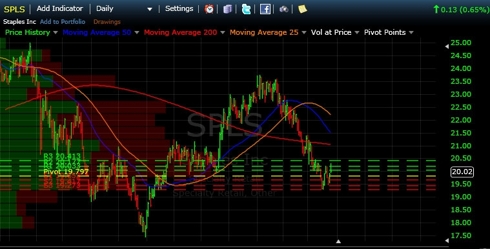 The stock has lost 4 dollars since late January. Recently its 50 day MA dropped below its 25 day MA for the first time since April 2010. Last time it did this, following the euro sell-off, the stock fell from 24 to 18 by August. The stock might be experiencing a similar drop this time as well. I recommend buying in the 18.50 range.
The Plot Thickens:
"You must go on, I can't go on, I'll go on."

--Samuel Beckett, The Unnamable
Ultimately, according to Fortune, the Office Supply industry is a mature industry experiencing intense competition, a crimped cyclical recovery, and a societal drift away from paper usage. Wal-Mart rolls out its first 42 Express stores this year. Amazon (NASDAQ:AMZN) was become a major new player in direct sales. The digitization of office processes deepens.
The question now remains whether –after the cost cutting and improved metrics –the industry can drive top-line growth in a post-QE period of (still high) white collar unemployment and inflationary pressures.
Analyzed as a business entity, Staples is in "ship-shape" condition. It saw a decline in its FCF margins last year, and a strange weakening of its quick ratio, but generally the company has performed solidly amid the recessionary weakness that has characterized the past three years. It just upped its dividend 11%.
SPLS is well positioned against its immediate competitors OMX and ODP, but the fact that they are still in the game –not pushed out of business during the recession—implies they will remain in the retail landscape, stymieing price hikes in the face of higher cotton, paper, and diesel input costs.
With OMX's recent return to profitability, the plot suddenly thickens. OMX seems back from the dead, throwing off free cash suddenly and renting out portions of its large stores to other retailers. Despite its existing high debt, a LBO is possible and that event would make it a stronger competitor.
Likewise, ODP has been improvising, offering a new Android m-commerce app for smartphones and building new nano-sized shops to become more efficient. Office Depot's long-time CEO left in October and a change-of-control SEC filing in late December sweetens the pot for existing management in the event of a sale. A private equity take-over of ODP could sharpen the office retail competition, though this is less likely if the economy sours. The often discussed merger with OMX is probably far off, but the two have clearly escaped the winnowing of the Great Recession.
Staples' 26-country international operation should theoretically help it diversify risk and find market share in less combative arenas. But Europe may continue to have a tough year of fiscal uncertainty, and the Australian, Canadian and Kiwi economies are much tied to the Asian economic boom. Japanese offshore money may be repatriated due to the disaster, affecting all of the economies in emerging Asia (as well as the U.S. treasury market).
These global issues, tied to anemic U.S. job growth and looming state and municipal budgetary problems, suggest that top-line revenue growth might be harder to find this year.
Last month, Acco Brands (NYSE:ABD) missed its earnings estimates. In late February, ODP reported plans to restructure, with $170 million to $180 million in charges over three years. The week prior, OfficeMax Inc. had offered a cautious outlook for the current quarter and year. In January, Staples' own numbers were disappointing.
From a revenue standpoint, Office Supply is stuck in neutral. But SPLS is the "best of breed" and the eventual destruction of one of its two competitive rivals will open up more room to run. It just might take a lot longer than anyone expected.
Disclosure: I have no positions in any stocks mentioned, and no plans to initiate any positions within the next 72 hours.