Moving the Market
The catastrophic implications of the Japanese earthquake, tsunami, and nuclear disaster are driving increased volatility across the global markets as the world's third largest economy begins to deal with the unprecedented fallout of the natural and nuclear disaster. Thus far we have seen initial dramatic drops of the Dow 30 and S&P 500, as well as double digit drops in the Nikkei, which caused widespread concern as to the stability of financial markets throughout the Asia/Pacific region and around the globe.
Our Outlook
The uncertainty concerning the long term impact of these events has led us to examine which U.S.-listed companies have the greatest exposure to Japan and the rest of the Asia/Pacific region. In addition, we looked at the supply chain of these companies with Japan exposure, especially those with that derive their own revenue from Japan.
Today's analysis focuses on the Dow Jones Industrials, while we continue to monitor the supply chain relationships and Japan exposure for the S&P 500 and the NASDAQ 100.
Here is what our research reveals.

Dow 30 vs. Regional & Japanese Exposure
Of the 30 companies that make up the Dow Jones Industrial Average, 19 report revenues derived from the Asia/Pacific region, including from Japan. Another nine companies report international revenues, but do not break them down by region. And the remaining two companies are solely involved in the U.S. domestic market (Verizon (NYSE:VZ) and AT&T (NYSE:T)).
These 19 companies with Asia/Pacific regional exposure generated approximately $194 billion in revenue for 2010, which translates to approximately 14 percent of total revenues.
Of these 19 companies, seven specifically report their revenues derived from Japan, with Japan revenues totaling $54 billion in 2010, or 8.04 percent of total revenues.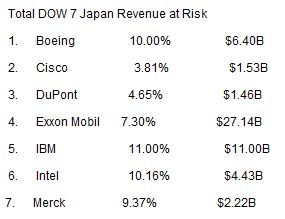 The four companies that generate the most revenue in Japan are ExxonMobil (NYSE:XOM), Chevron (NYSE:CVX), IBM, (NYSE:IBM) and GE (NYSE:GE)—though neither Chevron nor GE specifically discloses their revenue from Japan, using our analysis of the goods and services they sell in that country, the above figures are an estimate.
Dow 30 Supply Chain Analysis
We analyzed the exposure of the seven companies that report revenues from Japan, and also to the companies that make up their supply chain. In addition to supply chain links to companies outside the Dow 7, there are some supply chain linkages between these seven companies—including Intel (NASDAQ:INTC), which supplies IBM with a family of Xeon® Processors and DuPont (NYSE:DD), which supplies specialty chemicals and licensing hypertension treatments to Merck.
Overall, we identified 57 companies with a market cap of more than $1 billion that are suppliers to these seven Dow companies. Of these supplier companies, 40 of them have reported their own revenue exposure to Japan. These include suppliers to Cisco (NASDAQ:CSCO), Intel, IBM, Merck (NYSE:MRK), and Boeing (NYSE:BA). It should be noted that suppliers to DuPont and ExxonMobil have not disclosed their revenue from Japan.
We analyzed these 40 supplier companies with multiple customers within the seven Dow companies that have known Japan exposure as well as exposure themselves to Japan for a material percentage of their revenues:
| | | | |
| --- | --- | --- | --- |
| | Cisco | Intel | IBM |
| STMicroelectronics (NYSE:STM) | X | X | X |
| Marvell Technology (NASDAQ:MRVL) | X | X | X |
| Rambus Inc (NASDAQ:RMBS) | X | X | X |
| Integrated Device Technology (NASDAQ:IDTI) | X | X | |
In looking deeper into the supplier and customer relationships, Cisco provided the most detailed information on its exposure to Japan. For the past 12 months, Cisco reported revenues from Japan of $1.53 billion. Its large cap suppliers reported revenues generating from Japan at $851 million over the same time period.
Among them are:
CSCO Suppliers

% Japan Rev

$ Japan Rev

ATHR

12%

$111M

CAVM

10.7%

$11M

IDTI

9.6%

$51M

MRVL

6.8%

$192M

PMCS

15%

$95M

RMBS

81.4%

$91M

STM

3.5%

$300M

Total Japan Revenue

$851M
Intel, like Cisco, provides significant visibility into their suppliers' sources of revenue:
INTC Suppliers

% Japan Rev

$ Japan Rev

AMAT

14.3%

$718M

STM

3.5%

$300M

MRVL

6.8%

$192M

KLAC

13.1%

$239M

SNPS

19.5%

$264M

ATE

22.5%

$128M

NVLS

4.0%

$54M

VSEA

13.5%

$49M

RMBS

81.4%

$91M

IDTI

9.6%

$51M

Total Japan Revenue

$2.1B
The other seven companies in the Dow with reported Japan exposure had varying degrees of visibility into their suppliers' Japan exposure. For instance, DuPont has only four large cap suppliers and ExxonMobil has 10 large cap suppliers, however none of them break out revenues from Japan.
IBM Suppliers

% Japan Rev

$ Japan Rev

ORCL

5.0%

$1.35B

INTC

10.16%

$4.43B

LNVGY

-

-

CAJ

21.9%

$9.75B

STM

3.5%

$300M

IFNNY

4.7%

$143M

DASTY

-

-

AMD

8.6%

$561M

VSEA

13.5%

$49M

BRCD

3.1%

$60M

CDNS

17.9%

$152M

RMBS

81.4%

$91M

CAVM

10.7%

$11M

AMKR

15.5%

$455M

VIT

5.7%

$9M

ISS

9.4%

$13M

Total Japan Revenue

$17.3B
MRK Suppliers

% Japan Rev

$ Japan Rev

NVS

8.4%

$4.06B

DD

4.6%

$1.46B

LLY

7.0%

$1.62B

Total Japan Revenue

$7.14B
BA Suppliers

% Japan Rev

$ Japan Rev

COL

-

-

DASTY

-

-

ATI

1.1%

$33M

TER

5.6%

$46M

MOG/B

4.6%

$97M

Total Japan Revenue

$176M
Conclusion
In the five trading days after the earthquake, the seven Dow companies that report Japan exposure have lost approximately two percent of their value in volatile trading. However, the large cap U.S.-listed suppliers to these seven companies have lost approximately 1.6 percent, or 20 percent less than their customers. With the significant volatility in the Japanese equities market and the uncertainty the situation is causing in markets around the world, investors can better buffer their portfolios by more fully understanding the geographic sources of revenue of their investments, as well as in the supply chains of those companies.
COMPANIES TO WATCH:
The following companies all have significant exposure to multiple Dow companies that themselves derive considerable revenues from Japan. These companies also have direct exposure to Japan as a source of revenue, so they are effectively doubly impacted by recent events:
STM: STMicrorelectronics N.V (ADR):

STM focuses on producing broadline semiconductors used across a variety of industries and sectors. STM has a blue chip customer base. In the past six months, the company has broadly outperformed the Dow and the S&P 500 by over 55 percent.

MRVL: Marvel Technology Group, LTD.: MRVL

is a fabless semiconductor provider of application-specific standard products. It has a portfolio of intellectual property in analog, mixed-signal, digital signal processing and embedded advanced RISC machine (ARM)-based microprocessor integrated circuits. The company is trading at the lower end of its 52-week trading range and its price performance is down 32 percent since mid-January of 2011.

RMBS: Rambus Inc.: RMBS is a specialty memory chip provider designed

for computing, gaming and graphics for consumer electronics and mobile applications. The company is trading at the lower end of its 52 trading range and has been broadly lagging the S&P 500 since June of 2010.

IDTI: Integrated Device Technology, Inc.:

IDTI is also a broadline semiconductor manufacturer supplying a variety of industries. As the company with the smallest market cap of these four companies to watch, IDTI competes with 27 other global providers in the crowded broadline semiconductor sector—many of them large cap providers. While IDTI significantly outperformed the S&P 500 by over 24 percent through the middle of February 2011, the company's price performance began a rapid decline in the weeks prior to the events in Japan.
Aakarsh Ramchandi, Jeremy Zhou and Kevin O'Brien contributed research and analysis for this article.
Disclosure: I have no positions in any stocks mentioned, and no plans to initiate any positions within the next 72 hours.