Assessing the Japan Crisis: Sector by Sector Exposure to Japan
Moving the Market
Since March 11, when the unprecedented crisis in Japan began, some noteworthy trends have emerged indicating how investors are viewing the impact of the earthquake, tsunami and continued uncertainty about the ongoing nuclear situation. The impact has led to significant swings in the market capitalization of companies globally, not just in Japan.
Our Outlook
The volatility in the global equities markets over the past 17 days resulted in a 7% drop in the Nikkei 225 since the initial earthquake, while the S&P 500 and the Russell 3000 have managed to generate positive returns of close to 1%. We reviewed this market activity and delved deeper into specific sectors and subsectors to find out which have gained and which have lost amid this volatile time period.
Among sectors that have posted significant drops in their stock prices is the Automotive Interior and Electronics Sector, which is down more than 11%. Others include:
Biggest Losses by Sectors with Japan Exposure
| Sector | # of Companies | Performance |
| --- | --- | --- |
| Life Insurance | 2 | -$2.3B |
| Semiconductors | 27 | -$1.9B |
| Consurmer Products & Services | 3 | -$1.6B |
Conversely, two sectors generating positive performance over the same time period are Chemicals and Semiconductor Capital Equipment. Individual stocks in these two sectors include U.S.-based companies that have significant exposure in Japan for both revenues and customers/suppliers.
| Sector | # of Companies | Performance |
| --- | --- | --- |
| Metal Ore Mining | 7 | +$14.3B |
| Semiconductor Capital Equipment | 15 | +$2.0B |
| Factory Automation & Industrial Materials | 6 | +757M |
| Chemicals | 5 | +$422M |
Chemicals: Within the overall Industrials and Materials industry, chemical companies have proven to be a top-performing sector. Since March 11, our Chemicals Sector has delivered over five times the performance of the S&P 500, gaining 4.7%. Going deeper into the sector, we discovered that companies involved in the Specialty and Performance Chemicals subsector (makers of such products as carbon black, which is used in the manufacturing of rubber goods, pigments and ink) gained 5.6%, while the general Commodity Chemicals subsector (which includes bulk sellers of common Chemicals) gained 1.2%.
Semiconductor Capital Equipment: These companies provide the machinery and technology for semiconductor companies to make a wide range of products, including analog mixed signal chips, specialty chips and flash memory that are primarily used in mobile devices. Within this sector, three subsectors have all been outpacing the broad market benchmarks as well as the sector they supply, semiconductors.
Fabrication Support : +5.55%
Front End Processing: +6.54%
Process Controls: +1.73%
U.S. Companies' Japan Exposure
Since March 11, the 30 Japanese companies listed on the U.S. stock exchanges have lost over $77 billion in market capitalization, with only six posting positive returns. The best performing of these six has been Makita (NASDAQ:MKTAY), a manufacturer of construction tools and machinery, posting returns of 10.73%.
The 117 U.S.-traded companies with more than 9% of their revenue exposed to Japan have gained approximately $16 billion in market capitalization since the crisis began. According to our classification system at Revere, for the companies with significant revenue streams in Japan, there has been a $93 billion swing in net market capitalization of these companies.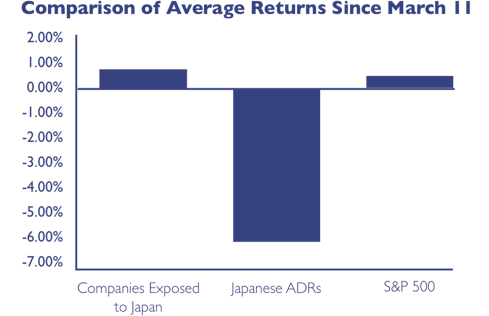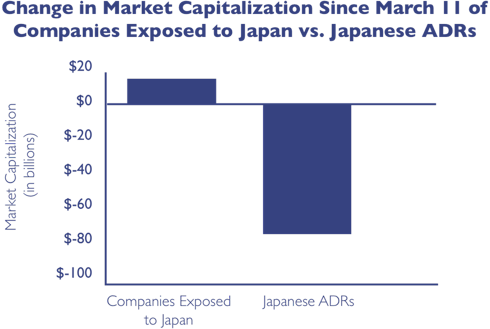 Conclusion
Companies to Watch:
Makita Corporation (MKTAY) - Focuses on outdoor construction tools and machinery. While a significant portion of revenues are generated in the U.S., through U.S. retailers such as Home Depot (NYSE:HD) and Lowe's (NYSE:LOW), Makita generates 17.3% of its revenues in its home market. Makita could be a major beneficiary of home market reconstruction (versus non-Japanese construction equipment providers).
Kubota Coproration (KUB) - Focuses on natural resouce and construction machinery. Approximately 53% of its revenues are derived from its home market. Kubota is geographically placed to be a beneficiary of the home market reconstruction over the next several years.
Cymer, Inc. (NASDAQ:CYMI) - Within the Semiconductor Capital Equipment sector, Cymer focuses on front end process, specifically illumination lasers. The company generates a quarter of its revenues from Japan and has increased its market capitalization by 17% since the earthquake.
Cabot Micorelectronics Corporation (NYSE:CBT) - Provides specialty and performance chemicals, specifically focused in the area of electronic materials. The company generates almost 15% of its revenues from Japan and has increased its market capitalization by six percent since the earthquake.
Aakarsh Ramchandani, Jeremy Zhou and Kevin O'Brien contributed research and analysis for this article.
Disclosure: I have no positions in any stocks mentioned, and no plans to initiate any positions within the next 72 hours.