In order to form an intermarket perspective, I model a few great traders who have taken time out to practice the under-rated art of contrary thinking. There are rare gems of information on SA that I find myself coming back to time and time again. These great traders stress the importance of building up a consensus of indicators and markets that confirm the actions of another market. This stems from the premise that no market moves in isolation. We will explore the implications this premise has for dollar weakness and metals.
At some level it appears that everyone understands how one market acts on another, however right now I find that hard to believe given all the commentary that has been around about the "gold bubble" and the "inflation myth." The market does not seem to be indicating that gold is in a bubble or that the inflation hedges are overbought at this point.
The U.S. dollar has now begun its painful decline against emerging market currencies.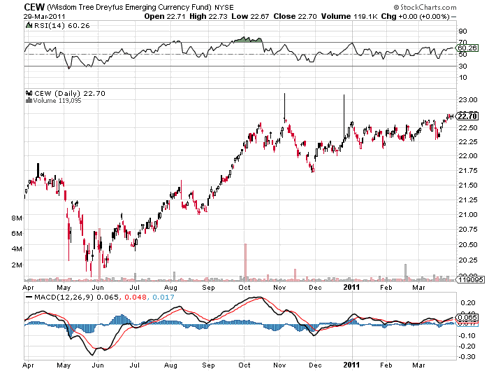 Click to enlarge
(Click to enlarge)
The USD index has broken down and gold and silver are touching their old highs. It is significant that emerging market currencies are breaking out of a tight trading range. The credit default swap spreads show that despite the ranting about how unsafe emerging market currencies are, the risk of defaulting is lower and the yields are higher on emerging currencies than the USD. I believe that there are several ways to play this view with far more upside than buying into emerging currencies however.
The 17 rare earth metals that are found in most of the gadgets and televisions we use every day are in very high demand in Japan and China. You can gain exposure to these through REMX (recently launched ETF) or Molycorp (MCP) (company exposure to the largest rare earth metal deposits outside China). Both of which have shown much promise from a technical stand point: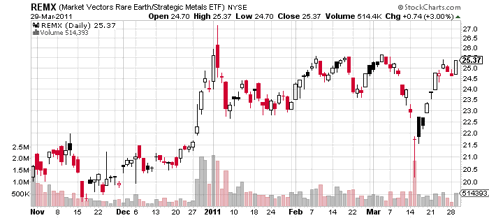 Click to enlarge
(Click to enlarge)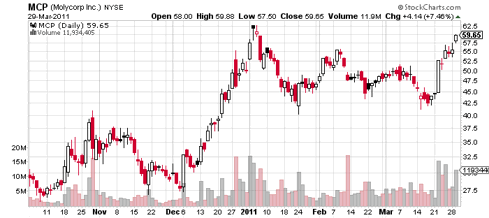 Click to enlarge
(Click to enlarge)
MCP has zero debt and an attractive PE ratio. Both are breaking up to new highs and have great potential upside if you believe that hyperinflation may be imminent. Yes, rare earth metals are linked indirectly to inflation as well. Most of what the world now consumes is produced by China. Which should lead one to question how long the rest of the world will continue to use U.S. dollars when conducting trade in commodities and other dollar denominated assets?
The U.S. does not have the largest manufactoring base anymore, China does. My current belief is that China is very well positioned to take $2 trillion dollars (about $1.5 trillion if you believe official stats) of U.S. debt and accumulate much more gold before using gold to back the chinese yuan, making yuan the new reserve currency. This is no mystery to some traders however. The new safe haven on the rise is metals. Hard assets.
If you manage risk well and protect your wealth then you may prosper even in the deep inflationary situation that is building momentum, as metals show they wish to continue heading higher: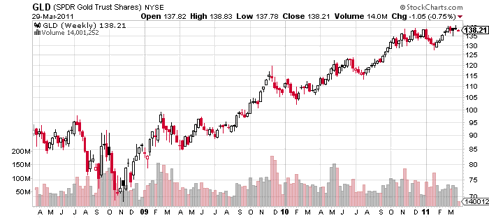 Click to enlarge
(Click to enlarge)
The U.S. dollar wishes to move lower: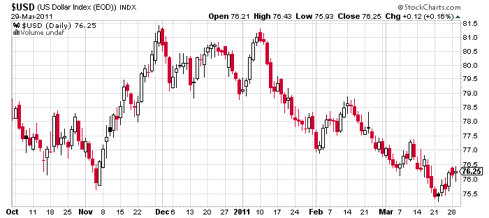 Click to enlarge
(Click to enlarge)
Disclosure: I am long SLV, MCP.