Renesola (NYSE: SOL) closed out 2010 with another solid earnings report. For the fourth quarter of 2010, revenues grew 7.7% sequentially to $386.4m on a 7.5% shipment increase from the third quarter. Net income was relatively flat at $61m from the prior quarter's net income of $60m. On an earnings per share basis, SOL recorded .69 in EPS which was inline with Wall Street average consensus estimates. However, Renesola's Q4 2010 earnings came short of my .74 EPS estimate due in part to a 5.5m tax charge and a slightly higher share count. Excluding this tax write-back, which increased the company's effective tax rate to 30% in the fourth quarter from their 23% guidance, SOL would have posted .75 in EPS for the fourth quarter of 2010.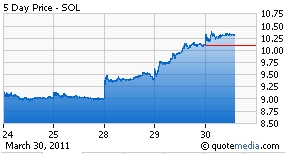 Compared to the prior year, Renesola's fiscal 2010 was a dramatic turnaround. Revenues grew by over 136% year over year. Net income totaled $169m, reversing net losses of $72m in 2009. Net losses in 2009 were mostly the result of inventory write-downs and provisions made against doubtful legacy accounts. On an earnings per share basis, SOL's 2010 fiscal year came to 1.93 in EPS. The company set record benchmarks in 2010 on a number of metrics including revenues, shipments, and net income.
In addition to their earnings improvement, Renesola also improved on numerous internal operating metrics. Adjusted for changes in efficiency assumptions, the company reduced processing costs for their core wafer production from .31/watt to .24/watt. While normalization to full utilization in 2010 vs. 2009's underutilized levels accounted in part for this large improvement, cheaper and more efficient new manufacturing equipment also helped bring the blended average lower.
Over the past couple of years, the cost of adding ingot and wafer capacity have dropped significantly. Prior to 2009, the capital costs of adding capacity in this vertical ranged from .50-.60/watt. Recently, leading companies including Renesola have quoted capital expansion costs as low as .20-.25/watt. In addition to depreciation costs saved, newer second generation equipment also operate more efficiently. As a result, fully loaded production costs using new equipment are much lower. SOL has stated their wafer processing costs using new equipment are well under .20/watt. As the company expands capacity, higher ratios of newer equipment vs. first generation lines should continue to bring down blended processing costs. Renesola guided for a .18/watt blended processing cost target by the end of 2011.
Renesola also slowly made progress on their polysilicon production. Since officially activated in late July 2009, progress on reducing their internal polysilicon production cost has been slow. While initial production costs were high between $60-70/kg, the company has only been able to reduce manufacturing costs to the 55-60/kg range in the fourth quarter of 2010. In contrast, LDK Solar (NYSE: LDK) was able to reduce their internal polysilicon production cost below $42/kg in less time since their startup. Nevertheless, SOL's progress is continual and the company has stated production costs fell to as low as 45/kg in February of this year.
More progress has been made on polysilicon production volumes, however. SOL produced 610 metric tons of polysilicon in the fourth quarter of 2010 from their 3,000 metric ton plant, representing over 80% utilization. The company's mean production guidance for the first quarter of 2011 represents full capacity utilization. Through debottlenecking efforts also utilized by polysilicon producing peers, Renesola hopes to increase manufacturing capacity to 3,500 metric tons this year and achieve a production cost target of $35/kg by the end of the year.
These operational improvements should have a significant impact on Renesola's profitability moving forward. Extremely low (if not industry leading) wafer processing costs should allow SOL to be competitive on wafer pricing in order to keep and gain market share. Low costs are critical as an emerging giant GCL-Poly has been leveraging their low polysilicon and wafer production costs along with massive scale to sign large long term contracts with top tier industry players such as Suntech Power (NYSE: STP) and Trina Solar (NYSE: TSL). Without a downstream strategic focus, Renesola must rely on their manufacturing efficiencies and scale to retain wafer customers in an industry where higher levels of integration have been a focus for many companies.
Economies of scale may very well be what Renesola was considering when they announced a surprising expansion in polysilicon capacity in their Q4 2010 report. On top of the capacity expansion SOL announced during their third quarter report, a new 5,000 metric ton polysilicon project was also announced. The $350m in capital expansion costs SOL allocated for 2011 would take the company to 8,500 metric tons of polysilicon, 1900mw of wafer, 240mw of cell, and 600mw of module capacity by the end of the year.
Perhaps the main reason for the polysilicon expansion is to reduce the company's dependence on external procurement. While SOL's polysilicon spot market exposure is relatively low, high spot market prices would blend their average silicon cost higher. As Renesola expands their wafer capacity moving forward, more low cost polysilicon will be required to avoid higher ratios of spot market exposure. With the technical barrier of initial polysilicon production already broken, internally produced supplies at or below $30-35/kg may be more advantageous than signing new contracts at approximately $50/kg, despite the capital costs required for polysilicon capacity.
The economics for polysilicon production has changed dramatically over recent years. According to Renesola, the targeted budget for their new 5,000 metric ton plant is only $150-175m, or just $35/kg at the high estimate. This compares to $100-120/kg capital costs for polysilicon projects just a few years ago. In addition, SOL expects the lead time to full capacity ramp from project ground breaking to be around 5 quarters. In this case, the lead time to full production would be reduced in half from 10-12 quarters witnessed for projects before 2009. Lastly, SOL hopes to achieve production costs as low as $20/kg for the new 5,000 metric ton plant once operating at full capacity. The company's targets are extremely aggressive, but if achieved, Renesola could be one of the most competitive companies in the industry at the polysilicon and wafer verticals.
For the first quarter of 2011, Renesola - just like with many direct peers - should experience somewhat flat sequential results. While overall shipments would most likely still represent full capacity utilization, SOL's change in product mix should result in lower sequential revenues. The company's official guidance for Q1 2011 is for revenues to fall between $310-330m on shipments of 320-330mw.
According to SOL's recently released 2010 annual report, almost 144mw of wafer tolling services had already been completed in the first two months of the quarter. Even assuming all wafer tolling business during the quarter were completed before March, it would still represent an unusually large ratio of tolling business vs. core wafer production. Typically, wafer tolling represented approximately 20-30% of overall wafer shipments, but for the first quarter it may represent 60% or more of Renesola's overall wafer shipments.
Although per watt gross profit for wafer oem isn't much lower than for wafer sales, wafer oem tolling generates almost half the revenues of wafer sales. As a result, in quarters where wafer oem shipments are high, blended revenues may come in lower. For the rest of the year starting in March, Renesola expects around 337mw of additional wafer oem business. Clearly, much of the company's annual wafer oem business was heavily weighted towards the first two months of the year.
The second reason why SOL may experience a sequential revenue decline is due to their lower module shipment guidance. Renesola shipped almost 127mw of modules in the fourth quarter of 2010 and projected first quarter 2011 module shipments to range around 100mw. Since downstream module business carries the highest average selling prices, product mixes which involve less module shipments would negatively impact consolidated revenues. A 27mw decrease in module shipments, which may be made up with wafer tolling or wafer sales, could negatively impact revenues by about $25m.
Lastly, overall average selling prices are expected to decline across the board. Luckily for Renesola, the current market is still tight on their core vertical, wafers. Although current rates do not suggest a decrease in wafer asps, higher volumes of long term contract pricing may cause a reduction in blended average selling prices. The company could be conservative with their .85/watt wafer average selling price for the first quarter, but it is a reasonable assumption to use. In Q4 2010, wafer asps were .04/watt higher than their original guidance of .84/watt.
Module pricing on the other hand have taken a much sharper fall in the past quarter. Average selling prices for modules have dropped from the high 1.70s/watt to around 1.60/watt currently, or about a 10% decline. Higher tier branding as well as bankability may cause some leading companies to post lower sequential asp declines, but for newer brands pricing declines may be more severe. In SOL's case, the company guided for first quarter module asps to range between 1.65-1.70/watt which may represent over a 10% sequential decline from the 1.85/watt posted in the fourth quarter. The total impact of the company's module business may result in as much as a 50m sequential revenue decline based on the guidance provided.
With these factors taken into consideration, a first quarter estimate for Renesola's earnings has been compiled below. As usual, metrics used are from direct company statements or derived from management's comments made during earnings conference calls. With the exception of shipments, metrics conform within the company's guidance. Once again, the sole assumption made is that the company is operating at full capacity given the market environment both peers and SOL have indicated.
SOL Q1 2011 Earnings Estimate:
Revenues: $320m
Wafer Shipments: 105mw at .85/watt = $89.3m
Module Shipments: 100 at 1.67/watt = $167m
Wafer Tolling: 145mw at .44/watt = $63.8m
Total Shipments: 350mw
Unit Cost:
Wafer: 105mw at .59/watt = $62m
Module: 60mw at 1.14/watt = $68.4m, 40mw @ 1.37/watt = 5$4.8m
Wafer Tolling: 145mw at .23/watt = $33.4m
Gross Profit: $320m - ($62m + $68.4m + $54.8m + $33.4m = $218.6m) = $101.4m
Gross Margin: $101.4m / $320m = 31.7%
Operating Expenses: $27m
Net Interest Expense: $6.4m
Tax: $13m
Net Income: $55m
Diluted Share Count: 88.5m
EPS: .62
Potential Foreign Exchange Loss: $27m
Potential Foreign Exchange EPS Impact: .31
Currency translations have been left out of Renesola's core operational earnings. During the quarter, and up to current exchange rates, the euro is up approximately 5% since the start of the quarter. Normally for companies with euro exposure and without currency hedging practices, euro appreciation would generate foreign exchange gains. However, many companies in the past year started to not only hedge their current euro assets, but also anticipated forward euro denominated revenues. As a result, companies with this hedging practice would experience net foreign currency gains when the euro declines and losses when it appreciates vs. the USD. Although Renesola did not hedge in prior years, they did adopt some form of forward currency hedging in recent quarters.
As a final note, SOL completed a convertible bond offering which raised gross proceeds of $175m earlier this month. The conversion strike price for these bonds is $10.55, so as a result, the company's fully diluted share count could be at higher levels depending on how dilution is accounted. Normally, closes above the strike price would cause dilution at least on an average weighted basis. In Renesola's case, the dilution could be as high as 16.6m shares if the company's share price remained above the conversion price for the entire reporting quarter. Since the company engaged in capped calls, which effectively raised the dilution strike to slightly above $15.00, the actual dilution would be less if converted (11.6m shares vs. 16.6m).
Disclosure: I am long TSL, LDK.
Additional disclosure: No position in STP, SOL, GCL.