No question, General Electric's (GE) stock returns year-to-date and over the past two years have out-performed the benchmark S&P 500 Index — thanks to a little help from the USG and an endorsement from Warren Buffett. However, this recent out-performance is not sufficient reason to break out the bubbly and party like it's 1999. In fact, GE's five and ten-year returns are cause for pause and reflection this proxy season: -42% vs. +1% (S&P 500) and -51% vs. +15%, respectively (see 5-yr chart below).
Particularly worrisome is GE's undaunted espousal of stock buybacks despite compelling evidence of serious value destruction and limited impact on share count (details provided at end of article). In addition, similar to GE's recent stock price, its dividend too has been on the rise. However, it remains well below its pre-crash level (on a per share basis). Let's now turn our attention to GE's annual meeting, to be held April 27th in Salt Lake City, and the items up for vote.
Click to enlarge: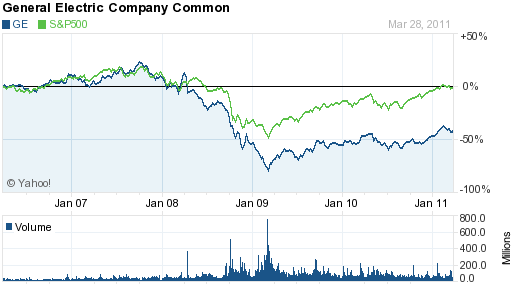 Two shareowner proposals involve stock options. One (the third shareowner proposal listed on the proxy) is urging a revocation of options granted to nine corporate executive officers in 2009 and 2010. The reason is the timing and pricing of these were right near GE's stock price trough in early 2009, compared to the historical timing of option grants in September (by which time GE's stock had effectively doubled in price).
There is also the matter of the number of options granted being between three and six-times historical levels. I support this proposal. Not only is the timing curious, but I don't follow the Board's (and Compensation Committee's) logic that the executive officers, including CFO Keith Sherin, deserved to be rewarded for their stewardship of GE in difficult economic times. These are the same executives (and many of the same directors) that enabled GE to fall into the dire straits it found itself in late-2008 to early-2009.
Note that the submitter of the proposal pointed out the Board's likely rationale behind the most recently granted options as offsetting the worthless options set to expire (since their exercise prices of $27-$57/share were far above the market price, then in the single digits).
The second proposal involving stock options (the second shareowner proposal listed on the proxy) regards premium pricing of options, instead of pricing at the grant date, and performance-based vesting, rather than time-based vesting. I support this proposal as well. Named executive officers (NEOs) all receive cash compensation in excess of $1.4M, and all but Chairman/CEO Jeff Immelt received $2.5M-plus bonuses in 2008 and 2009, not to mention the allowances they are given for transportation, financial and tax consulting, and home security and other services. On top of all that are their multi-million dollar pensions, ranging in value from $12M-$37M. Thus, when the Board/Compensation Committee speak of a need to motivate and retain NEOs, it seems they already have plenty from the aforementioned. Therefore, true motivation and performance bases necessitates premium pricing. Graham & Dodd, in their classic Security Analysis, argued for pricing options "somewhat above the current market" — although this was prescribed for new management in a successful turnaround situation, I think the "turnaround" aspect applies here.
If shareowners support these two proposals, then they must vote "against" management proposal number two, "Advisory Resolution on Executive Compensation." The new layout of the proxy statement/materials is much improved, making shareowners' lives somewhat easier trying to read through the materials, and there are some good elements of GE's compensation practices (no severance agreements, no tax gross-ups, and purportedly clawbacks of incentives). But changes need to be made, specifically in the area of stock options. Too much is being given away too cheaply.
Consider that the annual cash compensation of NEOs is in the millions basically regardless of performance and they retain their multi-million dollar pensions. I accept the argument of aligning interests, but the risks and rewards diverge widely. As for the "Frequency of Future Advisory Votes on Executive Compensation," I think a vote for "every year," as the Board recommends, makes the most sense (versus every two or every three years). Keep in mind that these two votes are "advisory," meaning they are non-binding and thus the Board can ignore the vote outcome.
Shareowners may find some solace and hope in that Chairman/CEO Immelt has reportedly never sold a share of GE received by way of option exercising, and he has purchased over 870,000 shares on the open market during his tenure. If anything, this sounds more like an aligned interest. Immelt is receiving his first cash bonus since 2007, $4M, versus $5.8M then. Maybe that's appropriate, maybe not, but if you apply a highwater mark (as is applied to hedge fund assets under management) to market capitalization, then he (and the other NEOs) should forgo a bonus until the highwater mark is exceeded. To be fair, a five-year period could be used instead, since it is said that Immelt inherited a very richly priced GE from Jack Welch. In October of 2007, GE traded as high as nearly $42.00/share, representing a five-year peak (3/2006 – 3/2011). It closed most recently at $19.86/share.
Separately, reappearing again as it has year-after-year-after-year, the "queen of the corporate jungle" shareholder activist Evelyn Davis' puts forth a proposal in favor of cumulative voting. I am also in favor of this proposal. It has historically garnered 20%-plus support (25.2% in 2010) — a not insignificant figure — but the Board seems to have a lot of fear of shareowners possibly managing to vote down a director, and thus has always been "against" it. I believe, should cumulative voting be allowed, that some entrenched and/or over-extended directors would be in jeopardy, and rightfully so. This explains precisely why the Board has never voted in favor of it. More discussion of the directors to follow later.
There are two others shareowner proposals, one of which I support (disclosure of the use of animals in testing) and one of which I have mixed feelings (climate change risk disclosure). I cannot say much here other than to please read the proposals and the Board's response and make your decisions accordingly.
I want to talk now about the reelection of all 16 directors. I have serious concerns over true director independence at GE. Eight of sixteen have been board members for at least ten years; Douglas Warner is the longest running, since 1992, followed by Roger Penske, since 1994, Sam Nunn and James Cash, since 1997, Andrea Jung, since 1998, and Ann Fudge since 1999. All are veterans from the 1990s and are hardly independent on the basis as GE claims.
One is also left to wonder how such important and ostensibly busy people can manage so many commitments; between their main employment, other public boards, nonprofit boards, and et cetera. For instance, Sam Nunn is Co-Chairman/CEO of the Nuclear Threat Initiative, a director at GE, Chevron (CVX), Coca-Cola (KO), and Dell (DELL). James Tisch (a GE director since 2010), President/CEO of Loews (L), with executive responsibilities at its multi-billion dollar subsidiaries like Diamond Offshore, also has five nonprofit board obligations. Susan Hockfield, President of MIT, has six nonprofit board obligations. Directors are supposed to be younger than 73 and have no more than two public board commitments; obviously some of them are receiving exemptions.
I encourage shareowners to read their proxy statements and consider directors' tenure, commitments, and areas of expertise. It is evident to me that some new faces are needed, especially in light of the company's weaknesses that were exposed in the financial crisis in 2008. This exposure occurred on many of these directors' watches. See my reaction to last year's Annual Meeting voting results: The disturbing consistency of GE's board. See also GE's board needs gutting.
Like last year, I remain rather agnostic concerning the selection of an independent auditor. GE's board advises voting "for" retaining KPMG, which billed the company $108.8M in 2010, $110M in 2009, and $133M in 2008 (for audit fees, audit-related fees, and tax fees). I suppose shareowners should be happy that the figure is decreasing, even if only by $1M in the past year. This figure is far higher than at other blue chips. And KPMG found nothing wrong or to be concerned about in 2008 and the years prior to the crash. For your reference, consider the auditor fees and market capitalizations of Exxon (XOM) $30M-level, m/c $415B; IBM (IBM) $64-70M-level, m/c $199B; Procter & Gamble (PG) $33-$36M-level, m/c $172B, United Technologies $46-48M-level, m/c $77B, and 3M $13-$14M-level, m/c $66B. None come close to GE's $108.8M; GE's market cap at the time of writing is $211B. I intend to vote "against" or "abstain."
In closing, I leave shareowners with the following proposal to contemplate, which I originally submitted to GE in November 2010, and subsequently published on my website in January 2011. Note that GE's annual report indicates it repurchased 111.3 million shares in 2010 at a cost of $1.814B, or $16.30/share. That sounds pretty successful compared to its recent price of $19.86, until you notice that shares outstanding only declined by 47.699 million shares. GE is sitting on almost $79B of cash, and has room based on earnings and free cash flow to boost its dividend further (something I think it will continue to do incrementally), but it will be a shame to see further repurchases making a modest dent in the share count. GE reported it has $9.9B remaining under its repurchase program.
GE's share repurchases: buy high, sell low
A shareholder submitting a proposal for shareholder vote at an annual shareholder meeting (or via proxy) faces a litany of requirements. It's very kind of corporations and the SEC to allow shareholders to submit proposals, but how convenient that boards of directors and executives are insulated from most proposals in more ways than one.
For starters, companies file no-action requests (with the SEC) stemming from any deviation with the proposal submission rules. Later, should a proposal be included for shareholder vote, the company's board has a largely unchecked right, which it always actions, to counter the proposal in the proxy statement. Finally, since even in the best case, if a proposal is included and voted for in the majority, it is most likely non-binding. This means the board of directors will do what many of them do best: Ignore the vote and thus fail to represent the best interests of shareholders.
Which leads me to the sad history of GE's share buybacks over the past 15 years. Post-financial crisis, I anticipated the return of the big GE buyback announcements, sooner rather than later (of course some repurchasing is necessary in order to camouflage stock option exercising). Unfortunately, shareholder proposals cannot mention any specifics about dividends or any formula related to dividends or buybacks. Nevertheless, and in spite of a market-beating 21% return by GE in 2010, which should suggest caution in terms of buyback timing and valuation, I share with you my "proposal." While not valid in its current form, it can be rewritten and submitted for the annual meeting in 2012. But instead of waiting I will send a copy with reader comments as correspondence to GE. So pull up a GE stock chart while you read the following and note the performance of GE during the past five and ten year periods — also notice the recovery from the trough at the $6/share level in early 2009 and consider the missed opportunities to repurchase at prices in between.
WHEREAS between 2005 and 2007, General Electric (GE) repurchased approximately $25.7B of its shares, a period in which its stock traded between a low of $32/share in July 2006 and a high of $42/share in November 2007. During said period, GE's stock returned 2.3% versus +24% by the Dow Jones Industrial Average, of which it is a constituent (dividend returns not factored in either). Buybacks totaling $1.25B continued into 2008, but GE's buyback program was suspended in September, near the outset of the Great Financial Crisis, and its dividend was slashed by 68% in February of 2009. Thus, not only did these share repurchases fail to manufacture competitive stock price returns, following a $12B common stock issuance in 2008 (as well as a nearly $3B preferred stock issuance) and another $620M-plus issuance in 2009, shares outstanding are now approaching 10.7 billion, meaning tens of billions of dollars spent on repurchases dating back to the 1990s have not been able to keep a lid on GE's share count. The low of the past 15 years was just under 9.8 billion shares outstanding in 1997; there have not been below 10 billion shares out since 1999/2000, and as recently as 2005 the count was over 10.6 billion.

Therefore, based on the above depressing reality along with a most recent GE stock price of around $16/share, and word that buybacks will be resumed – as much as $11.6B, through 2013 – it is unequivocally evident that GE's Board of Directors needs to eschew financial engineering (i.e. buybacks) and instead more prudently espouse a doctrine focused on tangibly rewarding shareholders: with dividends. Although there may be apathetic shareholders of GE (especially among institutions, including sponsors of index funds) that for what ever motivation overlook the importance of the distribution of profits to shareholders primarily via dividends while enabling largely self-serving and ostensibly wasteful stock buybacks, let it be understood that a not insignificant number of shareholders strongly prefer additional dividends over buybacks. And even more would, referring primarily to individuals who own shares through an investment fund, if they were cognizant of the aforementioned circumstances. A press release about share repurchases represents not even a promise, and when repurchases have been executed at GE, they have historically been untimely and thus unrewarding for shareholders.

RESOLVED: Following the 68% cut to GE's dividend through the period ending October 2010, an accumulated $1.24/share gap exists in terms of what would have been paid out at the prior $0.31/share quarterly dividend. Thus, in light of the $11.6B authorized for buybacks through 2013, equivalent to approximately $1.08/share, shareholders ask the Board to authorize a special dividend payment of or near stated amount principally in lieu of GE repurchasing its stock. Furthermore, shareholders ask the Board to continue to increase GE's dividend commensurate with increases in earnings, favoring dividends over stock repurchases – using a majority of the cash that previously would have been earmarked for share repurchases instead for special dividends.

__________
Disclosure: The author owns shares of GE.