OmniVision Technologies (NASDAQ:OVTI) is a leading developer of advanced digital imaging solutions. Its CMOS imaging technology enables superior image quality in many of today's consumer and commercial applications, including mobile phones, notebooks, netbooks, and webcams, security and surveillance, entertainment, digital still and video cameras, automotive, and medical imaging systems.
The company claims 28% market share in all CMOS markets; their closest competitor is Samsung with 20% market share. A helpful (though two years out-of-date) fact sheet provides an overview of the company.
A few fundamental numbers and metrics for OmniVision:
Earnings per share (eps) and Sales as percentage increase/decrease numbers for the same period

QTR

EPS

SALES

APRIL 2010

+ 160%

+ 76%

JULY 2010

+ 588%

+ 83%

OCTOBER 2010

+ 115%

+ 31%

DECEMBER 2010

+ 320%

+ 69%
The company's PE (price:earnings ratio) has ranged from 3 to 125, and currently is 18 - nearer the lower end of its range, at a time when the shares trade at a fresh all time high.
Minor negatives are two metrics that could be stronger:
Annual Pre-Tax Margin is 5.6%
Annual ROE is 6.1%
And yet an increasing number of mutual funds own the shares...
The number of funds reporting ownership has risen the last 4 Qtrs.

QTR

# OF FUNDS

MARCH 2010

326

JUNE 2010

346
| | |
| --- | --- |
| SEPTEMBER 2010 | 350 |
| DECEMBER 2010 | 374 |
I want to focus on that seeming breakdown that occured mid-February 2011 (click to enlarge image):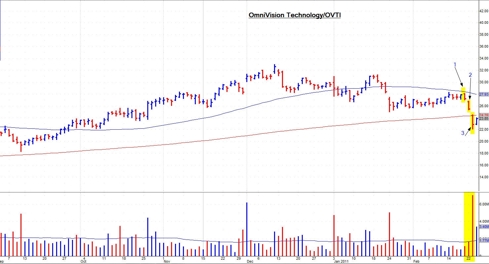 Had you owned the shares during the three days highlighted in yellow, you would of course be frightened. "Someone knows something I do not!"
Day 1 (18 February): The shares turn down from resistance (gap and 50 day sma), and in sync with the inception of the market's correction
Day 2 (22 February): In part due to general market weakness, but late-afternoon selling due to whispers of ...
Day 3 (23 February): Tristan Gerra, the semi component analyst at R W Baird, and who many investors perceive to be that sector's "ax" or "handle" (the analyst with the best and most profitable insights) made a major call:

OmniVision lost significant share in PCs and China due to its focus on Apple,
Its new 8mp CMOS sensor might not be ready for the initial iPhone5 launch, which suggests competitors could step in and displace OmniVision for the initial iPhone 5 procurement orders.
BSI yields remain sub-par while Omnivision has yet to secure new capacity.
In sum, these several factors create 2H 2011 risks for Omnivision.
And so the shares plummeted like an anvil, to ~$22 from $28 - a 25% haircut in 2 1/2 days. Except... on 24 February the company reported 3Q11 earnings, and concurrently refuted the speculation of lost opportunities. The shares recovered quite well since the announcement...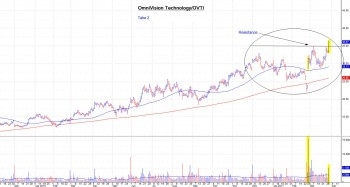 In fact, not only is that a breakout (chart above) from a cup & handle pattern -- ideal price:volume relationship, appropriate time structures, etc (except for the false breakdown limned above) -- the shares also closed Tuesday at a new all time high...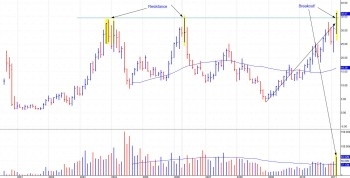 Everything looks good, no?
The fundamentals are sound, and improving;
Though the company's present valuation on some metrics is arguably rich, it is not especially overvalued when you factor in the size of its growing opportunity;
The shares now trade at all time highs; and
Analysis of the shares' action says all systems are go for a higher share price.
Except for one niggle: the straight-up advance from the March 2009 low. So how best to time your investment, if OVTI tickles your investment interest?
Short and intermediate term:
Purchase immediately
Purchase any intra-day decline toward ~$34-35
Just do not chase after (bid higher) a (rapidly) rising share price.
OmniVision Technology/OVTI:
Buy: $34-36
Stop: $28.50 close (This is an initial stop only, and will increase substantively upon upside follow-through)
Objective: $40-45 (First objective; higher later)
Questions, comments, and insights welcomed.
Disclosure: I am long OVTI.